10 players, 9 countries, 1 new home: Get to know the DP World Tour graduates who just claimed 2024 PGA Tour cards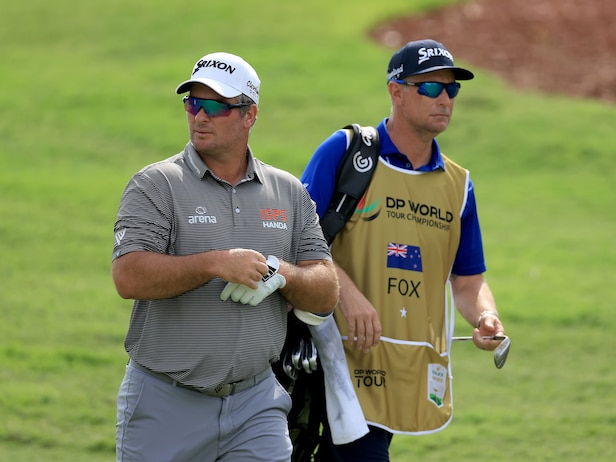 DUBAI — You could call them pioneers. Trend-setters works, too. Whatever, the men who have gained their PGA Tour cards through season-long play on the DP World Tour in 2023—a Pole, a New Zealander, two Frenchmen, a Dane, a Swede, a Scotsman, a Spaniard, a Japanese and a Finn—are definitely the first of their kind.
As things turned out, it was a contest that went all the way to the last hole event at both ends of the top 10. Adrian Meronk (the Pole) finished just one-shot clear of Ryan Fox (the New Zealander) to claim the all-important top spot that will see the four-time DP World Tour winner fully exempt on the PGA Tour in 2024.
At the other end, the putt Ryo Hisatsune holed for birdie on the 72nd hole of the DP World Tour Championship proved to be crucial. Had the native of Japan missed, he would be playing in Europe again next year. In turn, the up-and-down Rasmus Hojgaard made to save par on the same hole was agonizingly not quite enough to ensure the 22-year-old Dane will join his identical twin (and tournament winner) Nicolai, stateside next year. Rasmus, 18th on the Race to Dubai, missed out by one place.
Spare a thought too, for Thriston Lawrence. The South African birdied the last three holes, looked like he was going to scrape into the top 10, but eventually dropped to an agonizing 12th place. In contrast, France's Matthieu Pavon made birdies at each of the last four holes to claim the eighth of the 10 cards.
All in all, it was exciting stuff.
Anyway, here are some snapshot analyses—from those who know them best—of the 10 players who are emigrating to the PGA Tour in 2024:
"After not making this year's European Ryder Cup team, Adrian won't lack motivation to do well next year," says swing coach Mike Walker, who works with former U.S. Open champion Matt Fitzpatrick. "As a golfer, he looks like the real deal to me. He is way long enough off the tee. He's an excellent ball-striker. And I sense success in his demeanour. He looks to me like he knows where he is headed. He doesn't seem fazed by anything.
"But the Ryder Cup snub might be his biggest asset. The performances he put in after being left out showed me a lot about his character. He'll kick on quickly in the States I think."
That assessment is echoed by Meronk's own coach, Mathew Tipper.
"It's a great boost that [as No. 1 on the qualifying list] he is exempt into every event, but superior ball-striking and his strokes gained/off the tee proficiency are the things that will give Adrian the best opportunity to do well on the PGA Tour," says the Welshman, who has worked with the 30-year-old Pole for 14 years. "Plus, he spent four years at college [East Tennessee State] over there, so he's comfortable living there. He's going to live in the Jacksonville area, which gives him access to the great practice facilities at TPC Sawgrass, as well as the opportunity to play and practice with the other tour players who live there. He can obviously learn from their experience."
"I would say Fox is maybe the best prepared of the 10 who have won their cards," says swing guru Pete Cowen, who gets no disagreement from Fox's own coach, Jamie Gough.
"Foxy played about 10 events in the States this year," Gough says. "From the outside, he looks like a happy-go-lucky sort of guy. But he's a competitor and an exciting player to watch. He doesn't mess around; he's one of the fastest players out there. We worked towards the end of last year to get his ball-flight a little higher, all to prepare him for the PGA Tour. The pin positions are always tougher over there.
"He makes a lot of birdies. He's not a precision-style player. In fact, I would say his style is very American. He hits it a long way. He plays with a smile. I can see him winning over there. He has the ability to compete anywhere but the American courses will suit his game especially well. His iron play is exceptional. And he loves to eat. He loves food—burgers steaks, ribs. He goes to the buffet and the host makes a loss. He'll fit into the American environment very easily. He'll be barbecuing every weekend."
"Victor is definitely one to look out for," says Cowen, who includes Perez in his sizeable stable of players. "He went to college in the States so he's comfortable in that environment. Never underestimate that, especially where a continental European is concerned. It can sometimes be harder for them to adapt culturally.
"He's done well over there, too. At one point he was two shots off the lead in the final round of the PGA this year. So he has some pedigree. He's French, but not French because he has spent so much time living elsewhere. He has an American caddie, too. So he is well prepared. My only worry is how many events he will get into and, when he does, how good those events will be.
"He's going to base himself in the Bahamas, renting an apartment for six months. From there, he can be anywhere in the States pretty quickly if he gets a late call into an event. So he's preparing well. The best part of his game is that he is a fairway and greens man. There are courses that will suit him. I'm hoping he will get into the Heritage Classic, for example. He's that sort of player. He does have length off the tee; he's not short. But his irons are very accurate. He doesn't put much shape on the ball, perfect for courses like Hilton Head."
"I'm not sure how much Thorbjorn has played in America recently," Cowen says. "But it isn't a lot. He's just a good solid player, averagely long. Nice guy, but his temperament is suspect in that he is typically very aggressive on the course. Too much at times, which could get him into trouble on PGA Tour courses. Other than that, I'd say he's impressive with his un-impressiveness. But I can also see him emerging as the guy who surprises people. Don't forget how well he played in the 2018 Ryder Cup in France. He gave Jordan Spieth a good hiding in the singles there."
"I think Olesen will make an impact," Gough says. "He's long enough and he chips and putts like a wizard. He's a good all-round player. He'll do well because he can scramble so well. The one question is how he settles over there. Generally speaking, the environment on the PGA Tour hinders continental Europeans. Culturally, it can be hard for them. It's just different for them. And there is the fact that they won't be getting home every Sunday night."
Race to Dubai overall: 11
"Alex is incredibly accurate off the tee," says Tim Barter, teaching pro and Sky Sports commentator. "In the European Masters in Switzerland he hit 94 percent of fairways through three rounds. That's just about the best I've ever seen. So he's straight, but not massively long. The thing is though, he then hits an incredibly number of greens. Which is a tribute to his full-swing technique. The rest of his game is best described as 'tidy.'
"The one question mark is that he hasn't converted the chances he has had. He has nine-tens on the DP World Tour this year, the most of anyone. Then again, you could easily argue he hasn't reached his potential yet. He could win anywhere on the right course. I remember he finished second at the DP World Tour Championship in 2021, holing from ten feet on the last. That putt was worth about 400 grand. So he has shown he does have the temperament for battle."
"Bjork on his day is one of the best iron players on this tour," agrees Simon Shanks. "He's incredibly steady. But he might need to let the handbrake off when he is on the tee. Being a bit further down the fairway would perhaps turn a couple of those many top-10s into wins. That's the challenge for him on the PGA Tour."
Race to Dubai overall: 12
"Valimaki was rookie of the year in 2020, when he won only the sixth start of his DP World Tour career in Oman," Barter says. "He has an unusual technique, but he's a quality ball-striker. At least he was. After that initial win, he lost his way a bit, to the point where he almost couldn't find the course off the tee. But he went away, works hard and he's now pretty much back where he was, having won in Qatar recently. That he did that shows me how mentally strong he is. In baseball terms, he is a home-run hitter who, in a week when he is 'on,' could easily get himself in contention on the PGA Tour. At the age of 25, he definitely has the steel to get it done down the stretch."
Race to Dubai overall: 13
"This year Bob has regained the yardage off the tee he seemed to have lost," says Simon Shanks, the Scot's ironically named swing coach. "So his strokes gained off the tee has been really strong. Courses with a bit of width appeal to him at the moment. We're currently working on his accuracy off the tee. But when the driver is 'on' it is a big asset to him. After that, it really just depends on how well he holes-out on the greens.
"Bob was at college in the States. And he's played quite a few PGA Tour events. But how well he does over there could come down to how he adapts to spending longer spells in America. He likes to be home in Oban. On the European Tour there are nearly always things to do away from the course. America is not like that so much and there could be long hours in lonely hotels for him. So there are cultural changes to deal with, as well as different course set-ups. But as he has proved already [MacIntyre finished T-12 in his Masters debut in 2021 and has made the cut in six other U.S. majors] Bob's game will be a good fit on most PGA Tour courses."
Race to Dubai overall: 15
Running into form at just the right time, the 31-year-old Frenchman is perhaps the most unlikely new member of the PGA Tour. Pavon's T-5 finish in Dubai was his forth top-ten in his last six starts, a run that included victory in the Spanish Open.
"He has certainly played great recently," Barter says. "Which only confirms the validity of the work he and Jamie Gough are doing. Technically, Pavon's problem was that he got his elbows too far apart on the backswing, which put the club across the line at the top. To alleviate that, he has been seen on the range with a ball between his arms lately. All to get more laid off at the top. And it is clearly working. With the club in a better place, Pavon clearly feels like he can just 'go.' He's now a great ball-striker.
"Another big thing in his favour is having one of the most experienced and knowledgeable caddies on tour on his bag. Mark Sherwood was on James Donaldson's bag at the 2012 Ryder Cups and has been involved in many other victories. With all that going on, I can see Pavon continuing to go from strength to strength."
Race to Dubai overall: 16
"Campillo is a fantastic putter," Cowen says. "If I had players who putt as well as he does, I'd be rubbing my hands together. And the better the greens, the better you putt."
Campillo is a terrific putter," confirms Shanks. "He went to college in the States. He is so consistent although he does have the odd week when he is 'squirrely' off the tee. He has the game to travel well, but can he adapt socially? Jorge likes to be around the other Spanish lads."
"Campillo putts like God," agrees Barter, adding one more layer to the unanimity. "But it is easy to underestimate his long game. He's been working for while with a well-respected coach in Liam James. James has taken Jorge up a level, especially his wedge game. Oddly for a Spaniard, that part of his arsenal was, for a long time, his weakness. Indeed, the only time James has given a short game lesson to a Spaniard was when he made changes to Jorge's technique. Through that, he has learned a few new shots and gained a bit of length. Which are the biggest reasons he is, at the age of 37, on the verge of a new adventure on the PGA Tour."
Race to Dubai overall: 17
A strong contender for rookie-of-the-year honors, the 21-year-old has impressed many with his play since he made it through the DP World Tour Qualifying School a year ago.
"Ryo has no real weaknesses," says his caddie, Australian Adam Drummond. "And he's such a lovely chipper of the ball. Just last week he chipped-in five times. His putting is strong too. All of which allows him to be a bit more aggressive with his approach play. He's always confident he can get up-and-down to save par.
"His driving is above average on tour, but his iron play is what really sets him apart. He flights his shots so well and can comfortably move the ball from left-to-right and right-to-left. His shot selection is impressive too. He's a very intelligent golfer for one so inexperienced. I can't recall too many times when he has hit the wrong shot in any situation. The only thing he lacks even a little is the strength and speed to hit the ball from heavy rough. But he's not in that stuff much anyway. Just an impressive young man."
That view was soon confirmed by Rory McIlroy, who played alongside Hisatsune in the final round of the DP World Tour Championship.
"He's a nice little player," said the five-time European No. 1. "The birdie putt he holed at the last was huge given his situation. He's very solid and doesn't do a lot wrong. And like most Asians, he has a great demeanor. He goes about things the right way."