2023 Ryder Cup teams: Ranking all 24 golfers for the United States and Europe in Rome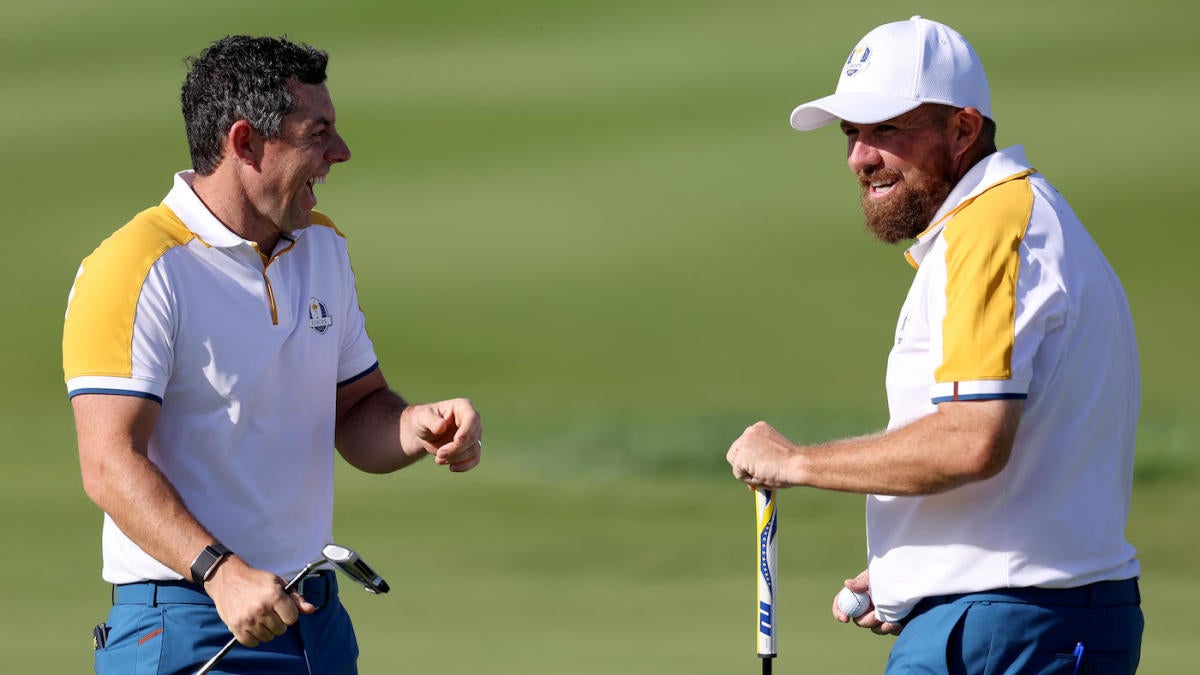 1
34
7th
He has two things working for him that he did not at the last two Ryder Cups (where he went 3-6-0). This golf course sets up better for him than Le Golf National, and he's playing great golf (unlike 2021). In fact, since Whistling Straits, McIlroy has had the best statistical two-year run of his career.
2
25
2nd
Did he win at Whistling Straits? No. Does anyone on the American team want to play him? Also no. I considered Hovland in the No. 1 spot, but McIlroy's experience won out. Still, Hovland is going to be a nightmare, and he's not going to go 0-3-2 again. He picked a great time to find his best golf.
3
28
3rd
There it is: Three Europeans in the top three. Rahm has cooled off more than the other two but not enough to dissuade me from what I saw in 2021, which was a single golfer carrying an entire continent toward a finish line they never really sniffed.
4
27
2nd
Scheffler has largely been the best American golfer over the last two years, but he ultimately put together a less-successful 2022-23 season given he won fewer important tournaments. Plus, his putter has largely failed him over the last year. In this team format, Scheffler has a chance to truly excel.
5
31
2nd
Listen, am I in love with Cantlay the golfer? Absolutely not. But do I think his nice finish to the season (top 15 in his last three tournaments) and overall Ryder Cup record (3-0-1) warrants this spot? I do.
6
32
3rd
Fleetwood somewhat quietly had his best season since 2019 and comes into this Ryder Cup with far more momentum than he had back in 2021. He should thrive provided he can find the correct partner like he did with Francesco Molinari in Paris five years ago.
7
29
2nd
Copy-paste the Cantlay line right here. Schauffele ended the year playing some strong golf, and he obviously has a nice history (and comfortable pairing) with Cantlay. If we're drafting all 24 players, I'm desperate to grab both of them in this format.
8
29
3rd
Much has been made of the fact that he's never won a point. Not enough has been made of the fact that he won a major and basically became a different player since the last Ryder Cup in 2021.
9
33
4th
Koepka did next to nothing following his PGA Championship in May. Still, we're talking about one of the all-time great "this matters, and I'm dialing it up because of that" players in the history of the sport. If there's a competition with something meaningful on the line, I want him on my team.
10
32
1st
If last year's Presidents Cup — when Homa went 4-0-0 — was any indication, he is going to be nasty for the U.S. side. His game had slipped a bit since then, but he closed the summer with six straight top 12s, including his first such finish at a major championship.
11
22
1st
Our first rookie could legitimately factor into the outcome this year. I've talked myself into him going 2-0-1 or something similar as he decimates Marco Simone with a driver that never quits. 
12
36
1st
I'm all the way in on Harman this week in Rome. It's not the prettiest — and he's not the longest nor does he have the best skillset — however, his match play history is solid, and he's going to be a difficult out for anyone he goes up against. I'd love to see him and Koepka play together.
13
26
2nd
Morikawa was one of the (many) heroes at Whistling Straits, and while he has not won a tournament since then, his numbers are still strong. This golf course should be great for him — not as great as Le Golf National would have been — but if he's placing driver like he can, he could find fire and help the U.S. repeat.
14
30
3rd
He is the biggest enigma in the entire event. What do you do with him? What do you believe about him? Whatever takes place, he will have the biggest microscope of anyone this week and the biggest he's ever had in his career. As Brendan Porath pointed out recently, that is going to be fascinating.
15
36
2nd
Lowry's golf has been better than people are pretending like it has been, but he's also at the event for some of the same reasons Thomas is at the event. He's not Rory or Rahm, but Lowry will bring some emotional thunder that will power the European side in their quest to win the Cup back.
16
30
5th
I'm almost more confounded by what we get here than I am with J.T. Spieth has just two top 10s since nearly winning the RBC Heritage. He also had his second kid and famously has not won a singles match at the Ryder Cup. On the flip side, nobody on this team has more Ryder Cup points than Spieth, and nobody will be the adult in the room that he will be when everything starts rolling. He's a lighthouse for this U.S. squad, even if he doesn't win a point.
17
31
3rd
Speaking of players of whom I don't know what to expect. Hatton missed the cut at the Irish Open and then nearly won Wentworth. He has a losing record, but he's never really settled on a partner (playing with Rahm, Lowry and Paul Casey). He could be an X-factor for the Euro side.
18
27
1st
Burns is another player where I'm not sure what to expect. He was probably the 12th pick for this U.S. side and will not be relied upon heavily. In their last two European Ryder Cups, American rookies have gone 12-7-5. Somehow, they've been routed in both of those events.
19
30
1st
I'm already prepared for him to go 3-0-0 after shooting a couple of 66s in foursomes with, say, Fleetwood. It's almost certainly going to happen. I'm just trying to emotionally fortify myself for it.
20
34
5th
Don't look now, but Fowler and McIlroy are two of the five oldest players here this week. Fowler quietly faded just a bit after his win in Detroit and brings little momentum into the festivities this weekend.
21
29
1st
How good is this U.S. team? I rank the U.S. Open champion as their worst player. Since that win at LACC, Clark has just one top 10, and it came in the tiny field Tour Championship, where he finished third.
22
43
6th
Europe has the top three on this list and the bottom three. Rose is obviously a tremendous Ryder Cupper, but I'm not compelled by his body of work this summer. Since a top 10 at the Canadian Open, he's missed three cuts and has just one top 15 finish anywhere in the world. Still, he's not necessarily there to play great golf but more so as a sherpa for the youngsters on the Euro side. 
23
22
2nd
There's no real sense of what to expect from one of Europe's four rookies. He's been awesome at times this year with five top-five finishes globally, but he comes in off a T64 at the BMW PGA Championship in a tournament where he did not look the part. We could be looking at a "Matt Fitzpatrick in 2016" scenario with him. 
24
27
1st
MacIntyre is worrisome as a 12th man who could easily go 1-0-1 or something similar, but statistically, he's the worst player in this field by a wide margin.