A tale of a WPA-era building in New Orleans' City Park, the I-610, and high school football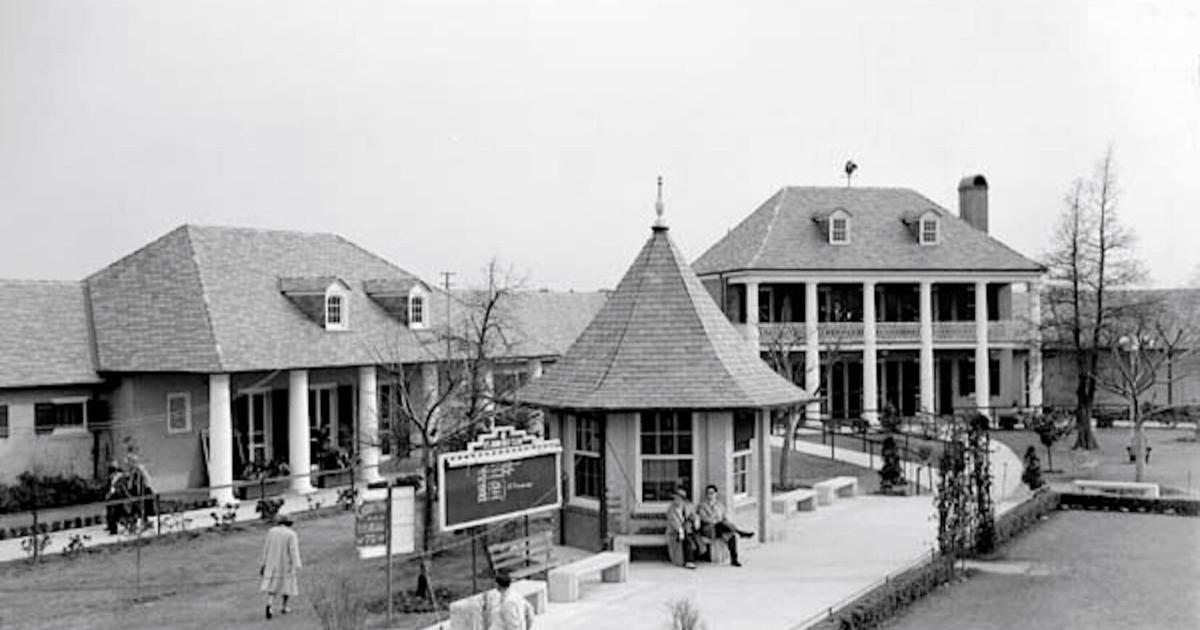 It was 2008 and, after years of festering in post-Katrina ruin and anxiety, City Park's Pan American Stadium was finally back in business.
It had new a scoreboard. It had a new press box. It had shiny new aluminum bleachers, new locker rooms and, thanks to a donation from the National Football League's Youth Football Fund, the 4,500-seat stadium had a new, state-of-the-art artificial playing surface.
"I think it has been worth the wait," Jesuit High School football Coach Wayde Kesier told Times-Picayune reporter Pierce W. Huff at the time.
That was an understatement.
For high schools throughout the metro area that had used Pan Am every Friday night during football season, as well as for the New Orleans Jesters semi-pro soccer team (then the Shell Shockers) who used it as their home field, the stadium's re-opening was a much-needed post-storm salve.
But overlooked in coverage of the stadium's reopening was the largely neglected brick building bordering the stadium's western edge. It was used at one time as a locker room, but with five once-stately columns still defining its entrance, it obviously predates Pan Am's 1970 construction.
Untangling the history
In short, it feels like a building with a story.
That's because it is, albeit it a tangled one touching upon New Orleans golfing history, the federal interstate system, former Mayor Chep Morrison and the enduring popularity of Friday night lights.
To tell it, we'll have to turn back the clock to the late 1930s and the realization among City Park leadership that the clubhouse previously erected to serve the park's two golf courses was inadequate. And, so, with help from the federal Works Progress Administration, they set out to turn it into with something special.
Designed by City Park Superintendent Marcel G. Montreuil, the new clubhouse would be highlighted by a two-story structure featuring a grand front porch supported by six towering columns. Inside, it boasted a first-floor lounge and, atop a wide staircase, a second-floor assembly room.
One-story wings would flank the central building. Like the main building, one of the wings would be new construction and house men's lockers, instructors' offices and a storage area for golf bags. It would be built to harmonize with the previously existing, circa 1934 clubhouse, which, after remodeling, would serve as the central structure's other wing, housing women's lockers and a grill.
Contradictory newspaper reports mean it's unclear as to which wing was the old, original building, but WPA photographs held by the New Orleans Public Library indicate the west wing was the older, remodeled building and the eastern wing was constructed along with the central building in 1940.
Upon its completion, the new complex was hailed as "the last word in golf house construction." The total price tag: $85,000, or about $1.9 million today.
A short lifespan
Enter the Federal Highway Act of 1956 and subsequent construction of local portions of the national interstate system. As drawn up by federal engineers, the new I-610 would bisect City Park – and, to the chagrin of local golfers, the new clubhouse.
So, less than three decades after it was finished, the federal government expropriated the clubhouse and the land on which it was situated for its interstate project. With money received by City Park in return, a new golf clubhouse was built near Filmore Avenue and Wisner Boulevard.
Meanwhile, most of the old clubhouse complex was razed. A sizeable portion of its old eastern wing, however, would remain, along with a 350-vehicle parking lot. Soon enough, soccer fans began using the area as a makeshift soccer field.
Elsewhere in the park, the venerable Tad Gormley Stadium, completed in 1937, was so frequently used by local high school teams that the field surface was in reliably deplorable shape every football season. Stripped of grass as the season progressed, the field would become a mudbowl whenever it rained and a dustbowl when it didn't.
By November 1970, City Park leaders realized they could make multiple constituencies happy by building a proper field for soccer fans that could be pressed into service on Friday nights as a football field to ease the strain on Tad Gormley. They didn't yet have a name for their proposed stadium, but they had a good location: near the intersection of Zachary Taylor Boulevard and the Wisner Boulevard overpass.
That, notably, was near the site of the old golf clubhouse, which meant the wing left behind by the feds could be reused and once more house locker rooms.
The total cost of the stadium project: $200,000, covered largely through a voter-approved bond issue and supplemented by money from the Wisner Fund.
Finding a new purpose
Two years later, work on the 5,000-seat stadium was complete. It would be called Pan American Stadium, in a nod to the popularity of soccer in Latin America, and dedicated to former Mayor Chep Morrison, who, before his 1964 death in a plane crash, tirelessly touted New Orleans' position as a gateway to South and Central America.
"There has been a great need for this new stadium. Soccer teams have had no suitable home and soccer is a fast-growing sport in New Orleans," Mayor Moon Landrieu said at the dedication ceremony, which was also attended by Joseph John Jova, a successor of Morrison as U.S. ambassador to the Organization of American States.
In the decades since, Pan Am has continued to serve its intended purpose as a home for soccer fans and as an overflow facility for prep football. Since 2005, it also has been the home field of the Jesters, who play in the National Premiere Soccer League.
Meanwhile, the old clubhouse sits on the sidelines, awaiting its next chapter.
Sources: The Times-Picayune archive; "New Orleans City Park: Its First Fifty Years"; New Orleans Public Library Archives and Special Collections.
 Do you know of a New Orleans building worth profiling in this column, or are you just curious about one? Contact Mike Scott at moviegoermike@gmail.com.