American Democracy Requires a Conservative Party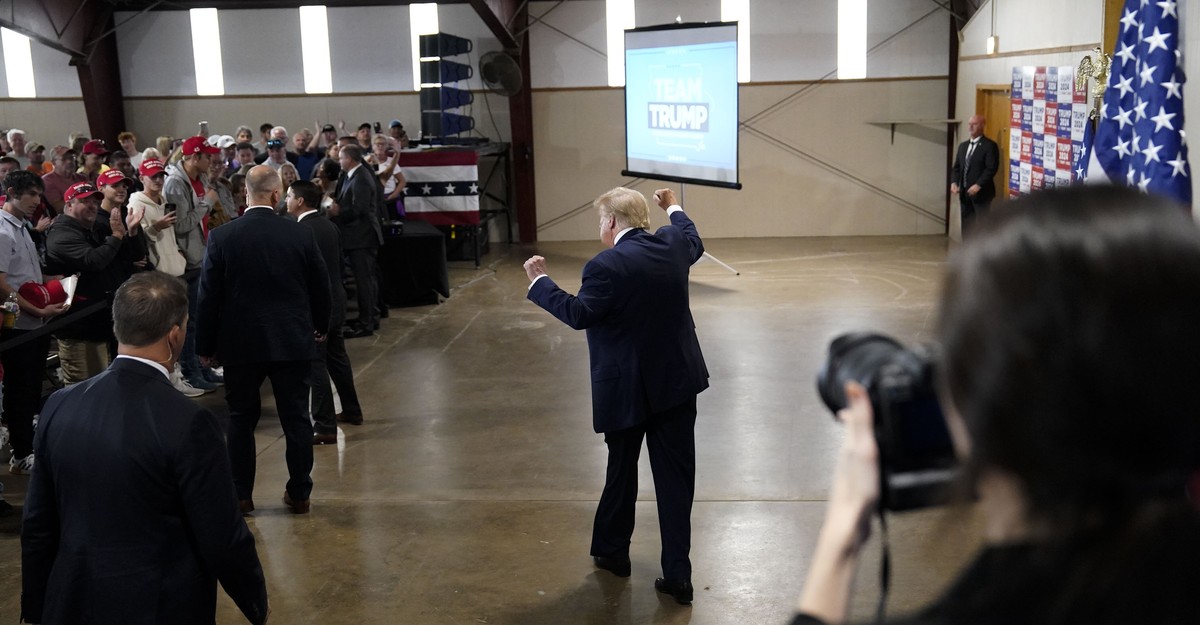 This is an edition of The Atlantic Daily, a newsletter that guides you through the biggest stories of the day, helps you discover new ideas, and recommends the best in culture. Sign up for it here.
Every nation needs parties of the left and the right, but America's conservative party has collapsed—and its absence will undermine the recovery of American democracy even when Donald Trump is gone.
First, here are four new stories from The Atlantic:
---
The Danger That Will Outlast Trump
The American right has been busy the past few days. The Republicans in Congress are at war with one another over a possible government shutdown that most of them don't really want. Representative Paul Gosar of Arizona (channeling the warden from The Shawshank Redemption, apparently) railed about "quislings" such as the "sodomy-promoting" Mark Milley, the chairman of the Joint Chiefs of Staff, and said he should be hanged. Gosar, of course, was merely backing up a similar attack from the likely GOP presidential nominee Donald Trump, who over the weekend floated the idea of executing Milley and swore to use government power to investigate a major television network for "treason."
Normally, this is the kind of carnival of abominable behavior that would lead me to ask—again—how millions of Americans not only tolerate but support such madness.
But today I'm going to ask a different question: Is this the future of "conservatism"? I admit that I am thinking about this because it's also one of the questions I'm going to tackle with my colleagues David Frum, Helen Lewis, and Rebecca Rosen on Thursday in Washington, D.C., at The Atlantic Festival, our annual two-day gathering where we explore ideas and cultural trends with a roster of stellar guests.
Slightly more than a year ago, I tried to think through what being a conservative means in the current era of American politics. I have not been a Republican for several years, but I still describe myself as a conservative: I believe in public order as a prerequisite for politics; I respect tradition, and I am reluctant to acquiesce to change too precipitously; I think human nature is fixed rather than malleable; I am suspicious of centralized government power; I distrust mass movements. To contrast these with progressivism, I think most folks on the left, for example, would weigh social justice over abstract commitments to order, be more inclined to see traditions as obstacles to progress, and regard mass protests as generally positive forces.
This is hardly an exhaustive list of conservative views, and some on the right have taken issue with my approach. A young writer at National Review named Nate Hochman took me to task last year for fundamentally misunderstanding modern conservatism. Mr. Hochman, however, was apparently fired this summer from the Ron DeSantis campaign after he produced a campaign video that used Nazi symbolism, which suggests to me that I do, in fact, understand the modern conservative movement better than at least some of my critics might admit.
In any case, the immediate problem America faces is that it no longer has a center-right party that represents traditional conservatism, or even respects basic constitutional principles such as the rule of law. The pressing question for American democracy, then, is not so much the future of conservatism but the future of the Republican Party, another question our panel will discuss—and one that continually depresses me.
The United States, like any other nation, needs political parties that can represent views on the left and the right. The role of the state, the reach of the law, the allocation of social and economic resources—these are all inevitable areas of disagreement, and every functioning democracy needs parties that can contest these issues within the circumscribed limits of a democratic and rights-respecting constitution. Today's Republican Party rarely exhibits such commitments to the rule of law, constitutionalism, or democracy itself.
The current GOP is not so much conservative as it is reactionary: Today's right-wing voters are a loose movement of various groups, but especially of white men, obsessed with a supposedly better past in which they were not the aggrieved minority they see themselves as today. These reactionary voters, as I have written recently, are reflexively countercultural: They reject almost everything in the current social and political order because everything around them is the product of the hated now that has displaced the sacred then.
(Although many of my colleagues in academia and in the media see Trumpism as fascism, I remain reticent to use that word … for now. I think it's inaccurate at the present time, but I also believe the word has been overused for years and people tend to tune it out. I grant, however, that much of the current GOP has become an anti-constitutional leader cult built around Trump—perhaps one of the weakest and unlikeliest men ever in history to have such a following—and could become a genuinely fascist threat soon.)
America needs an actual conservative party, but it is unlikely to produce one in the near future. The movement around Trump will come to an end one way or another; as the writer Peter Sagal noted in The Atlantic after interviewing former members of various cults, "the icy hand of death" will end the Trump cult because it is primarily a movement of older people, and when they die out, "there will be no one, eventually, to replace them." Although the cult around Trump will someday dissolve, the authoritarians his movement spawned will still be with us, and they will prevent the formation of a sensible center-right party in the United States.
Too many Americans remain complacent, believing that defeating Trump means defeating the entire threat to American democracy. As the Atlantic contributor Brian Klaas wrote yesterday, Trump's threats on social media against Milley should have been the biggest story in the nation: "Instead, the post barely made the news." Nor did Gosar's obscene pile-on get more than a shrug.
Meanwhile, the New York Times opinion writer Michelle Cottle today profiled Ohio Senator J. D. Vance, a man who has called his opponents "degenerate liberals" and who is so empty of character that even Mitt Romney can't stand him. Cottle, however, noted Vance's cute socks, and ended with this flourish: "Mr. Trump's Republican Party is something of a chaotic mess. Until it figures out where it is headed, a shape-shifting MAGA brawler who quietly works across the aisle on particular issues may be the best this party has to offer."
Something of a mess? That's one way to put it.
And what about Fox News, the source of continual toxic dumping into the American political ecosystem? "Fox News," the Washington Post columnist Megan McArdle said yesterday, "does not have nearly as much power over viewers' minds as progressives think. I am not cutting Fox any slack for amplifying Trump's election lie nonsense. But I also doubt that it made that much of a difference." Having traveled the country giving talks about misinformation and democracy for years, and hearing the same stories so many times of people who now find it impossible to talk to their own parents, I have no such doubts.
If Trump wins in 2024, worries about Fox's influence or reflections on Vance's adorable socks will seem trivial when Trump unleashes his narcissistic and lawless revenge on the American people. But even if he does not win, America cannot sustain itself without a functional and sane center-right party. So far, the apathy of the public, the fecklessness of the media, and the cynicism of Republican leaders mean that no such party is on the horizon.
Related:
---
Today's News
The Supreme Court ruled against an attempt by Alabama Republicans to retain a congressional map with only one majority-Black district.
The Federal Trade Commission and 17 states are suing Amazon in a broad antitrust lawsuit that accuses it of monopolistic practices.
An increasing number of Senate Democrats is calling for Senator Bob Menendez to resign from Congress following his federal indictment.
---
Evening Read
How We Got 'Democracy Dies in Darkness'
By Martin Baron
I should not have been surprised, but I still marveled at just how little it took to get under the skin of President Donald Trump and his allies. By February 2019, I had been the executive editor of The Washington Post for six years. That month, the newspaper aired a one-minute Super Bowl ad, with a voice-over by Tom Hanks, championing the role of a free press, commemorating journalists killed and captured, and concluding with the Post's logo and the message "Democracy dies in darkness." The ad highlighted the strong and often courageous work done by journalists at the Post and elsewhere—including by Fox News's Bret Baier—because we were striving to signal that this wasn't just about us and wasn't a political statement …

Even that simple, foundational idea of democracy was a step too far for the Trump clan. The president's son Donald Trump Jr. couldn't contain himself. "You know how MSM journalists could avoid having to spend millions on a #superbowl commercial to gain some undeserved credibility?" he tweeted with typical two-bit belligerence. "How about report the news and not their leftist BS for a change."
More From The Atlantic
---
Culture Break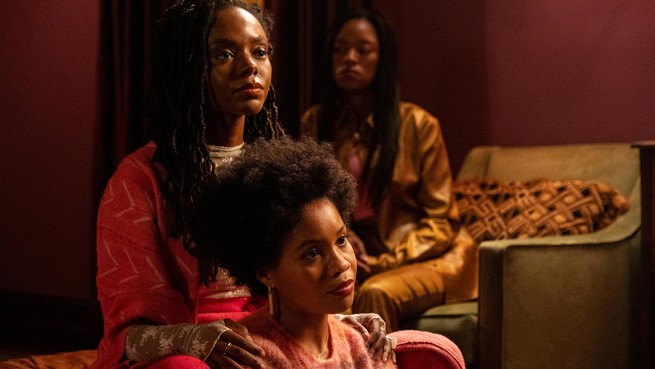 Read. In Orphan Bachelors, Fae Myenne Ng explores the true cost of the Chinese Exclusion era through an aching account of her own family.
Watch. The Hulu series The Other Black Girl dramatizes the pains of managing Afro-textured hair—and other people's perceptions of it.
---
P.S.
I'm off to The Atlantic Festival, so I'll be brief today. But I'll be back on Friday to talk about Barry Manilow, whom I saw this past week in Las Vegas as he broke Elvis Presley's record for performances at the venerable Westgate Las Vegas Resort & Casino. If you're, ah, ready to take a chance again, you might enjoy it, even now, especially as we'll be talking about the old songs. All the time, until daybreak.
I'm sorry. I promise: no more Manilow puns. See you in a few days.
— Tom
---
Katherine Hu contributed to this newsletter.
When you buy a book using a link in this newsletter, we receive a commission. Thank you for supporting The Atlantic.