College Basketball: Week 2 Freshman Power Rankings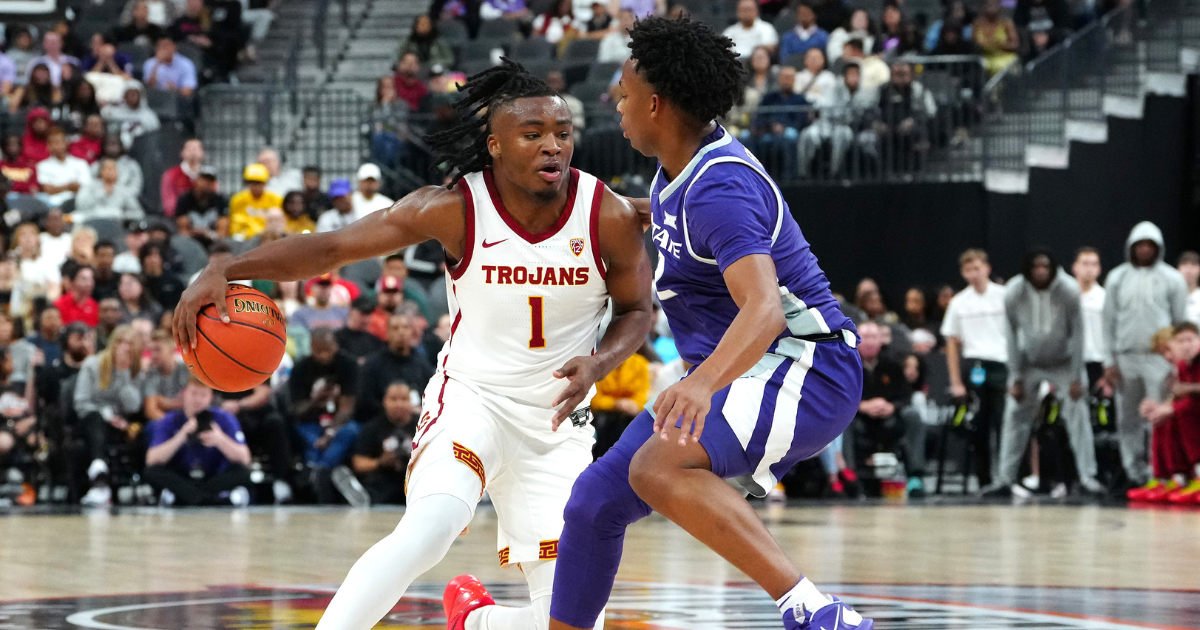 We have been through two weeks of the college basketball season and we enter Feast Week with most teams having between three and five games under their belts. Every other week the plan is to update the power ranking of freshman in college basketball. This list looks at the players who are having the biggest effect on the sport through their in-season play.
It should come as no surprise that Isaiah Collier, Ja'Kobe Walter, and Carlton Carrington are in the top three spots here. And quite honestly, with the success that each of them has seen up to this point, those three could probably be put in any order.
There are a lot of freshmen in the college basketball game who are currently making an impact. Players like Silas Demary (Georgia), Cody Williams (Colorado), and Justin Edwards (Kentucky) are growing into big roles for their programs. You also have players like Coen Carr (Michigan State) and JoJo Tugler (Houston) who are not currently starting but project to the next level.
Let's discuss the top ten freshmen in college basketball, so far in the 2023-24 season.
1. PG Isaiah Collier, USC
Isaiah Collier started the season with an 18-point, 6-assist game against Kansas State. Battling injuries across the board, Collier has led his USC team to an early 3-1 record while averaging 21.0 points, 3.8 assists, and 1.3 steals. Most importantly, Collier is shooting 80.6 from the free-throw line while drawing 7.8 fouls per game. Collier continues to climb up NBA Draft boards as well. USC is No. 23 in the current AP Poll.
2. G Ja'Kobe Walter, Baylor
Ja'Kobe Walter started his season with a 28-point output in a win against Auburn. Walter continued to show off his efficient scoring chops by averaging 18.0 points and shooting 39.1 percent from three while leading his Baylor team to a 4-0 start. Walter's play has him climbing up NBA Draft boards while his Bears are currently sitting at No. 13 in the A.P. Polls.
3. G Carlton Carrington, Pittsburgh
It was a triple-double that started the season off for Carlton Carrington. But it has been his poise and skill set that has continued past that game. The 6-foot-5 Pittsburgh freshman guard is averaging 18.0 points and 6.3 assists while shooting 51.9 percent from three. Carrington has long arms and a natural feel for the game. He is another one whose hot start has start to catch the eye of NBA teams.
4. G Stephon Castle, UConn
Stephon Castle entered the season with NBA Draft Lottery talk. Through his first two games, he averaged 14.5 points, 6.5 rebounds, and 3.5 assists. Castle has been out with injury and shooting for an early December return. He is a big-bodied, 6-foot-6 guard and is at his best with the ball in his hands. UConn is currently ranked No. 5 in the A.P. Poll and Castle has averaged 21.5 minutes per contest in the games he has played.
5. F Milan Momcilovic, Iowa State
Milan Momcilovic has been able to showcase a unique scoring feel. Iowa State was expecting a freshman to make an impact this season, however, that freshman was Five-Star Plus+ forward Omaha Biliew. Now sitting at 4-0, Iowa State's leading scorer is Momcilovic. The 6-foot-8 forward is shooting 55.6 percent from the field, 60.0 percent from three, and 87.5 percent from the free-throw line. His offensive arsenal is impressive, especially with his footwork and shooting touch.
6. F Jarin Stevenson, Alabama
Jarin Stevenson enrolled at Alabama a year early and has immediately gone to work. Stevenson played his first college game at 17 years old but has since turned 18 in October. Alabama is no 4-0 and they are ranked No. 17 in the current A.P. Poll. He is averaging 10.3 points in 18.5 minutes off the bench. Stevenson is shooting 63.6 percent from the field and 50.0 percent from three.
7. G Robert Dillingham, Kentucky
Electricity is a quality word to describe Robert Dillingham and his game. John Calipari has done a great job of playing Dillingham in spurts and giving him the freedom to play his style. In return, Dillingham is averaging 16.0 points, 4.6 assists, and 1.6 steals in 23.0 minutes per contest. Kentucky is now 4-1 and sits at No. 16 in the A.P. Poll.
8. G Andrej Stojakovic, Stanford
Andrej Stojakovic, the son of former NBA champion Peja Stojakovic, has started off the season averaging 13.3 points while knocking down 42.9 percent of his shots from three. Stanford did not come into the season with much expectations, but the Cardinal now sit at 3-1 on the season. Stojakovic has started two games and he is playing 26.3 minutes per contest. Next up for Stanford will be No. 20 ranked Arkansas in the Battle 4 Atlantis.
9. G Aden Holloway, Auburn
Aden Holloway comes to Auburn as a McDonald's All-American. He came off the bench in his first game, but his 19 points led the Tigers in scoring. He came off the bench one more game and then was added into the starting lineup for each of the last two contests. Holloway is playing 24.0 minutes per contest and averaging 13.3 points and 4.3 assists per game. He is also shooting 46.4 percent from three on 7.0 attempts per game. The 3-1 Tigers will play Alabama A&M next.
10. G DJ Wagner, Kentucky
It has been an up-and-down season so far for Five-Star Plus+ guard DJ Wagner, but he has continued to show his value to John Calipari, playing 29.2 minutes per contest, third on the team. Wagner has averaged 11.8 points and 3.4 assists per game. His most productive game was his last, the overtime win over St. Joseph's where Wagner finished with 22 points and six assists. The Kentucky freshman getting up to speed quickly will go a long way for the Wildcats maintaining their No. 16 rating in the A.P. Poll.