Colorado police investigating NBA star for possible gun violations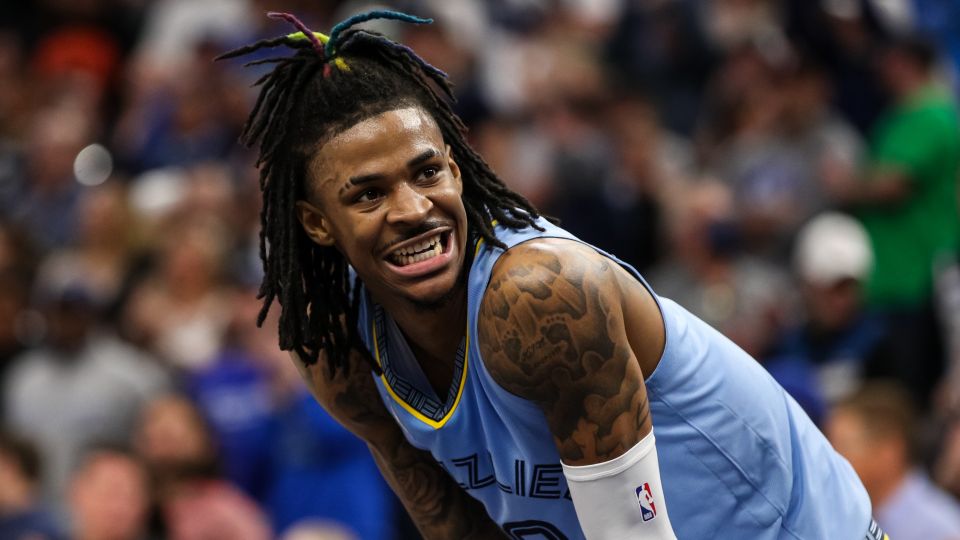 Memphis Grizzlies basketball player Ja Morant was suspended for off-court behavior, including an early morning video posted online that purportedly shows the All-Star guard brandishing a pistol at a strip club.
The video went up a few hours after the Grizzlies lost on the road to the Denver Nuggets Friday night.
Police in Glendale, Colorado, outside of Denver, said in a statement on Monday the department is investigating whether Morant violated gun laws. They said the Instagram Live video featuring Morant originated at a bar in Glendale.
Possessing a firearm while under the influence of alcohol is illegal in Colorado, an open-carry state that also prohibits weapons possession on federal property.
Head coach Taylor Jenkins said the Grizzlies don't expect Morant to return right away after missing "at least two games."
The NBA ultimately will have a say in when Morant returns.
One of the faces of the league and a contender for NBA Most Valuable Player, Morant appears in the video days after a report in The Washington Post said Morant had been accused of assaulting a teenager and threatening him with a gun after a neighborhood pickup game.
Less is known about other alleged incidents involving Morant and his family or associates, including alleged threats made to mall security after Morant's mother was involved in a disagreement at a Finish Line store.
"We are aware of a social media post involving Ja Morant and are investigating," Mike Bass, NBA spokesman, said after reports surfaced that Morant violated NBA rules by taking a weapon on a team charter flight to Denver.
A violation of that NBA rule could result in a lengthy suspension.
The league also was made aware by Indiana Pacers staff members of an incident they described as an "aggressive confrontation" outside of Memphis' home arena earlier this season. Morant's friends allegedly threatened and trained a red laser from a slow-moving SUV on members of the Pacers' staff.
Morant, 23, didn't play Sunday when the Grizzlies visited the Los Angeles Clippers and is out for Tuesday's game at the same venue against the Los Angeles Lakers.
Morant apologized in a statement over the weekend, and his social media accounts have since been deactivated.
"I take full responsibility for my actions last night," the statement read. "I'm sorry to my family, teammates, coaches, fans, partners, the city of Memphis and the entire Grizzlies organization for letting you down. I'm going to take some time away to get help and work on learning better methods of dealing with stress and my overall well-being."
NBA and crime
There has long been a correlation between professional basketball players and criminality, illustrated in Jeff Benedict's 'Out of Bounds: Inside the NBA's Culture of Rape, Violence & Crime'. Benedict uncovered that 40 percent of the American players in the NBA during the 2001-02 season had police records involving a serious crime.
Keyon Dooling, who played 13 seasons with seven different teams, and Alan Anderson, an eight-year NBA veteran with five clubs, were among 19 former players arrested for making what prosecutors said were roughly USD 4 million in false claims.
Among those imprisoned last year were Montrezl Harrell and Taurean Prince. Harrell was charged with a misdemeanor and pleaded guilty in 2022, while Prince was charged with unlawful carrying of a weapon and possessing a controlled substance.
This year
Just last month, former NBA player Anthony Morrow faces kidnapping and strangulation charges after being arrested February 10.
Also last month two former NBA players were sentenced to at least two years in prison for their roles in defrauding the league's health and welfare plan by making claims for services that were never performed.
Also in February, Alabama basketball standout Brandon Miller is accused by police of giving now-former teammate Darius Miles the gun that was allegedly used by another man to kill a woman in mid-January, according to Alabama Local.
Miller, a freshman who according to ESPN.com is expected to be a high pick in this summer's NBA draft, brought Miles' gun to him shortly before the January 15 shooting after Miles had asked him to do so over text, Alabama Local reported.


source:
Reuters, USA Today, Alabama Local, Sports Brief, MSN