Delaware Biotechnology Institute leadership announced | UDaily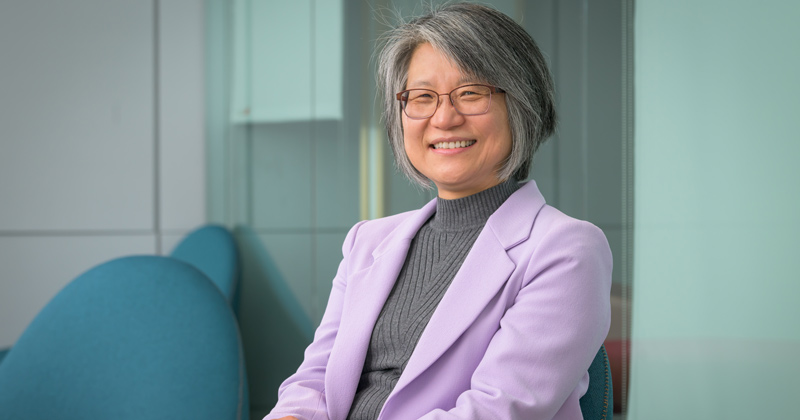 Jung-Youn Lee, professor of plant and soil sciences at the University of Delaware, has been appointed interim director of the Delaware Biotechnology Institute (DBI). She succeeds former DBI Director John Koh, who has returned to research and teaching full-time in UD's Department of Chemistry and Biochemistry after completing a six-year administrative term. 
"I am grateful to both John and Jung-Youn for their deep commitment and stellar contributions to the leadership of the Delaware Biotechnology Institute," said Kelvin Lee, interim vice president for research, scholarship and innovation.
"John directed DBI's operations during the COVID-19 pandemic with a sure and steady hand, overseeing the institute's move from 15 Innovation Way to STAR Campus, while expanding access to its high-end research facilities for academic and industry impact," Lee said, "and Jung-Youn served with John as interim associate director since last spring. As one of the first faculty to join DBI, she is an expert in the biotechnology field and knows Delaware's life science research community very well."
Since the Delaware Biotechnology Institute was launched in 2001, it has been a magnet for life science research and development, supporting multidisciplinary research at UD, Delaware State University, ChristianaCare, Nemours Children's Hospital and Delaware Technical and Community College.
Among its many contributions, DBI has served as a catalyst and collaborative force for such major initiatives as the National Institute for Innovation in Manufacturing Biopharmaceuticals (NIIMBL) and the biopharmaceutical master's program offered at UD. 
DBI helps fuel research partnerships between academia and industry by providing seed funding opportunities through its popular Bioscience CAT program and access to leading core research facilities in bio-imaging, genome sequencing and bioinformatics. The institute supports the local bioscience industry in partnership with the Delaware Bioscience Association. Its outreach programs, such as the BioGeneius Challenge, Sussex Science Night and Science for All Delawareans, have engaged graduate student scientists-in-training in service to the community by helping to inform and inspire the next-generation bioscience workforce. 
Driving science forward lies at the heart of DBI's work. The institute's home in the Ammon Pinizzotto Biopharmaceutical Innovation Center at UD's STAR Campus provides state-of-the-art research laboratories for life science faculty and their research teams working on problems related to agriculture, human health, energy and the environment.
In addition to her expanded administrative duties as DBI's new interim director, Lee will continue to lead a research team working to understand how plant cells communicate through plasmodesmata — plant-unique intercellular communication channels — and how these channels are affected by plant health and fitness during environmental challenges. She has received more than $17 million in funding primarily from the National Science Foundation and National Institutes of Health and publishes in high-profile journals, including the Nature journals, Plant Biotechnology Journal, Science, Proceedings of the National Academy of Sciences and Plant Cell. 
Koh will continue leading his research group in chemical biology, which is exploring new approaches to the design of molecular therapeutics such as small molecules that rescue function to mutant proteins associated with genetic diseases and cancer, and a new class of catalytic covalent modifying compounds that can disrupt protein-protein interactions or inhibit enzymes by redirecting cellular metabolites.
Among her professional accomplishments, Lee is associate editor of the journal Frontiers in Plant Cell Biology, guest editor of Plant Cell and a past president of the American Society of Plant Biologists, Mid-Atlantic Section. She also is a recent graduate of Lead21, a national leadership program for the land-grant system, and served as a UD ADVANCE Faculty Fellow for the UD College of Agriculture and Natural Resources.
She received her bachelor's degree in horticultural sciences from Korea University in Seoul, South Korea, and her M.S. and doctorate in the plant molecular and cellular biology interdisciplinary graduate program from the University of Florida. She was a Katharine Esau Postdoctoral Fellow in plant biology at the University of California, Davis.