Flood risk for millions in USA from the ageing network of levees
Researchers are calling for urgent action to repair thousands of levees
---
Authorities had known that the ageing levee on the border of Monterey County, California, could fail. Built in the late 1940s, it provides flood protection for the agricultural town of Pajaro, home to some 3,500 residents – a 'disadvantaged community', one elected official would later tell the Los Angeles Times. In the early hours of 11 March 2023, as more than 30 centimetres of rainfall doused parts of the county, the Pajaro River breached the earthen embankment. The town was quickly submerged.
When US professor Farshid Vahedifard heard what had happened, he wasn't surprised. Vahedifard, a specialist in resilient and equitable infrastructure at the United Nations University Institute for Water, Environment and Health (the UN's 'Think Tank on Water'), had been working on a new report on the communities living behind US levees. 'I was not happy to see proof of what our paper was showing us,' he says.
More than 17 million US citizens are estimated to live in levee-protected areas but Vahedifard and his colleagues found that, nationwide, ethnic minorities and socially and economically disadvantaged populations are unequally exposed to the risk of levee failures. Vahedifard says that in Pajaro, where the per capita income is less than half the state and national average, the federal government had chosen not to take any action to reduce this risk. 'Why? Because it wasn't worth it. Because only poor communities live there.' 
There are 6,825 levee systems across the USA, with a combined length of more than 39,000 kilometres – very nearly enough to encircle the globe. Most are in serious need of repair. At the time they were built – the average US levee is 59 years old, the oldest is 105 – there were no guidelines for their construction or maintenance. 'These are not engineered structures with rigorous designs,' says Vahedifard. 'But over time, for reasons of urbanisation, land use change and climate change, the role of levees has changed. They now, unintentionally, play a critical role.'
---
Enjoying this article? We have thousands more for you.
Get immediate access to over 1,000 Geographical magazines in our archive back to 1935.
Sign up today and you will soon be travelling back through time reading all our amazing features of the last eight decades PLUS… you also get to enjoy every new issue of Geographical each month going forward in both print and digital formats.
Simply press the button below to choose the perfect package for you.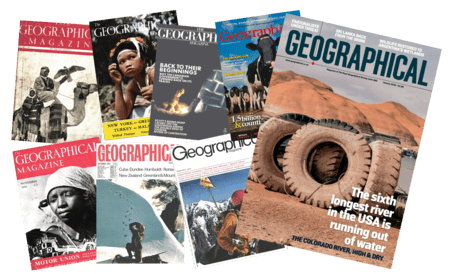 ---
In the last few decades, the USA has experienced a number of disasters triggered or exacerbated by levee failure. In 2005, when Hurricane Katrina struck the southeastern USA, floodwater quickly overwhelmed New Orleans' inadequate levee system in more than 50 locations, leaving 80 per cent of the low-lying city underwater – by as much as three metres in some neighbourhoods. Vahedifard says the disaster that followed was a turning point that triggered significant investment in US flood defences.
In November 2021, US president Joe Biden authorised the US$1.2 trillion Infrastructure Investment and Jobs Act (commonly known as the Bipartisan Infrastructure Law), allocating US$550 billion to rebuilding US infrastructure across the transportation, energy and water sectors. 'Which is great,' says Vahedifard. 'Everybody's so excited about the infrastructure law.' However, in a study published three years prior by the American Society of Civil Engineers, Vahedifard and his colleagues estimated that, over the next ten years, around US$27 trillion would be needed to bring the nation's infrastructure up to good condition. 'That's without considering the impact of climate change,' he adds. 
No matter how much money is allocated, Vahedifard says, there will always be limited resources. 'It brings up the question: Where should we prioritise? Where should we allocate our limited resources?' The recent failure of the Pajaro levee in California highlights what he calls a common problem in risk-assessment practices, which measure risk based on the value of land or assets. 'Flood-management decisions have been traditionally focused on minimising the economic cost of natural disasters,' agrees Kaveh Madani, director of the UN University Institute for Water, Environment and Health. 'This type of decision making brutally ignores the human element of disasters, leading to increased inequalities and injustice.'
Vahedifard says that it makes sense that governments would want to spend money in areas and communities that have more political power, more assets and more expensive businesses and properties. 'We have a historic issue with infrastructure equity. It's the same around the world,' he adds.
More than six months on, the residents of Pajaro are still struggling. Local news organisations have reported that, even by September, many still hadn't returned to their flood-damaged homes. A civil engineer by training, Vahedifard says that over the ten to 15 years that he has spent working on levees and other flood-prevention infrastructure, he has come to realise the importance of working with social scientists to better understand the vulnerabilities and capacities of the communities who live alongside them. 'We need to revisit our risk-assessment practices to look at how we can prioritise communities with pre-existing vulnerabilities, who have a lower risk threshold and lower adaptive capacity.'