Florida's new high-speed rail linking Miami and Orlando could be blueprint for future travel in U.S.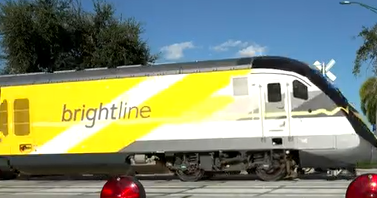 As Thanksgiving approaches, millions of Americans are gearing up for holiday travel. AAA projects that over 55 million people will travel more than 50 miles, which would make this Thanksgiving the third-busiest on record.
This year, a significant development in travel options comes from Florida, where a new rail line connects Miami and Orlando. The service — the only privately owned, multi-city railroad in the U.S. — was launched less than two months ago, and is already profitable and seeing a rise in ridership.
Brightline, which offers the new service, first launched in 2018 with service between Miami and West Palm Beach. Its trains, which can reach speeds of 125 miles per hour, have seen a 116% increase in ridership this year. The company anticipates accommodating approximately 4.3 million passengers annually between South Florida and Orlando by 2025. 
Jack Fernandez, who takes it monthly between West Palm Beach and Miami, said he likes the convenience and efficiency of the trains.
"You can get work done. You can make phone calls. You don't have to worry about the stress of having accidents in front of you and the uncertainty," Fernandez said.
In contrast to costly and delayed public projects, like California's high-speed rail, Brightline constructed its initial service between West Palm and Miami in just four years, on an existing freight line.
Its second phase linking Miami and Orlando runs along an expressway, which helped expedite permitting and construction. The rail will eventually extend to Tampa.
With amenities like in-seat food service and high-quality leather seats, the high-speed train offers a competitive alternative to road travel. Wes Edens, Brightline's chairman, said the Orlando-Miami route saves passengers an average of between one to two hours.
Now, Brightline has a project ready to link Los Angeles and Las Vegas, a $12 billion endeavor that could be operational in four years. Edens said the train speeds will exceed 200 miles per hour.
"There's no doubt that there are many, many corridors in the United States that would fit this bill where you're going to save people a considerable amount of time," he said.
He said with the Vegas project, the company is in the "pay for it part," and is "very optimistic" it will be "in a good place" on that front by the end of the year.
Transit experts point out that high-speed rails, successful in Europe and Asia, can be effective in linking cities 150 to 400 miles apart, but will require substantial public funding. 
The bipartisan infrastructure bill allocated $66 billion for rail.
"We're putting our money where our mouth is, but when private enterprise can play a big role in it, then those tax payer dollars go that much further," said Transportation Secretary Pete Buttigieg, who tried Brightline last month.
While the fastest trains in the U.S. still lag behind those in Europe, they move about 100,000 people daily between Washington, D.C., New York and Boston. 
Amtrak has a long-term plan that envisions adding higher-speed corridors throughout the country by 2035.
"The traveling public really needs to see how promising rail is before they get excited about additional markets," said Roger Harris, Amtrak's president.
"It's not just about distance. It's really about congestion because people don't want to be frustrated sitting in their car," said Harris.