Fort McCoy holds Native American Heritage Month observance with special guest from Red Cliff Band of Lake Superior Chippewa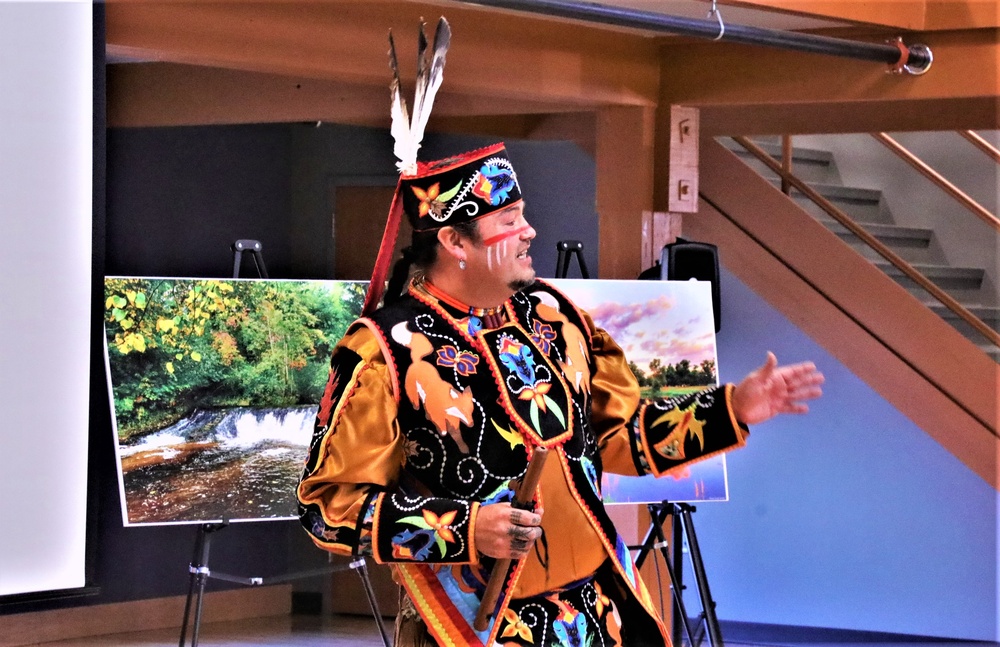 Fort McCoy held its annual Native American Heritage Month observance Nov. 14 in building 2000 with a special guest from the Red Cliff Band of the Lake Superior Chippewa.
That guest was Michael Charette "Laughing Fox." Charette is a Native American storyteller and flutist. During his presentation, Charette told stories and played music for the dozens in attendance.
Charette's home, the Red Cliff Reservation, "hugs the northeastern shoreline of the Bayfield Peninsula, nestled between Cornucopia and Bayfield overlooking the Apostle Islands in northern Wisconsin," states the tribe's website at https://www.redcliff-nsn.gov.
The Red Cliff tribal website also describes more detail about Charette's culture, which is likely contributes to his artistic presentation.
"Cultural expression in the arts has always been alive at Red Cliff, and today it is experiencing a strong resurgence of interest as the next generation adds new ideas to the old," the website states. "Whether in the traditional customs of hunting and fishing, gardening and wild food gathering, or in creative talents like manufacturing clothing and jewelry, or drawing and painting, writing, story-telling, poetry, and of course, song and dance –– all these cultural talents provide a colorful window open to community life."
The site also states, "Ojibwe culture is a woodland culture, and this is reflected in the peoples' artistic endeavors. They celebrate the world around them –– their land, waters, forests, heavens, and the life within. The richness of this celebration comes out through their artistic expression."
Charette's performance lasted nearly an hour, and he was dressed in his native clothing to enhance the performance.
At the end, he was presented with a special appreciation plaque from the Fort McCoy Garrison command team, thanking him for his presentation.
Overall, according to the Defense Equal Opportunity Management Institute, Native American Heritage Month, also called National American Indian Heritage Month, the observance is held annually in the Department of Defense every Nov. 1-30.
"This year's theme is, 'Tribal Nations Soaring to New Heights,'" states an institute press release from Nov. 1. "During this month, American Indians and Alaska Natives are honored and celebrated for their rich and varied cultures, traditions, history, and societal contributions. (The) month offers us an opportunity to become more educated about Native Americans, increase our knowledge of unique challenges faced by this population, and better understand how historical events — such as unjust Federal policies of assimilation and termination — have impacted Native peoples.
In 1990, Congress passed Pub. L. No. 101-343, which authorized and requested then-President George Bush to issue a proclamation designating the month of November 1990 as "National American Indian Heritage Month." Congress chose the month of November to recognize the Native Americans, as this month concluded the traditional harvest season, the release states.
The use of building 2000 to hold the observance event was also a first since the former recreation center was renovated. Five years ago building 2000 had begun a transformation to what is now a building that has a multiuse capability, including for events as well as training operations.
Learn more about the Department of Defense Native American Heritage Month observance coverage by visiting https://www.defense.gov/Spotlights/National-Native-American-Heritage-Month.
Learn more about Fort McCoy online at https://home.army.mil/mccoy, on the Defense Visual Information Distribution System at https://www.dvidshub.net/fmpao, on Facebook by searching "ftmccoy," and on Twitter by searching "usagmccoy."
Also try downloading the Digital Garrison app to your smartphone and set "Fort McCoy" or another installation as your preferred base. Fort McCoy is also part of Army's Installation Management Command where "We Are The Army's Home."
(Article prepared by the Fort McCoy Public Affairs Office.)
| | |
| --- | --- |
| Date Taken: | 11.20.2023 |
| Date Posted: | 11.21.2023 00:43 |
| Story ID: | 458268 |
| Location: | FORT MCCOY, WI, US  |
---
| | |
| --- | --- |
| Web Views: | 9 |
| Downloads: | 0 |
---

PUBLIC DOMAIN  


This work, Fort McCoy holds Native American Heritage Month observance with special guest from Red Cliff Band of Lake Superior Chippewa, must comply with the restrictions shown on https://www.dvidshub.net/about/copyright.