FOX News Media's 'All-American Christmas Tree Lighting' kicks off holiday season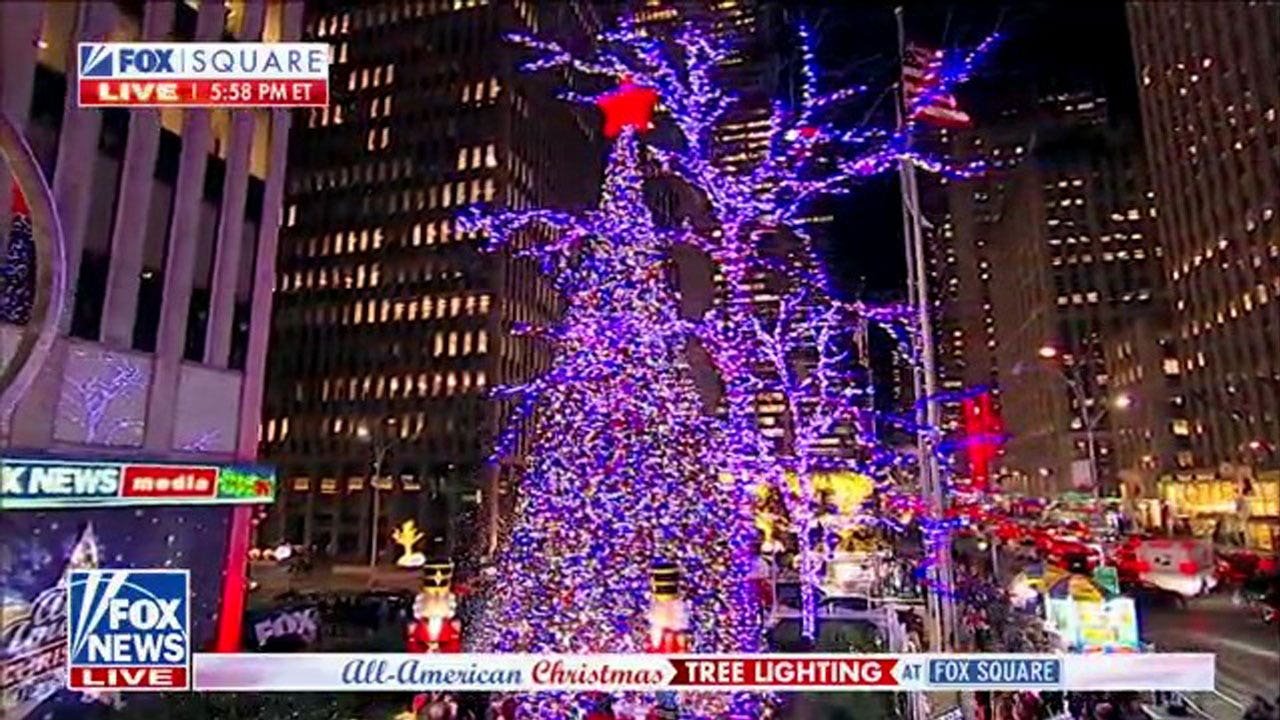 It's beginning to look at lot like Christmas. 
The unofficial kickoff to the holiday season commenced on Monday when FOX News Media's fourth annual "All-American Christmas Tree Lighting" aired live during "The Five."
Co-hosts Harold Ford Jr., Greg Gutfeld, Dana Perino, Judge Jeanine Pirro and Jesse Watters gathered on FOX Square outside the network's New York City headquarters alongside FOX News Media staffers, executives and their families. 
FOX NEWS CHANNEL CRUSHES CNN, MSNBC DURING NEWS-HEAVY OCTOBER AS 'THE FIVE' REMAINS MOST-WATCHED SHOW
"The holiday season always reminds us to remember what is most important," Perino said. "This year, the Fox family is thinking of Israel and the Jewish people. Believe me, we hear you and we are standing with you. It has been a heart-wrenching 44 days since Hamas terrorists launched an attack on the Israeli people. More than 200 are still being held hostage, including babies as young as 10 months old and we are all hoping and praying that their families get to hug them again very soon."
A Jewish star was projected outside of Fox News headquarters alongside the Christmas Tree in honor of Israel. 
FOX NEWS DIGITAL FINISHES OCTOBER AS TOP NEWS BRAND IN KEY METRIC FOR 32ND STRAIGHT MONTH
Spotted at the tree-lighting include FOX News CEO Suzanne Scott, FOX News President Jay Wallace, Bret Baier, Shannon Bream, Steve Doocy, Brian Kilmeade, Ainsley Earhardt, Lawrence Jones, Kayleigh McEnany, Emily Compagno, Sandra Smith, Janice Dean, Jessica Tarlov, Lauren Green, Nick Kosir, Brian Brenberg, Carley Shimkus, Kennedy and Jimmy Faila. 
Members of the FDNY and NYPD from stations and precincts around New York City along with their families were also in attendance. 
Also making a special appearance was none other than Santa Claus.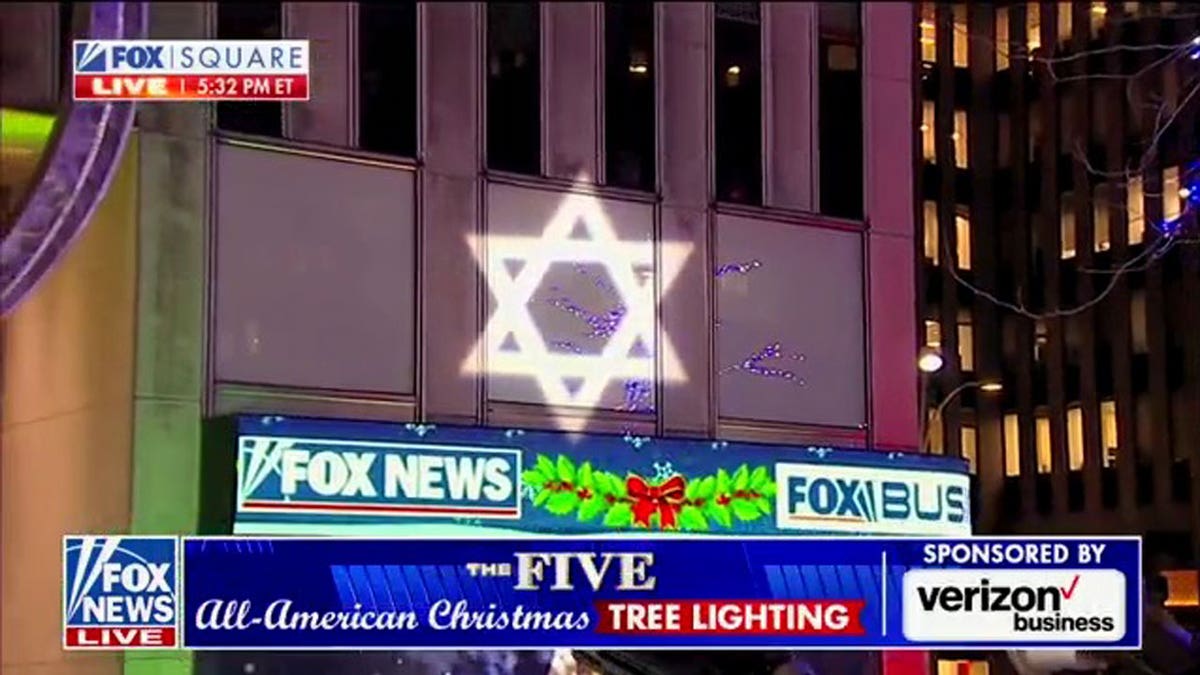 FOX News Media partnered with the First Responders Children's Foundation for the event that kicked off with holiday carolers. 
FOX's All-American Christmas tree is 50 feet tall and decorated with 12,000 ornaments and 340,000 lights. The tree has 500 branches, a star topper that is over six feet tall, and features more than four miles of cord wrapped throughout. The tree featured a patriotic theme of red, white, and blue decorations. It took 27 hours to put it together. 
"The Five" co-hosts were joined by special guests to discuss the upcoming holiday season, the importance of giving back, and some of their favorite holiday memories while Cardinal Timothy Dolan, Rabbi Haskel Lookstein and Rev. Lawrence Akers bestowed a blessing of the tree. 
RUPERT, LACHLAN MURDOCH HONORED AT AMERICAN AUSTRALIAN ASSOCIATION'S 75TH ANNIVERSARY DINNER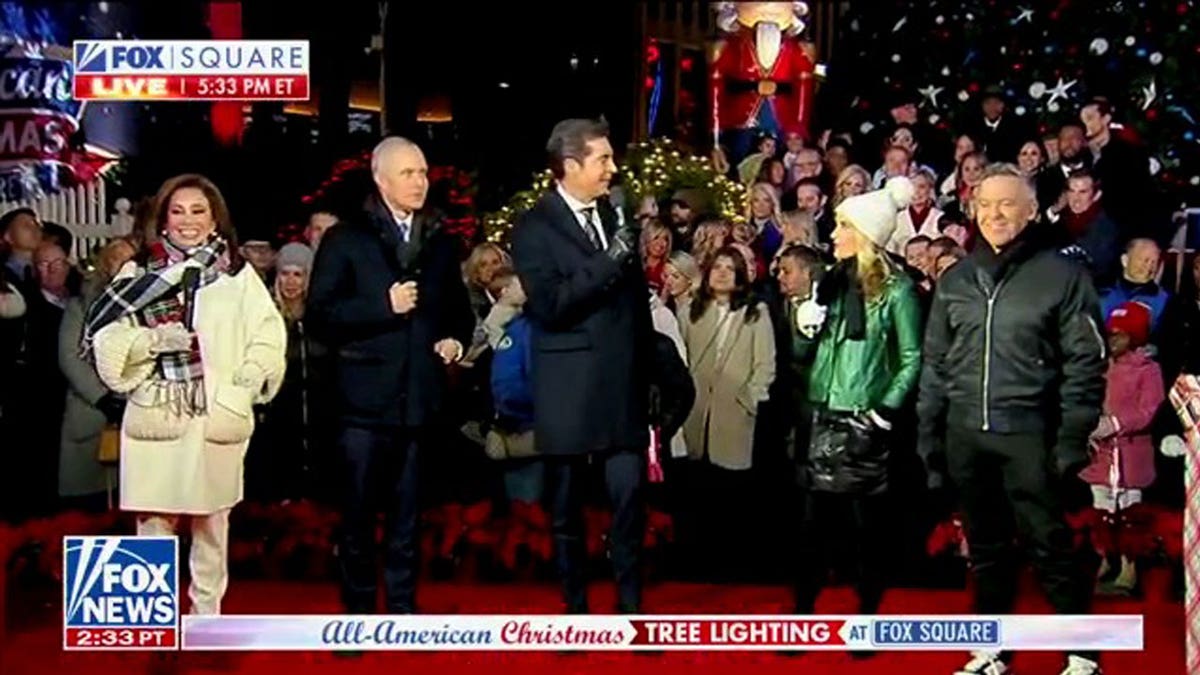 First Responders Children's Foundation provides financial support to children who have lost a parent in the line of duty, as well as families enduring significant financial hardships due to tragic circumstances. Earlier this month, FOX News Media set up an internal toy drive for employees to donate gifts which were wrapped and placed under the tree.
"The Five" recently became the first non-primetime program in cable news history to finish with the largest audience for eight consecutive quarters.
CLICK HERE TO GET THE FOX NEWS APP
For more Culture, Media, Education, Opinion, and channel coverage, visit foxnews.com/media.