Georgia Tech #ProJackets Golf Report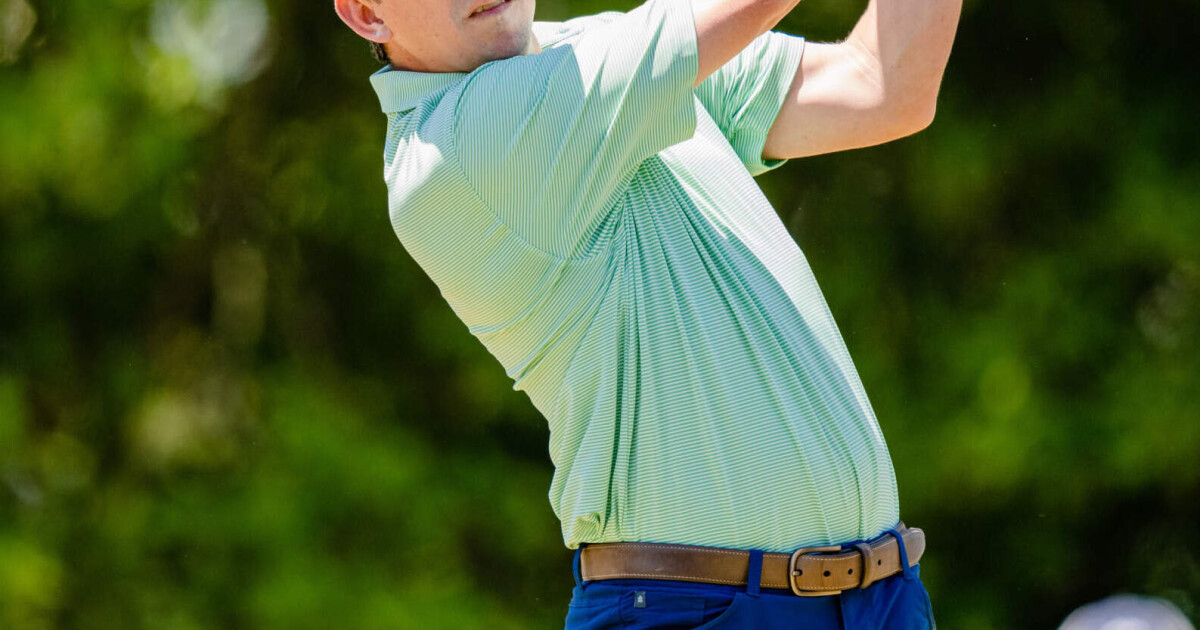 THE FLATS – Stewart Cink, Chesson Hadley and Matt Kuchar all set for The Players … Andy Ogletree back in action in Thailand … Connor Howe qualifying for PGA Tour Canada … More details below in this week's Georgia Tech #ProJackets Report.
*****
CINK, HADLEY, KUCHAR IN FIELD FOR PLAYERS CHAMPIONSHIP
Three Yellow Jackets, Stewart Cink, Chesson Hadley and Matt Kuchar, are in the field for the PGA Tour's crown jewel event, The Players Championship, this weekend in Ponte Vedra, Fla.
Kuchar, who won the event in 2012 for one of his nine PGA Tour victories, returns to action after sitting out last weekend's Arnold Palmer Invitational, is No. 63 in the FedEx Cup points list. He has a pair of top-10 finishes in nine events in 2022-23, including an eighth-place finish the Genesis Invitational.
Hadley, who also didn't play last week, has a pair of top-30 showings in his last three starts and sits No. 123 in FedEx Cup points. Cink, who missed the cut at the API, is No. 156.
Not in the field this week are Anders Albertson, Paul Haley II and Richy Werenski, who each tied for 21st place last weekend at the Puerto Rico Open (10-under-par 278). Haley remains Tech's top-ranked player in FedEx Cup points (No. 44), while Werenski is No. 121 and Albertson is No. 191.
*****
OGLETREE LOOKS AHEAD TO THAILAND
In-form Andy Ogletree will be aiming to continue his rich vein of form when he spearheads a strong entry for the second edition of the International Series Thailand.
Six of the top-seven from the current Asian Tour Order of Merit have confirmed their participation in the event at Hua Hin's Black Mountain Golf Club which will carry a purse of US$2 million, a 25% increase on last year's prize money.
To be held from March 9-12, the tournament is the fifth leg of the 2023 Asian Tour season and the third stop for the International Series, following Oman and Qatar.
Riding high after winning the International Series Qatar a fortnight ago, American Ogletree is looking to further press his claims to top this year's Merit standings.
He will also be hoping to win the International Series Order of Merit, which brings with it automatic qualification onto the ultra-lucrative LIV Golf League.
"Trying to win the Order of Merit out here is my number one goal this year. That's all I'm really focused on," said the 24-year-old.
In the first three Asian Tour events of 2023, Ogletree placed ninth in the PIF Saudi International powered by SoftBank Investment Advisers, tied for seventh in the International Series Oman and triumphed at Qatar's Doha Golf Club.
In-form @andy_ogletree will be aiming to continue his rich vein of form when he spearheads a strong entry for the second edition of the International Series Thailand next week.#ISthailand #InternationalSeries #whereitsAT

— Asian Tour (@asiantourgolf) February 27, 2023
*****
HOWE IN THE FIELD FOR PGA TOUR CANADA QUALIFIER
Georgia Tech senior Connor Howe is in Alabama this week to compete in the third United States-based qualifier for PGA Tour Canada, being contested at the Highland Oaks Golf Club on the Robert Trent Jones Golf Trail in Dothan, Ala.
The Ogden, Utah native is preparing for life after Georgia Tech, where the fifth-year senior's college career will come to an end following the NCAA Championship in May. He is competing as an amateur, as are many of the other players in the field.
A regular in the Georgia Tech lineup for five years, Howe was named to the All-Atlantic Coast Conference team in 2022, and to the ACC Academic Honor Roll in 2020 and 2021. He has been a key figure in Tech advancing to the NCAA Championship in three of his four years (2020 event was not held due to COVID-19), and in the Jackets winning the ACC Championship in 2019 and finishing as the runner-up in 2022. He was ranked No. 86 nationally in Golfstat at the end of the 2022 fall season, and No. 85 at the end of the spring 2022 season. Howe also is ranked No. 31 nationally in the current PGA Tour University Velocity Global Ranking and No. 57 in the World Amateur Golf Ranking. Howe has played 128 rounds of golf in 42 events as a Yellow Jacket, finishing in the top 10 six times and compiling a 72.05 stroke average. His top finish has been a tie for third place at the 2022 Maui Jim Intercollegiate, and he earned a seventh-place finish at the NCAA Columbus Regional and a ninth-place showing at the 2021 ACC Championship. On the amateur circuit, Howe won the 2021 Patriot All-American Invitational and the 2020 Southeastern Amateur.
UPCOMING EVENTS
PGA Tour:  The Players • March 9-12, 2023 • TPC Sawgrass • Ponte Vedra, Fla. • Purse: $20M • FedEx Cup points: 500
Korn Ferry Tour:  Club Car Championship • March 23-26, 2023 • The Landings Golf & Athletic Club • Savannah, Ga. • Purse: $1M
PGA Tour Champions:  Hoag Classic • March 17-19, 2023 • Newport Beach Country Club • Newport Beach, Calif. • Purse: $2M
PGA Tour Canada:  Qualifying Tournament USA East 3 • March 7-10, 2023 • RTJ Golf Trail – Highland Oaks • Dothan, Ala.
Asian Tour: International Series Thailand • March 9-12, 2023 • Black Mountain Golf Club • Thailand • Purse: $2M
LIV Golf Series: Tucson • March 17-19, 2023 • The Gallery Golf Club • Tucson, Ariz. • Purse: TBA
G Pro Tour:  Augusta Open • March 22-24, 2023 • Bartram Trail • Evans, Ga. • Purse: $66,525
PLAYER
PLAYER
LAST WEEK
DATA
ANDERS ALBERTSON
Hometown: Woodstock, Ga.
Turned pro: 2015
Years at Georgia Tech: 2011-15
Status: PGA Tour
PGA Tour
Puerto Rico Open
T-21
70-69-69-70–278 (-10)
FedEx Cup points ranking: 191
YTD earnings: $87,639
Career earnings (PGAT): $512,187
Career earnings (KFT): $915,431
ROBERTO CASTRO
Hometown: Alpharetta, Ga.
Turned pro: 2007
Years at Georgia Tech: 2003-07
Status: retired
Did not play
Points ranking: n/a
YTD earnings: $0
Career earnings: $7,463,260
STEWART CINK
Hometown: Florence, Ala.
Residence: Duluth, Ga.
Turned pro: 1995
Years at Georgia Tech: 1991-95
Status: PGA Tour
PGA Tour
Arnold Palmer Invitational
missed cut
73-79–152 (+8)
FedEx Cup points ranking: 156
YTD earnings: $210,981
Career earnings (PGAT): $42,994,598
JAMES CLARK
Hometown: Columbus, Ga.
Turned pro: 2019
Years at Georgia Tech: 2014-19
Status: developmental tours
Did not play
Points ranking: n/a
YTD earnings: n/a
DREW CZUCHRY
Hometown: Auburn, Ga.
Turned pro: 2015
Years at Georgia Tech: 2010-14
Status: developmental tours
Did not play
Points ranking: n/a
YTD earnings: n/a
WILL DICKSON
Hometown: Providence, R.I.
Residence: Atlanta, Ga.
Turned pro: 2021
Years at Georgia Tech: 2017-21
Status: Developmental tours
Did not play
Points ranking (GPro): 17
YTD Earnings (GPro): $1,125
Career earnings (GPro): $45,175
Points ranking (KFT): 193
YTD earnings (KFT): $4,538
Points ranking (FET): 154
YTD earnings (FET): $2,571
DAVID DUVAL
Hometown: Ponte Vedra Beach, Fla.
Residence: Denver, Colo.
Turned pro: 1993
Years at Georgia Tech: 1989-93
Status: PGA Tour Champions
Did not play
Champions Tour Points ranking: 42
YTD earnings (Champions): $11,000
Career earnings (Champions): $71,826
Career earnings (PGAT): $18,983,931
J.T. GRIFFIN
Hometown: Wilson, N.C.
Residence: Marietta, Ga.
Turned pro: 2011
Years at Georgia Tech: 2007-11
Status: Korn Ferry Tour
Did not play
Points ranking (Canada): 45
YTD earnings (Canada): $16,879
Career earnings (KFT): $187,056
CHESSON HADLEY
Hometown: Raleigh, N.C.
Turned pro: 2010
Years at Georgia Tech: 2006-10
Status: PGA Tour
Did not play
FedEx Cup points ranking: 117
YTD earnings: $346,258
Career earnings: $10,567,151
SHUN YAT HAK
Hometown: Hong Kong
Turned pro: 2013
Years at Georgia Tech: 2012-13
Status: PGA Tour China
Did not play
Order of Merit: n/a
YTD earnings: n/a
Career earnings: ¥251,305
PAUL HALEY II
Hometown: Dallas, Texas
Turned pro: 2011
Years at Georgia Tech: 2007-11
Status: PGA Tour
PGA Tour
Puerto Rico Open
T-21
68-66-74-70–278 (-10)
FedEx Cup points ranking: 123
YTD earnings: $321,118
Career earnings (PGAT): $337,916
Career earnings (KFT): $1,078,795
MATT KUCHAR
Hometown:
Lake Mary, Fla.
Residence: Sea Island, Ga.
Turned pro: 2000
Years at Georgia Tech: 1997-2000
Status: PGA Tour
Did not play
FedEx Cup points ranking: 59
YTD earnings: $1,231,177
Career earnings (PGAT): $56,149,646
TROY MATTESON
Hometown: Austin, Texas
Turned pro: 2003
Years at Georgia Tech: 2000-03
Status: none
Did not play
Points ranking: n/a
YTD earnings: n/a
Career earnings (PGA Tour): $9,392,206
LARRY MIZE
Residence: Columbus, Ga.
Turned pro: 1980
Years at Georgia Tech: 1975-79
Status: PGA Tour Champions
Did not play
Champions Tour points ranking: 109
YTD earnings: $31,440
Career earnings (Champions): $5,144,536
Career earnings (PGAT): $7,947,092
NOAH NORTON
Hometown: Chico, Calif.
Residence: Atlanta, Ga.
Turned pro: 2021
Years at Georgia Tech: 2017-21
Status: Developmental tours
Did not play
Points ranking (GPro): 165
YTD earnings (GPro): $1,730
ANDY OGLETREE
Hometown: Little Rock, Miss.
Residence: Roswell, Ga.
Turned pro: 2020
Years at Georgia Tech: 2016-20
Status: Asian Tour
Did not play
Order of Merit (Asian Tour): 1
YTD earnings (Asian Tour): $601,750
2022 earnings (LIV): $120,000
CHRIS PETEFISH
Hometown: Danville, Calif.
Turned pro: 2018
Years at Georgia Tech: 2014-18
Status: Korn Ferry Tour
Did not play
Points ranking (KFT): 49
YTD earnings (KFT): $24,775
Career earnings (KFT): $93,820
Career earnings (PGA Tour Canada): $21,118
MICHAEL PISCIOTTA
Hometown: Alpharetta, Ga.
Turned pro: 2018
Years at Georgia Tech: 2014-18
Status: Developmental tours
Did not play
Points ranking: n/a
YTD earnings: n/a
SETH REEVES
Hometown: Duluth, Ga.
Turned pro: 2014
Years at Georgia Tech: 2010-14
Status: Korn Ferry Tour
Did not play
KFT points ranking: 97
YTD earnings: $5,960
Career earnings (PGAT): $649,622
Career earnings (KFT): $621,668
LUKE SCHNIEDERJANS
Hometown: Powder Springs, Ga.
Residence: Alpharetta, Ga.
Turned pro: 2020
Years at Georgia Tech: 2016-20
Status: MacKenzie Tour/Forme Tour
Did not play
Points ranking (Canada): 29
YTD earnings (Canada): $19,780
Career earnings (Canada): $35,853
OLLIE SCHNIEDERJANS
Hometown: Powder Springs, Ga.
Turned pro: 2015
Years at Georgia Tech: 2011-15
Status: Korn Ferry Tour
Did not play
KFT Points ranking: 191
YTD earnings: $3,060
Career earnings (KFT): $530,524
Career earnings (PGAT): $3,879,653
BEN SMITH
Hometown: Novi, Mich.
Residence: Atlanta, Ga.
Turned pro: 2022
Years at Georgia Tech: 2018-22
Status: developmental tours
Did not play
Points ranking: 57
YTD earnings: $1,260
TYLER STRAFACI
Hometown: Davie, Fla.
Residence: Davie, Fla.
Turned pro: 2020
Years at Georgia Tech: 2016-20
Status: none
Did not play
Points ranking (Canada): 49
YTD earnings (Canada): $12,970
Career earnings (PGA Tour): $21,111
Career earnings (Canada): $12,970
NICHOLAS THOMPSON
Hometown: Coral Springs, Fla.
Turned pro: 2005
Years at Georgia Tech: 2001-05
Status: Korn Ferry Tour
Did not play
KFT points ranking: 237
YTD earnings: $2,880
Career earnings (KFT): $922,294
Career earnings (PGAT): $5,729,551
CAMERON TRINGALE
Hometown: Laguna Niguel, Calif.
Turned pro: 2009
Years at Georgia Tech: 2005-09
Status: LIV Golf/Asian Tour
Did not play
YTD Earnings (LIV): $184,000
YTD earnings (Asian Tour): $27,625
Career earnings (LIV): $1,275,200
Career earnings (PGAT): $17,310,004
RICHY WERENSKI
Hometown: South Hadley, Mass.
Turned pro: 2014
Years at Georgia Tech: 2011-14
Status: Korn Ferry Tour
PGA Tour
Puerto Rico Open
T-21
71-70-71-66–278 (-10)
FedEx Cup points ranking: 143
YTD earnings: $181,458
Career earnings (PGAT): $6,262,750
VINCENT WHALEY
Hometown: McKinney, Texas
Residence: Fayetteville, Ga.
Turned pro: 2017
Years at Georgia Tech: 2013-17
Status: PGA Tour
Did not play
FedEx Cup points ranking: 212
YTD earnings: $0
Career earnings (PGAT): $1,939,680
Career earnings (KFT): $167,469