Hogs Start 5-0 with Win Over UCA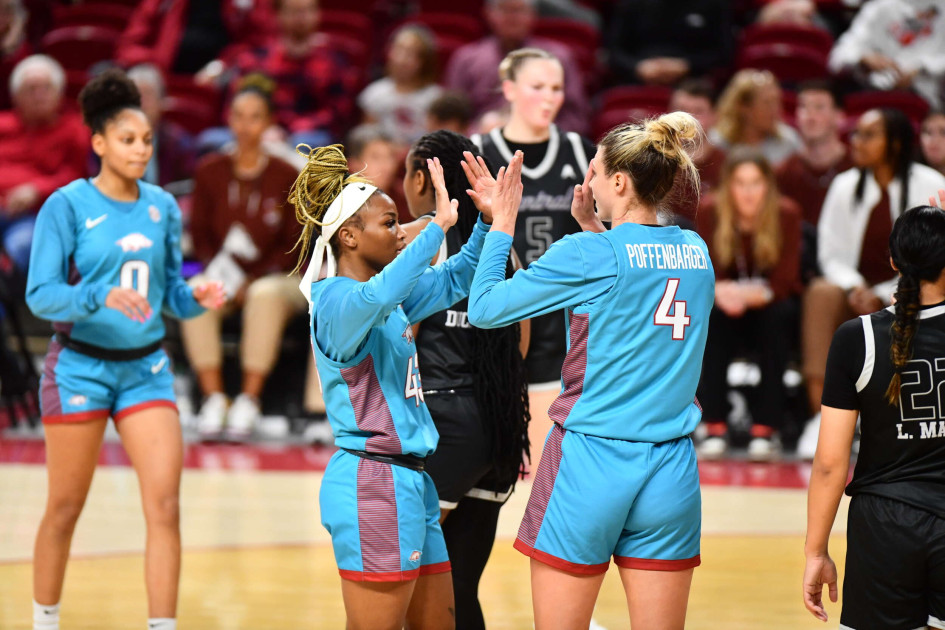 FAYETTEVILLE – The Arkansas women's basketball team (5-0) took down Central Arkansas (2-2), 81-67, on the team's Native American Heritage Appreciation Month game. Arkansas' win elevated the Hogs to 5-0, marking the third time in Mike Neighbors' career in Fayetteville his team has started a season with five straight wins. That also ties a school record (with Tom Collen and Gary Blair). Arkansas earned the win behind a balanced scoring attack, as all five starters reached double digits in scoring led by Saylor Poffenbarger and Taliah Scott's 17 a piece.
Maryam Dauda wasted no time for the Hogs, getting Arkansas on the scoreboard with a layup on their first possession, but UCA responded with a layup off their own off a miss.  Poffenbarger's 3-pointer got a 6-0 run started for Arkansas with Scott keeping it going with an and-1. A second 3-pointer by Poffenbarger followed by a Scott jumper extended the Hogs' run to 13-2 in nearly three minutes, forcing UCA to take a timeout. Arkansas led 17-4 with 5:40 left in the first quarter. UCA broke a three-minute scoring drought with a triple and followed that up with another, while Arkansas fell in a 3.5-minute scoring drought of its own. The Hogs' drought was snapped after Scott knocked down a jumper. Arkansas had the 22-12 edge after one quarter.
Samara Spencer sparked a 6-0 run for the Hogs with an aggressive take to the basket for a layup. With the Hogs up 28-12 1:47 into the second quarter, UCA called a timeout. Arkansas went in a drought from the field, going 0-for-4 in a stretch, but Spencer knocked down a triple and Makayla Daniels followed with a layup following a forced turnover by Arkansas. UCA started to heat up from beyond the arc with back-to-back 3-pointers, but Dauda answered with back-to-back triples of her own, as Arkansas extended its lead to 20 for the Hogs' largest lead of the night, 41-21, with less than three left in the quarter. UCA then cruised on a 12-0 run, needing just over one minute to do so, but Arkansas was still up front, 41-33, at the half.
Spencer started things for the Hogs with a triple, but UCA followed with an and-1. Scott nailed another jumper, but UCA had an answer with a 3-pointer. After two free throws by Spencer, the Hogs led 52-41 at the media timeout. The Hogs kept a 7-0 run continuing, but UCA took itself out of the drought with a reverse layup. Arkansas fell in a drought for a little over two minutes until Dauda found Poffenbarger under the basket for a tough layup. Poffenbarger then drained her third 3-pointer of the night, as Arkansas went into the final quarter ahead, 62-43.
UCA began the final quarter's scoring with a tough jumper, which began a 7-2 run for the Sugar Bears. Arkansas went 0-for-4 from the field until Scott nailed a jumper. The Sugar Bears had an answer with a triple off a second-chance opportunity, and then called a timeout, as Arkansas was ahead 68-55 with 6:41 left in the game. Arkansas went 3-of-3 from the field, including from Sasha Goforth who got the basket and foul. At the media timeout taken a 3:42, the Hogs led, 78-60. UCA went on a 4-0 run out of the media break and then Poffenbarger got a layup off a miss. Arkansas closed out the game by holding the Sugar Bears to zero field goals in the final three minutes, winning 81-67 on Native American Appreciation Month game.
UP NEXT
The Hogs will play in the Elevance Health Women's Fort Myers Tip-Off this weekend from Friday, Nov. 24 to Saturday, Nov. 25. Arkansas plays Wisconsin on Friday at 1 p.m. CT and either Maquette or Boston College on Saturday at 4 p.m. or 6:30 p.m. CT. The tournament will take place at Suncoast Credit Union Arena on the campus of Florida SouthWestern State College in Fort Myers. Games will be streamed on FSWBucs.com and the Women's Sports Network.
MORE INFORMATION
For more information about Arkansas Women's Basketball, follow us on Twitter and Instagram at @RazorbackWBB and on Facebook at Facebook.com/RazorbackWBB. Be sure to subscribe to our YouTube Channel, "Kickin' It In The Neighborhood" for an inside look at the Razorback women's basketball program and check out The Neighborhood podcasts at CoachNeighbors.com.