Mercer County is a Bargain Hunters Delight this Holiday Season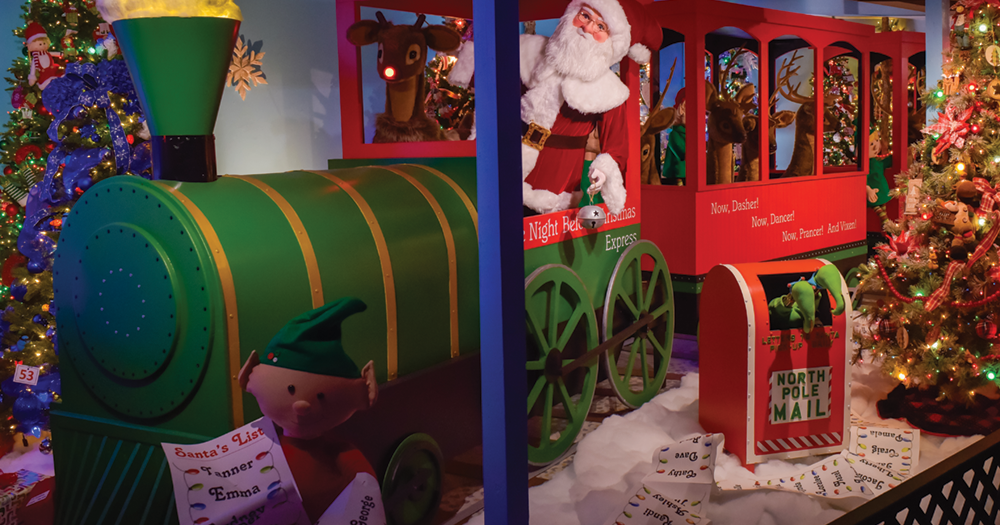 Content sponsored by Visit Mercer County PA.
Discover great bargains and diverse shopping options in Mercer County.
Mercer County, located in Northwestern Pennsylvania, provides visitors with the perfect blend of small-town charm and diverse shopping destinations. People from the western part of the state, eastern Ohio, southwestern New York, or Ontario, Canada, all flock to Mercer County to take advantage of great deals and get their holiday shopping done.
Another great perk of choosing Mercer County as a shopping destination is there is no sales tax on most clothing and shoes, offering shoppers amazing value on the must-have gift items of the season.
Visitors can explore a range of shopping destinations like Grove City Premium Outlets, Wendell August Forge, Kraynak's, and more!
Grove City Premium Outlets
For bargain hunters, Mercer County has The Grove City Premium Outlets, which offers steep discounts on designer and brand-name goods.
Shoppers from Cleveland, Erie, Pittsburgh, Buffalo, Toronto, and beyond flock to our premier shopping destination for incredible savings. Enjoy massive discounts on clothing, housewares, shoes, beauty products, unique gifts, and so much more.
Annually, over 6 million savvy shoppers choose Grove City Outlets as their go-to shopping haven. This single-floor, open-air mall is conveniently situated just off Interstate 79 and a short distance from I-80. With 120+ stores to explore, including world-renowned brands like Calvin Klein, Coach, J. Crew Factory, Kate Spade New York, Polo Ralph Lauren, Tommy Hilfiger, and Nike Outlet, shoppers will find it easy to check everyone off their Christmas list.
New stores that are celebrating their first holiday season include Tin Man Sweets, SoftMoc Shoe Rack, Daily Thread and Pro Bike + Run. They will also feature several pop-up stores including Ugg, F & F Mellows, Philson & Friends, Columbia Clearance Store and Mr. Bookman.
"It is a magical place during the holiday season with all the beautiful holiday décor, Holiday Pop-up shops, an Outdoor Selfie Station and of course Santa.  Grove City Premium Outlets is a holiday tradition for friends and family to gather and delight in the season of giving.  Our shoppers love to feel the magic and joy of the holidays by immersing themselves in the shopping experience and delight in the sights, sounds and tastes of the holidays," said Michele R. Czerwinski, Director of Marketing & Business Development at Grove City Premium Outlets.
The Outlets will hold their Black Friday weekend Sale on Friday, November 24 -Sunday, November 26.  Hours for this sale are Friday 6 am – 9 pm, Saturday 10 am – 9 pm and Sunday 11 am – 7 pm. Santa will also be at the Outlets every Saturday from 1 pm-3 pm. There is no charge to visit Santa and selfies are encouraged. Their Holiday General Sales start November 27 – December 24 and the After Christmas Clearance Sale starts December 26 through January 2nd.
The Holiday Hours for the Outlets starting on November 25th are Monday – Saturday 10 am – 9 pm and Sunday 11 am – 7 pm.
Grove City Premium Outlets are located at 1911 Leesburg Grove City Rd, Grove City, PA 16127. For more information, including expanded shopping hours, call 724-748-4770 or go to www.premiumoutlets.com/grovecity.
For the Home
Discover the Perfect Gift at Thyme in Your Kitchen
Find the ideal gift for the chef or kitchen whiz in your life at Thyme in Your Kitchen. This culinary boutique offers high-quality dinnerware, bakeware, kitchen accessories, and artisan-made gifts. They also offer gift certificates, which make a wonderful present for loved ones who have just moved into a new home and need to stock up their kitchen this holiday season.
Thyme in Your Kitchen is open from 10 a.m. to 5 p.m. on Fridays and is located at 79 East State Street, Sharon, PA 16146.
Indulge in Culinary Delights at The Happy Eggplant Gourmet Food Kitchen Shoppe
For those with a foodie to shop for this holiday season, The Happy Eggplant Gourmet Food Kitchen Shoppe is the place to be. They offer a wide selection of top-quality equipment and ingredients for a variety of culinary endeavors. They serve as a haven for foodies and provide an enjoyable shopping experience for those seeking quality gifts. They offer a large selection of everything from Scottish specialty foods to imported balsamic vinegar and olive oil, as well as teas, soup and dip mixes, appliances, cookware, gadgets, and much more.
The Happy Eggplant Gourmet Food is open Monday through Thursday from 10 a.m. to 5 p.m., and Friday and Saturday from 10 a.m. to 4 p.m. and closed on Sundays.
Heirloom Furniture Pieces at The Amish Peddler
The Amish Peddler offers handcrafted Amish furniture for every room in the home along with a selection of maintenance-free outdoor furniture! Shoppers can browse the handcrafted pieces in their showroom, including dining, bedroom, living room, and outdoor collections. They also can create custom heirloom furniture pieces.
Hours are Monday – Saturday from 10:00 am to 5:00 pm. Closed Sundays.
The Amish Peddler is located at 100 American Way, Mercer, PA 16137.
Antiques
Uncover Hidden Gems at Lisa's General Store
Lisa's General Store offers great bargains and a fun shopping experience for all. Shoppers can explore their large indoor marketplace filled with a wide variety of treasures, including concrete statues, antique pieces, books, and more.
Lisa's General Store is open on Sundays from 10 a.m. to 5 p.m., Mondays and Tuesdays from 11 a.m. to 4 p.m., and Wednesday through Saturday from 9 a.m. to 6 p.m. and is located at 100 Hadley Road, Suite 12, Greenville, PA 16125.
Find Variety at The Volant Shops
Volant is a unique village in Mercer County that is home to several shops carrying everything from baked goods to housewares, furniture, and antique items. Shoppers can search for valuable antiques or modern wares, there is a shop for everyone! Take a break from shopping at one of the restaurants, wineries, or distilleries on Route 208, just 10 minutes from I-79 and I-80.
Shoppers can stroll the scenic, old-fashioned Main Street of Volant and enjoy the beauty of the Amish Country while finding the perfect antique gifts and more!
The Volant Shops hours are Monday – Saturday- 10:00 am – 5:00 pm and Sunday- 12:00 pm – 5:00 pm. Some shop hours may vary.
The Volant Shops are located at 550 Main St, Volant, PA 16156.
Specialty Shops
Wendell August Forge
Wendell August Forge is a specialty shop that has been in operation since 1923 making it the largest and oldest in the United States. The Forge specializes in hand-crafted metal giftware, home accessories, and jewelry made from aluminum and bronze. The shop welcomes customers to create custom pieces for any special occasion or event.
From holiday ornaments adorned with Swarovski crystals to heirloom-quality wedding gifts, Wendell August Forge offers shoppers a great selection of handmade, unique gifts for the holiday season.
With its long-standing history and commitment to quality, it's no wonder that this shop has become a must-visit destination for both locals and tourists.
Wendell August Forge, Flagship Store is located at 2074 Leesburg-Grove City Road in Grove City, PA on Route 208, (1/2 mile west of the Grove City Premium Outlets).  Visit their website at http://www.wendellaugust.com.
Kraynak's
Kraynak's is a truly magical Christmas shopping experience! This family-owned store, established in 1961, is a wonderland of holiday delights featuring Santa's Christmasland, a 300-foot-long indoor lane adorned with over 70 beautifully decorated trees, each showcasing a unique theme from classic winter scenes with snowmen and penguins to religious nativity décor. The path also features festive music, animated figures, and a fresh display each year that will get you into the holiday spirit!
Visitors can view this display from September 10th to December 31st, allowing you ample time to appreciate the beauty of the season.
But that's not all! Kraynak's also boasts over two acres of greenhouses filled with an extensive collection of Christmas decorations. Whether you're searching for the perfect toy, exquisite jewelry, cozy sweaters and scarves, or delightful puzzles, Kraynak's has you covered. With offerings that range from Lionel trains, Lego, and Playmobil to Breyer horses, Melissa & Doug toys, and NFL ornaments, they truly have something for every member of the family.
Santa will also visit the store daily starting November 10th through December 24th, Monday – Saturday: 10:00 am to 8:45 pm and Sunday: 10:00 am to 4:45 pm. Photos with Santa can be purchased as well.
The main store hours are Monday-Saturday 9 a.m. to 9 p.m.; Sunday 10 a.m. to 5 p.m.
Kraynak's is located at 2525 East State St., Hermitage, PA 16148. Visit their website at http://www.kraynaks.com.
Candy Shops
Daffin's Candies
Daffin's Candies is a local institution known for its hand-dipped chocolates and unique candy creations that has been serving customers since 1903. From milk and dark chocolate assortments to chocolate-covered nuts, cordial cherries, pecanettes, chocolate-covered pretzels, and so much more, you're sure to find every treat you need for the holidays!
Daffin's Sharon location is at 496 East State Street Sharon, PA. 16146. Hours for this location are
Monday – Saturday, 10:00 AM – 6:00 PM and Sunday 11:00 AM – 5:00 PM.
Their Greenville location is 48 Shenango Street, Greenville, PA. 16125. Hours at this location are Monday – Friday 10:00 AM – 5:00 PM, Saturday 10:00 AM – 3:00 PM, and Sunday – Closed.
For more information about Daffin's Candies, visit https://www.daffins.com/.
Philadelphia Candies
Philadelphia Candies has been handcrafting gourmet chocolates since 1919. They offer a large assortment of the highest quality milk and dark chocolates made in-house. Their collections of delectable treats include old-fashioned cooked creams (soft centers), chocolate-covered nuts, snack cookies including vanilla creme, mint creme, peanut butter, and their famous chocolate-covered potato chips and pretzels.
Philadelphia Candies is located at 1546 E State St, Hermitage, PA 16148. Hours are Monday – Saturday 9 AM – PM and Sunday 11 AM–5 PM.
With such a diverse shopping scene, it's no wonder that Mercer County attracts visitors from all over the country. Whether you're looking for unique home decor, one-of-a-kind antiques, or mouth-watering sweets, you'll find it all in Mercer County, Pennsylvania.
For a full list of Mercer County retailers and shops, overnight accommodations, attractions, and dining options visit www.VisitMercerCountyPA.com.  While on the website be sure to request a VisitMercerCountyPA Escape Plan Coupon Book.  It's free and full of year-round discounts.