N.C. A&T Student Presents Study on Blue Light Exposure at Competition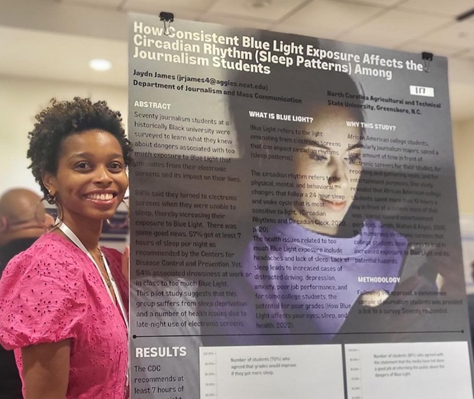 EAST GREENSBORO, N.C. (Nov. 21, 2023) – North Carolina Agricultural and Technical State University multimedia journalism student Jaydn James recently presented her innovative research study, "How Consistent Blue Light Exposure Affects the Circadian Rhythm (Sleep Patterns) Among Journalism Students," at the Black Doctoral Network (BDN) Undergraduate Research Poster competition in Atlanta. James' research was selected earlier this year among abstract submissions from talented students across the nation.
The BDN is a nonprofit that values the promotion and support of excellence and diversity in graduate education, research and scholarship among Black scholars.
James, a senior from Charleston, South Carolina, is a contributor to the student-led newspaper The A&T Register and an on-campus newscaster for Aggie News. She embarked on this research journey to explore the impact of blue light exposure and its effects on the sleep patterns of college students. The genesis of her study stemmed from personal experiences, suffering headaches she believed were linked to excessive exposure to blue light.
Intrigued by her observations, James conducted a pilot study involving 70 N.C. A&T journalism students to gauge the effects of blue light on their physical and mental well-being. Her findings, presented at the competition, indicate that the journalism students experienced sleep deprivation and associated physical and mental ailments due to prolonged exposure to blue light from electronic screens for their studies, reporting and gathering news.
"As journalism progressively becomes more technological, there is no question that more of that blue light will be taken in at an excessive rate," said James. "This could lead to more headaches and grouchiness, as the pilot study that I conducted proved."
Among the key findings from her study, 51% of journalism students surveyed associated blue light with headaches, while 54% reported experiencing drowsiness during class or work because of exposure. James hopes that her research will raise awareness, particularly among African Americans and journalism students, about the potential dangers of excessive blue light exposure from electronic devices.
James suggests that the results align with national trends indicating that college students are grappling with sleep deprivation and related ailments caused by blue light exposure.
"I hope this study helps African Americans and journalism students to know about the potential dangers of taking in too much blue light from electronic devices and screens," she said.
James' research contributes insights that may shape discussions around media consumption habits and their potential consequences on overall well-being.
According to the study "Exploring Screen Time Habits and the Life Empowerment Divide at an HBCU," authored by Kim Smith, Ph.D., Tobin Walton, Ph.D., and Alvin Keyes, Ph.D., African American college students spend more than 10 hours a day in front of a screen, mostly for entertainment.
"I believe it's important to keep investigating and uncovering potential issues that might arise when we expose ourselves to blue light from electronic devices," said James. "There could be more hidden effects that we need to understand, and I plan to continue pursuing this research."