Opera Still Thrives in Baltimore—You Just Don't Know It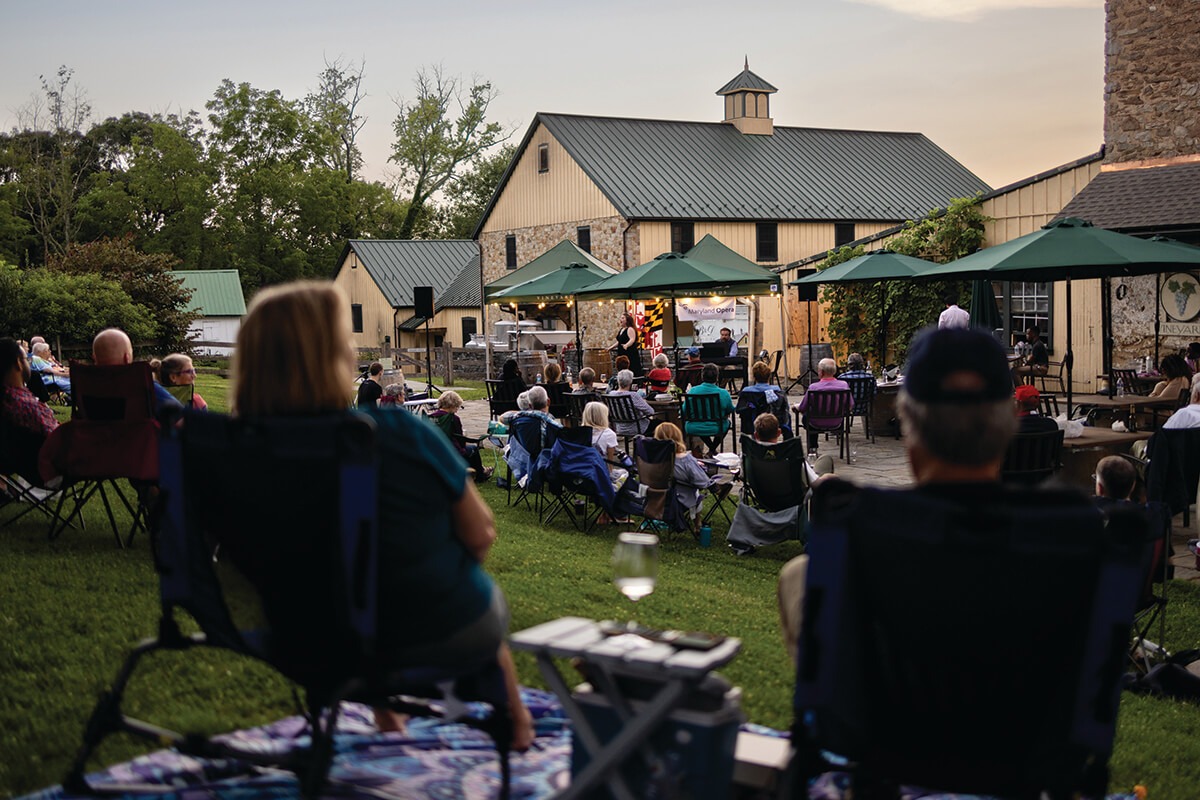 On a chilly evening last spring, the auditorium of Stephens Hall Theatre at Towson University was packed with opera patrons who had scored a ticket for Opera Baltimore's nearly sold-out performance of Verdi's beautifully tragic La Traviata, composed in 1853. Translated as "the fallen woman," it tells the story of Violetta—in today's parlance she might be described as part party girl, part influencer, and part high-class sex worker—who catches the eye of the wealthy Alfredo. This is opera, so theirs is not an easy romance, as class and other entanglements thwart their happily-ever-after, including—spoiler alert—her battle with tuberculosis, which had no cure in Verdi's day.
The graceful soprano Lindsay Ohse, whose credits include critically acclaimed performances with major companies like the Metropolitan Opera (Met), was a charming lead, and the performance garnered rave reviews. Yet many Baltimoreans had no idea the performance had even taken place. Their exposure to opera may be limited to Bugs Bunny singing "Kill the Wabbit!" to the tune of "Ride of the Valkyries," from Richard Wagner's The Ring Cycle opera trilogy.
"It seems that many people imagine opera to be people in horns shouting at one another," explains James Harp, who currently serves as artistic director for Maryland Opera (the second area opera company in addition to Opera Baltimore) and has been a leader in the city's opera scene for nearly four decades.
"But the stories of opera are more relevant than people could possibly imagine," he continues. "They tell the highs and lows of the human experience, set to the greatest music of all time. Opera is the culmination of the arts: It brings together the visual, the musical, the vocal, and the dramatic to create this incredible work of art that really takes us to a level that is so profoundly personal and reaches our very core."
Baltimoreans may not be aware that opera has thrived in the city for nearly three centuries, starting in the 1700s. Later, it was ground zero for the performance of perhaps the country's first homegrown opera that rose to European standards, when Arthur Clifton's The Enterprise premiered here in 1822.
"Arthur Clifton was an English composer who immigrated to Baltimore and was central in the theatrical scene here," says Dr. Aaron Ziegel, associate professor of music history and culture at Towson University and scholar-in-residence with Opera Baltimore. "This was the first operatic thing to be composed and premiered in Baltimore during the Colonial Era. The local press was really excited and there was a feeling that, 'We've done it for the first time! A real, live, American-produced opera here in our city, composed by somebody here in our city, cast with actors from here in our city.'"
The years following the Civil War became known as the "golden age of opera." A new theater district popped up around Howard Street with the construction of the Concordia Opera House, Ford's Grand Opera House—the same Ford who owned the D.C. theater where Lincoln was assassinated—the Academy of Music, and The Music Hall. These venues were constructed to mimic the grand style of European opera houses, with a substantial main floor, tiered balconies, and stages that would fit the scenery and full choruses the large-scale productions demanded.
Unfortunately, none of these venues survive today except one: The Music Hall, now known as the Lyric. This majestic space, modeled after Amsterdam's famous Concertgebouw, was purchased by Met Opera board chair and influential banker Otto Kahn in 1909. Kahn renamed it the Lyric Theater, securing it as a venue for Met performances. As a Met presenter, the Lyric would host major opera stars throughout the early part of the 20th century.
The quality of operas in Charm City and the popularity of the genre at the time gave rise to a sizable community of opera boosters in Baltimore. Eugene Martinet, a celebrated singer and director, founded the Baltimore Civic Opera Company in 1932, which largely featured local, amateur singers. That all changed when the company reorganized after his death and superstar diva Rosa Ponselle helmed the company as artistic director from roughly 1950 to 1979. Her star power attracted leading singers and professionalized the company, which dropped "civic" from its name entirely in 1970 to become the Baltimore Opera Company.
Baltimore Opera Company enjoyed many decades of high quality opera performances. Luminaries who later became household names came here, including Beverly Sills, Birgit Nilsson, Plácido Domingo, and Anna Moffo. The Baltimore Symphony Orchestra, which shared the Lyric as its home venue until the 1982 opening of the Joseph Meyerhoff Symphony Hall, served as the pit orchestra from the 1950s until the mid-1980s, when Baltimore Opera Company formed its own orchestra.
But like most arts institutions, Baltimore Opera Company faced its share of financial challenges. By the early 2000s, it was carrying significant debt. Operas are notoriously expensive to produce; revenue from ticket sales covers less than half of the cost of each production. The rest must be funded through public and private donations and an endowment draw. As a result, the annual budget can easily be blown off course. The 2007-2009 recession was the gust of wind that took down Baltimore Opera Company, which filed Chapter 11 bankruptcy in December 2008 and canceled its remaining two productions without issuing refunds to ticket holders.
James Harp, who served as Baltimore Opera Company's artistic administrator beginning in 1989 and its chorus master from 1993 on, keenly felt the demise of the company he loved. "I felt it was like the plot of a terribly tragic opera of which I wanted no part," Harp wrote to The Baltimore Sun in 2020.
Baltimore Opera Company eventually reorganized as Lyric Opera Baltimore and retained Harp as its artistic director. For five more seasons, it continued to perform at a high level at the Lyric—but Baltimore audiences' changing tastes and increased competition in the market caused it to voluntarily fold in 2017.
But Harp and a dedicated team of board members felt opera still had a place in Baltimore; they just needed to find it. They tried again, forming Maryland Opera in 2018 with a rigorous eye toward sustainability.
"We came back with the intention of being an opera company with education programs and full stage productions but also acknowledging the new way of producing theater as being very flexible." Harp explains. "And indeed we did not really have a home, but have found a home around the state."
Today, Maryland Opera is appealing to new audiences, producing fully staged productions at unconventional venues like their popular First Friday performances at Boordy Vineyards. They're also fostering a love of opera with a new generation through school programs and a two-week Opera Camp offered completely free for high school and early college-age students.
Baltimore Opera Company's 2009 loss was another's gain: The professional company Opera Baltimore was founded that year and today produces major, fully staged operas, such as this month's production of Verdi's Rigoletto.
"We began as a group of choristers who got together to produce one concert opera while the Baltimore Opera Company figured out how they were going to get past this hurdle and move forward," recalls Opera Baltimore's artistic director and general director Julia Turner Cooke, referring to Baltimore Opera Company's bankruptcy. And from the start, they had a community-driven mission. "We've always been trying to do our best to run a conscientious, thoughtful opera company that honors all of the people involved," says Cooke.
One of the ways Opera Baltimore lives out this goal is through community engagement initiatives. Last season, it partnered with several West Baltimore community organizations and the Enoch Pratt Free Library to create a series of events called Opera on the Avenue, to uplift the stories of African-American artists from Baltimore.
The first phase of the project celebrated African-American opera singer and Old West Baltimore native Anne Wiggins Brown, who was the first person to play "Bess" in George Gershwin's famous opera Porgy and Bess. A special exhibit, titled "Baltimore Legends," featured Anne Wiggins Brown and other Baltimore musicians and appeared online and in print at several city branches of the Enoch Pratt Free Library.
"Baltimore City is a predominantly African-American city. We are Opera Baltimore and we want to speak into—or sing into—the experience of our neighbors and our community. We want opera to be relevant and galvanize conversation," says Catrin Davies, who serves as Opera Baltimore's director of community engagement and development. In that role she also leads the organization's other outreach initiatives that include school music programs and Opera Club, which she describes as, "like book club, only louder!"
Davies also wants to spread the word that Baltimore has performance opportunities for young and emerging singers, such as with the Young Victorian Theatre Company—known informally as "Young Vic"—where she also serves as artistic director. Each summer it performs an operetta—which tend to be lighter and often comedic—by Gilbert and Sullivan.
"Young Vic is fully professional in its staff and its principal [performers] and its orchestra. But the chorus is volunteer," says Davies. "That alchemy is just so exciting because the principals are reminded of the joy of performing when they see these choristers coming to every rehearsal, prepared and bringing a high level of artistry, and, conversely, the chorus members get to be part of a very professional production."