Panel discussion highlights Native American, Alaska Native Heritage month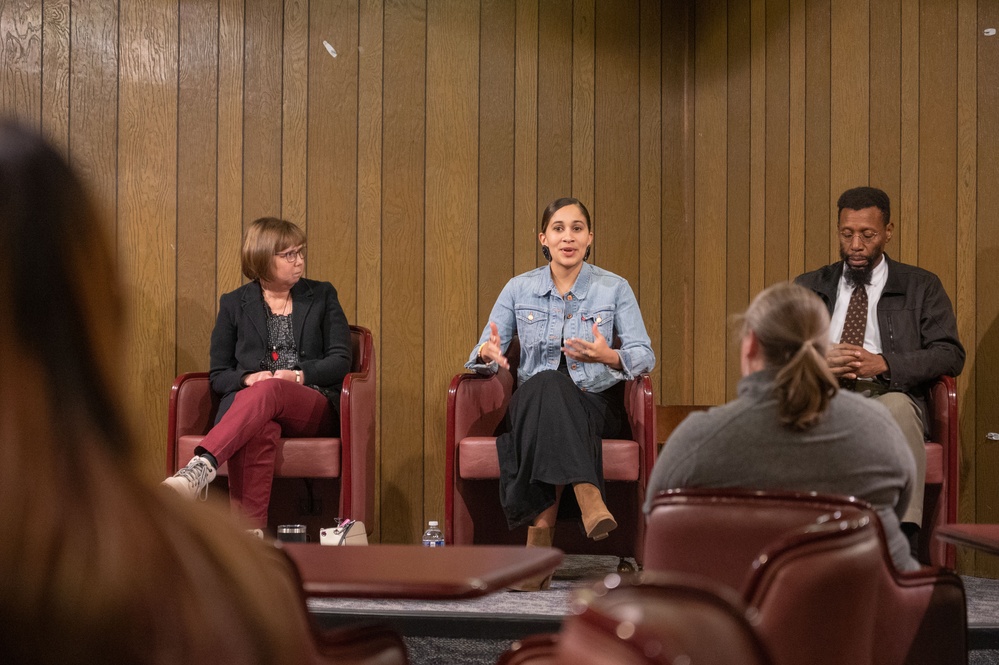 JOINT BASE ELMENDORF-RICHARDSON, Alaska — In recognition of November as Native American and Alaska Native Heritage Month, servicemembers across JBER came together to celebrate and honor those rich cultural legacies during a discussion panel last Friday, Nov. 17.
This annual observance serves as a reminder of the significant contributions that Native Americans have made to the fabric of American society, as well as the importance of preserving their traditions, languages and history.
Panel members shared some of their history and culture and included Airman 1st Class Tala Hunt, 673d Air Base Wing public affairs specialist; Dr. Sharon Lind, assistant professor of management at the University of Alaska Anchorage; and Mr. Addison Reynolds, 176th Wing sexual assault prevention program manager.
Lind told the story of her mother and family members from Atka, Alaska, who were aware of the bombing of Dutch Harbor and who, on June 12, 1942, were removed from their home island against their will.
"There was a lot of fear during that period because we all knew that the Japanese had landed on Attu," said Lind. "The entire village was taken prisoner."
"During internment, my mother was removed from the island and forcibly taken to a place completely foreign to her," she said.
Always, but especially during Native American Heritage Month, it is crucial to recognize that the contributions of Native Americans are not limited to the past. Native American communities continue to enrich our society through their resilience, creativity, and contributions to various fields. By acknowledging and respecting their heritage, we can work toward a more inclusive and equitable future for all.
One of the primary goals of the month-long celebration is to raise awareness about the challenges faced by Native American communities. Topics discussed during the panel included cultural appropriation, environmental concerns, and the ongoing struggle for social and economic justice. By highlighting these important issues, Native American Heritage Month encourages a deeper understanding and empathy for the challenges faced by indigenous communities today.
"We are different types of people," said Reynolds. "We come in a variety of colors; the Native American community is incredibly diverse, encompassing a multitude of distinct histories."
Hunt shared her experiences growing up and says that it wasn't until she joined the U.S. Air Force that she really opened up about sharing her roots.
"This is my chance to tell these stories," said Hunt. "Sharing media, taking photos, writing stories; this is my opportunity to tell the story of my people."
Native American Heritage Month also serves as a reminder of the need to preserve and revitalize native languages, Lind said. Many indigenous languages are at risk of disappearing, and efforts are being made to document, teach, and revitalize them.
"By nurturing these languages, we not only honor Native American culture but also ensure the preservation of invaluable linguistic diversity," she explained.

These efforts don't go unnoticed and are critical to preserving the heritage of the millions of indigenous Americans.
"The current generation is the one that is going to save our culture," said Lind. "They are finally getting through the generational trauma that occurred in the state of Alaska."
Native American Heritage Month is a time to honor and celebrate the rich cultural heritage of Native Americans. It is an opportunity to learn, appreciate, and support the diverse indigenous communities that have shaped our nation's history and continue to contribute to its progress.
| | |
| --- | --- |
| Date Taken: | 11.21.2023 |
| Date Posted: | 11.21.2023 18:44 |
| Story ID: | 458382 |
| Location: | JOINT BASE ELMENDORF-RICHARDON, AK, US |
---
| | |
| --- | --- |
| Web Views: | 14 |
| Downloads: | 0 |
---

PUBLIC DOMAIN  


This work, Panel discussion highlights Native American, Alaska Native Heritage month, by Maria Galvez, identified by DVIDS, must comply with the restrictions shown on https://www.dvidshub.net/about/copyright.