President Yoon's US Visit Spurs US$1.16 Billion Investment from American Companies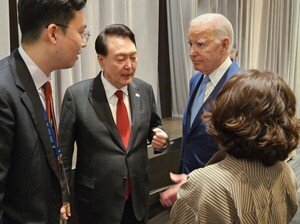 As a result of President Yoon Suk-yeol's visit to the United States for the Asia-Pacific Economic Cooperation (APEC) summit, four American companies, including General Motors (GM) and DuPont, have decided to invest a total of US$1.16 billion in South Korea.
The Ministry of Trade, Industry, and Energy announced on Nov. 19 that four American companies — GM, DuPont, IMC, and Ecolab — have collectively declared investments totaling US$1.16 billion in the domestic market. The industries targeted for investment by these companies include advanced sectors such as automobiles and semiconductors. However, specific investment amounts for each of the four companies have not been disclosed.
The government anticipates that the investments from these companies will result in an annual expansion of exports by over 4.5 trillion won (US$3.47 billion) and contribute to import substitution effects.
During a meeting with President Yoon on Nov. 15 (local time), following the APEC CEO Summit, GM's senior vice president Shilpan Amin said, "With the South Korean government's bold regulatory reforms and institutional improvements in line with global standards, we have gained confidence in conducting business activities in South Korea. Building on the partnership of the past 20 years, we are committed to further increasing our production in South Korea in the future."
In connection with the plan to establish the world's largest semiconductor cluster in Yongin, Gyeonggi Province, DuPont is set to invest over 200 billion won. This investment will be utilized for the expansion of semiconductor material and component production facilities as well as the addition of research and development (R&D) centers, leading to the creation of over 100 new jobs. This commitment is twice the size of the investment declared during President Yoon's visit to the United States in September last year.
IMC, a subsidiary of the globally renowned investment firm Berkshire Hathaway, plans to invest in facilities for the production of tungsten oxide used in semiconductor manufacturing processes and the production of high-strength tools.
Ecolab will make an investment in facilities for producing high-purity nanoparticles, or colloidal silica, essential for manufacturing CMP slurry, an abrasive used in semiconductor production. This marks South Korea's first construction of a high-purity nanoparticle factory abroad by the company.
Minister of Trade, Industry, and Energy Bang Moon-kyu remarked, "This investment is expected to significantly contribute to strengthening the advanced industry partnership between South Korea and the United States and ensuring the stability of our semiconductor industry supply chain. Alongside continued support for the investment, we will persist in efforts to improve the investment environment, including dismantling regulatory barriers."