Protectors of an Honored Heritage – Comstock's magazine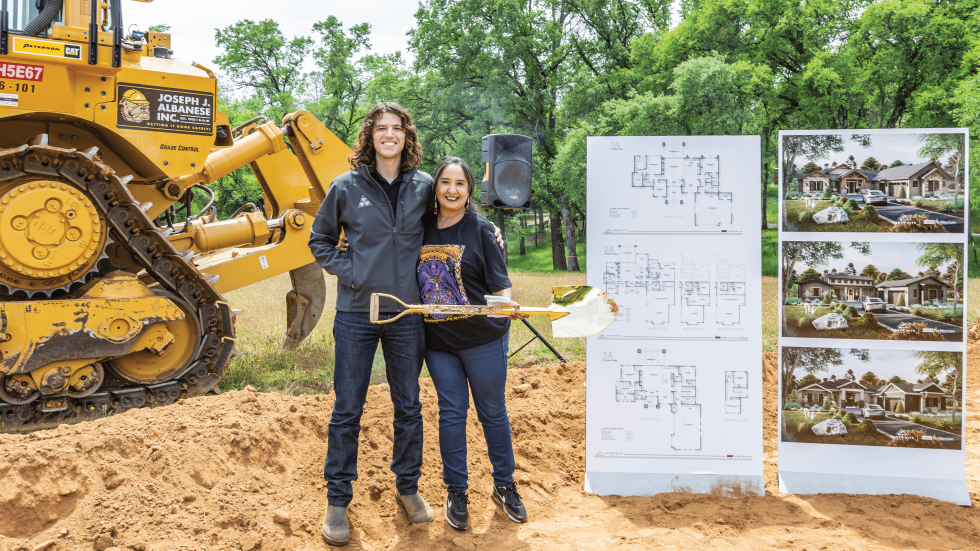 This story is part of our November 2023 print issue. To subscribe, click here.
Malissa Tayaba, vice chair of the Shingle Springs Band of Miwok
Indians' Tribal Council, steps through an attentive crowd that's
transfixed by a group of dancers in feather-trimmed regalia,
following the stringent beat of clapper sticks. Today's event is
the annual Big Time celebration, and it is being held on the
tribal rancheria that is also home to the Red Hawk Casino and
Resort near Placerville. Tayaba grew up on this slope of
government-allotted tribal land. 
She maneuvers through the savory vapors of "Indian tacos"
(frybread with various toppings) before heading into a maze of
blankets, beads, shell jewelry, and fox and coyote pelts for
sale. The scene is vibrant, but Tayaba knows that this corner of
the oak woodlands looked very different when she was young. Back
then, as she describes it, the reservation was just a smattering
of trailers with no running water.
"When you talk about business, ours has allowed us to bring our
culture back."Malissa Tayaba, vice chair, Shingle Springs
Band of Miwok Indians' Tribal Council
Now, the property has a spacious casino with bars and
restaurants, a government building and tribal arts museum, not to
mention a health clinic that's become vital to the broader
population in El Dorado County.  
It was a long struggle to make this dream a reality, but the
result includes moments like today — those instances when the
tribe can host events that celebrate and explore its heritage.
And like numerous Native groups in Northern California, the
Shingle Springs Miwoks are using the revenue from their
businesses to fund a battery of ongoing cultural preservation
efforts. 
"When you talk about business, ours has allowed us to bring our
culture back," Tayaba notes. "Building our dance arbor, having
our ceremonies — obtaining eagle feathers, abalone, clam shells,
pine nuts, items that aren't easily foraged today — it all costs
money. Now we hold workshops, classes, dance practices. We're
trying to rebirth weavers, because our grandmothers were
weavers."
Regina Cuellar, the tribe's chairwoman, agrees and stresses that
when it comes to cultural preservation, her people are just
getting started. 
"We're just barely beginning to hit our stride and find that good
flow," Cuellar says. "I think we're really on the cusp of doing
what we need to do." 
In October, California State Parks and the Miwok tribe agreed to
a new pact that preserves and protects parks on their ancestral
land. The 5-year agreement was signed in West Sacramento, where
the state's new California Indian Museum will be located. 
Protecting the seen and unseen 
Whenever Ivan Senock watches a shovel crack soil under the twin
buttes by Lake Camanche, he can envision how open the brushy
territory was when it was the home of a pioneering Me-Wuk named
Casus Oliver. The "Headman" of tribal people in the area, Oliver
wandered its granite ridges and windbreak trees from the 1880s
until his death in 1916, a guardian of Me-Wuk and Upusani
identity.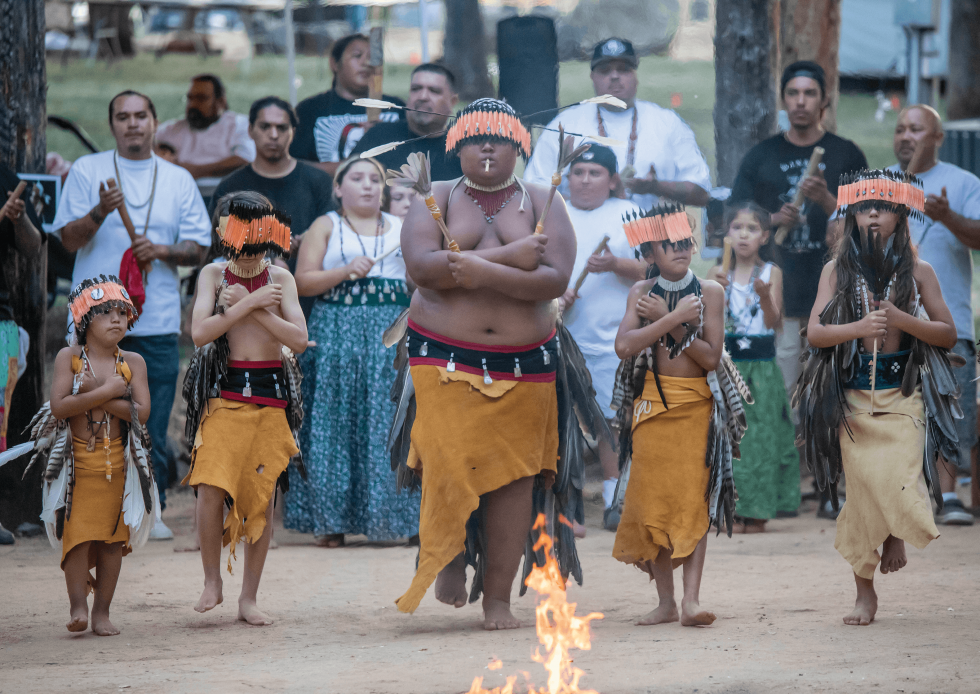 Now, in many respects, Senock has a similar role as the historic
preservation officer for the Buena Vista Rancheria of Me-Wuk
Indians. For starters, he's an official monitor for any
construction projects that might accidently unearth native burial
grounds or lost spiritual sites. This area around Lake Camanche
held Native villages for thousands of years before Oliver put a
homestead on it. The fact that Amador and Calaveras counties have
a tribally run system in place to handle such delicate issues is
largely thanks to Oliver's work keeping his people together for a
century.  
According to records, Oliver was a child when he and his mother
were among the tribespeople who were taken to Mission San Jose in
the early 19th century to be essentially enslaved. Before that,
Oliver's mother had grown up in a part of the rolling oak
woodlands that shroud Lake Camanche in modern Amador, Calaveras
and San Joaquin counties. Her son would eventually make it back
to this region years later, settling in a picturesque valley near
the lake called Buena Vista. 
Oliver's family lived on this land in south Amador for multiple
generations, and the federal government established it in 1985 as
a rancheria for their tribal lineage. In recent times, Oliver's
great-great granddaughter Rhonda L. Morningstar Pope led the
effort to build Harrah's Northern California casino on the
reservation and then use its revenues for Me-Wuk cultural
preservation. Part of that mission has been funding a team of
specialized construction monitors, overseen by Senock.
"If a monitor finds human remains or cultural objects during
construction, it's up to the contractor to stop the project a
hundred feet in every direction and contact the Native American
Heritage Commission in downtown Sacramento," Senock explains. "If
it's remains, they also have to contact the county coroner to
come out and determine if they're modern or historic remains. If
they're historic, the site has to be reviewed, and there has to
be consultation with all the associated tribes in the
area." 
At that point, the contractor and the Native American Heritage
Commission work together on a path forward for the stalled
project. The Shingle Springs Band of Miwoks also has monitors
engaged in the same
process.               
Can the public view such artifacts or authentic replicas in a
setting that's curated by an actual tribe rather than outside
academics? Thanks to the Shingle Springs band, the answer is yes.
It created a dazzling tribal art display within its own
government building, one that includes traditional skirts,
necklaces, baskets, blades and headpieces. Three years ago, the
band started working with the Sacramento History Museum to be the
official curators of a recently opened exhibit about Native
peoples of the local rivers. 
"The things in that display were all done with our native plants
— plants we've learned how to gather, and used for regalia that
we've learned how to make again," Cuellar points out. "I think
the partnership with the museum led to a beautiful display."
Dustin Murray, a tribal administrator for the Shingle Springs
Band who grew up on the reservation and graduated from UC
Berkeley, thinks the approach of having his people act as the
curators represents a sea change in how California history is
taught.  
"The leadership at the Sacramento History museum was really
taking the plunge to change the common perception of Sacramento's
past, leaning away from the more colonized viewpoint of it,"
Murray says. "This really embraces the true history of the
region. And part of that — the only place you can start really —
is talking about the first peoples there and their connections to
the waterways."  
Lasting words and memories   
The day before this year's Big Time celebration, the Shingle
Springs Miwoks hosted a seminar about their language, part of the
endangered Miwok language group once spoken from the Bay Area to
the Sierra Nevada. Some of the tribe's business revenue goes
toward maintaining Miwok language skills, which offer speakers an
indelible way to connect with their identity, their ancestors and
each other.    
"I grew up on this reservation, and when I was here, it was a
much different time — we lost our language," Tayaba remembers,
noting that her brother, John Tayaba, is a continuously learning
speaker of Miwok. John accomplished that feat by speaking with
elders wherever he could find them, using grant funding to
research elements of linguistics, incorporating the language into
his household with his kids and communicating with numerous other
tribes. 
For Cuellar, a cousin of John Tayaba, such developments are
critical. 
"We're going to start having our first language speakers,"
Cuellar says. "Our little ones are starting to learn — learn the
words. Some of the kids can speak it better than I can. We'll
have our first generation of speakers again, and we can't wait
for that day." 
Senock says that the Buena Vista Rancheria is also fighting to
rescue Me-Wuk, a related member of the Miwok language family.
That starts with the tribe including it in sessions at its
cultural center, and extends to posting signage all around its
properties — posters that identify everything from restroom doors
to pictures of plants and animals in Me-Wuk. Since Senock's own
department does so much work with archeologists and ecologists,
he says he's sometimes able to help different bands find specific
Me-Wuk words they're searching for around plants and landscapes.
He adds that, generally, the pandemic years were terrible
reminders about how fragile the language's future might be.
"There are very few speakers, and something COVID really showed
us is just how vulnerable our elders are," Senock reflects. "We
had very large numbers all across Indian country of elders who
passed because of COVID. So now, just trying to learn what the
tribes spoke, and the different communities now speak it, is
key." 
Reclaiming spaces 
The Shingle Springs Band of Miwoks is based in the El Dorado
foothills, but they were traditionally fishing people along the
Sacramento and American rivers. Now, with building resources, its
members are getting back to their roots as river guardians. That
includes the band funding various legal challenges to the
California Department of Water Resources and State Water
Resources Control Board over policies that it believes are
detrimental to the wildlife and ecosystem in the Delta and its
tributaries. 
"That disconnection from the river is something that happened
physically, but spiritually we've always been connected," Tayaba
says. "When we go back to our original village sites to collect
for ceremony, the state of the water, the state of the plants,
it's not good. … We want to protect the water, but also the ones
who cannot speak for themselves — the animals, the plants."
The Shingle Springs band also recently managed to buy back a
specific village site at the confluence of the Feather and
Sacramento rivers in Sutter County, a place that was taken from
their forebears more than a century-and-a-half ago. Today, it's
called Verona Marina, though in Miwok it's known as Wóllok, or
"the village of the flicker bird." The band has since held
spiritual ceremonies there, which Tayaba describes as
magical. 
"When we were able to get that space back, that was just a moment
in time to remember, because we were able to touch the water
again," she observes. "Things like that are what tell us we're
going in the right direction — doing the right things. It's so
nice to be able to bring our kids back there, and teach them, on
the river — teach them about fishing and all of the things that
we need to learn."  
Stay up to date on business in the Capital
Region: Subscribe to the Comstock's
newsletter today.