Scholar-activist Nia Robles Del Pino named 2024 Global Rhodes Scholar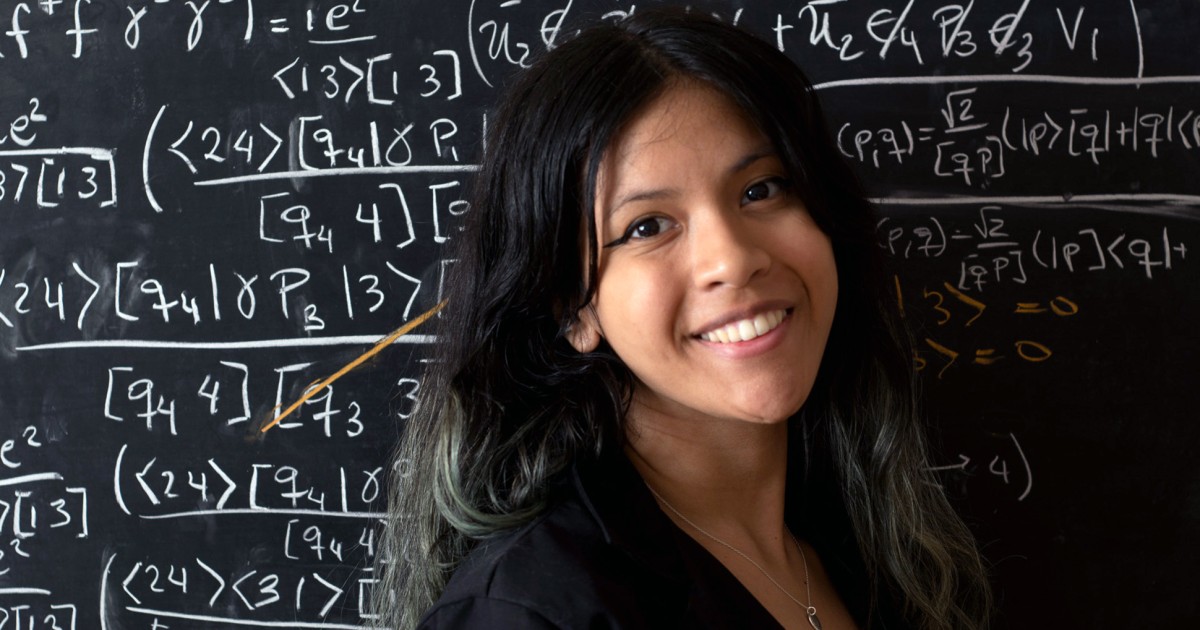 Northwestern University student Nia Robles Del Pino has been named a 2024 Global Rhodes Scholar — one of only two students selected worldwide among candidates from any country outside an existing Rhodes jurisdiction or competition zone.
Robles Del Pino is Northwestern's 20th Rhodes Scholar and the University's first student to win the Rhodes Global Scholarship. In another first: Robles Del Pino is the first Argentinian to receive the prestigious honor.
A senior in the Weinberg College of Arts and Sciences, Robles Del Pino is majoring in mathematics and physics. Her broader interests include developing new techniques for exploring scattering theory as well as inspiring other underrepresented minorities to pursue STEM (science, technology, engineering and math) disciplines.
The Rhodes Scholarships, the oldest and perhaps best-known award for international study, provide all expenses for multiple years of study at the University of Oxford in England. An independent committee selects scholars based on their exceptional academic achievements and demonstrated ambitions for social impact.
"Nia exemplifies the qualities that make Northwestern's students so special," President Michael Schill said. "She is an accomplished scholar of math and physics who adores the arts. She is an advocate for representation and inclusion in the STEM fields who wants to make the world a better place. The entire Northwestern community congratulates Nia on being named a Rhodes Scholar, one of the most significant accomplishments of her academic journey but certainly not the last."
An advocate for diversity and equity in STEM fields and for more representation of Latin American scientists, especially those of indigenous heritage.
As an Andean indigenous woman and daughter of Peruvian immigrants, Robles Del Pino has faced several barriers to studying math and science, which are historically white, male-dominated fields.
"At 17, I went to a physics talk in Buenos Aires where the speaker told me that 'someone like me' wouldn't be able to get into an American university," Robles Del Pino recalled. "It's a particular experience a lot of people in the world go through — trying to excel and find a way to prove that you are more than your brown skin and dark hair."
Despite these attitudes, Robles Del Pino's love for physics and mathematics propelled her to push toward her goals. At Northwestern, she has immersed herself in Quantum Field Theory. With a focus on high-energy particle theory research, she works as an undergraduate researcher in the group "Amplitudes and Insights" led by John Joseph Carrasco, associate professor of physics at Weinberg. Last spring, she completed an independent study project on Spinor Helicity Variables and Quantum Chromodynamics. Next year, she will pursue an honors thesis on supergravity theories.
While balancing her physics classes and research, Robles Del Pino also served as a quantum computing intern at Fermi National Accelerator Laboratory and as a research assistant to world-renowned physicist Gerald Gabrielse, the Board of Trustees Professor of Physics and director of the Center for Fundamental Particle Physics.
"A scholar-activist of grit, gumption and genius, Nia lent her incomparable perspective forged in Buenos Aires' streets and on Andean peaks to Northwestern campus culture," said Elizabeth Lewis Pardoe, director of Northwestern's Office of Fellowships. "From her first-year research about indigenous Chicago to her senior thesis testing theories of supergravity, Nia's voracious intellect integrates across traditional divides among disciplines and identities."
As an underrepresented minority in the field, Robles Del Pino looks to lower the looming socioeconomic and racial barriers that she has overcome, paving the way for other minorities to pursue STEM fields. As a part of this effort, Robles Del Pino worked with WIP (formerly known as We're In Physics), a student organization focused on increasing women and non-binary students' participation in physics. She also volunteered for Club de Chicas Programadoras, a non-profit organization that connects female and non-binary students with mentors to learn computer programming languages.
Having participated in several editions of the Conference for Undergraduate Women in Physics and the National Mentoring Community by the American Physical Society, she advocates for diversity and equity in STEM fields and for more representation of Latin American scientists, especially those of indigenous heritage.
"Throughout my life, I've met many brilliant indigenous and brown girls who were discouraged, mistreated and simply told they weren't smart enough for science," Robles Del Pino said. "Like any scientist, I wish to become a researcher, but I also want to be a professor/mentor someday and continue to eliminate prejudice from classrooms. I also want to increase the access to STEM education for indigenous and Black people, especially for Latin American non-binary individuals and women."
Launched in 2018, the Rhodes Global Scholarship expands the scholarship program, enabling students from any country in the world to apply. Each year, the program selects two outstanding young leaders, who are motivated to engage with global challenges and promote international understanding and peace.
"I am delighted by Nia Robles Del Pino's being named a 2024 Global Rhodes Scholar, the first Argentinian recipient," said Adrian Randolph, dean of the Weinberg College of Arts and Sciences. "Nia's path is an inspiration. Her academic work in physics and mathematics is matched by an unwavering commitment to breaking down barriers to achievement in STEM. Her work in quantum field theory and advocacy for women and minorities makes all of us proud. Nia's resilience and intellectual commitment has already had a profound impact."
A member of the Phi Beta Kappa honors society, Robles Del Pino adds the Rhodes Scholarship to her growing portfolio of honors. This past summer, she received Northwestern's Junior Career Award in Physics and Astronomy. She also received Northwestern's Jean Gimbel Lane Writing Prize in June 2021 and first place in Northwestern's One Book Essay Contest in October 2020 for her essay "Huaytalla."
"There is a particular poetic significance to an Indigenous woman securing a Rhodes Scholarship during Native American and Indigenous Heritage Month," Pardoe said. "Nia brings all her identities to her participation in WIP and across our campus. She will continue to do so in Rhodes House and throughout her ceiling-shattering career."
Northwestern students interested in pursuing scholarship and fellowship opportunities can contact the Office of Fellowships.