Siemens Mobility to invest $220 million into North Carolina rail manufacturing facility | Press | Company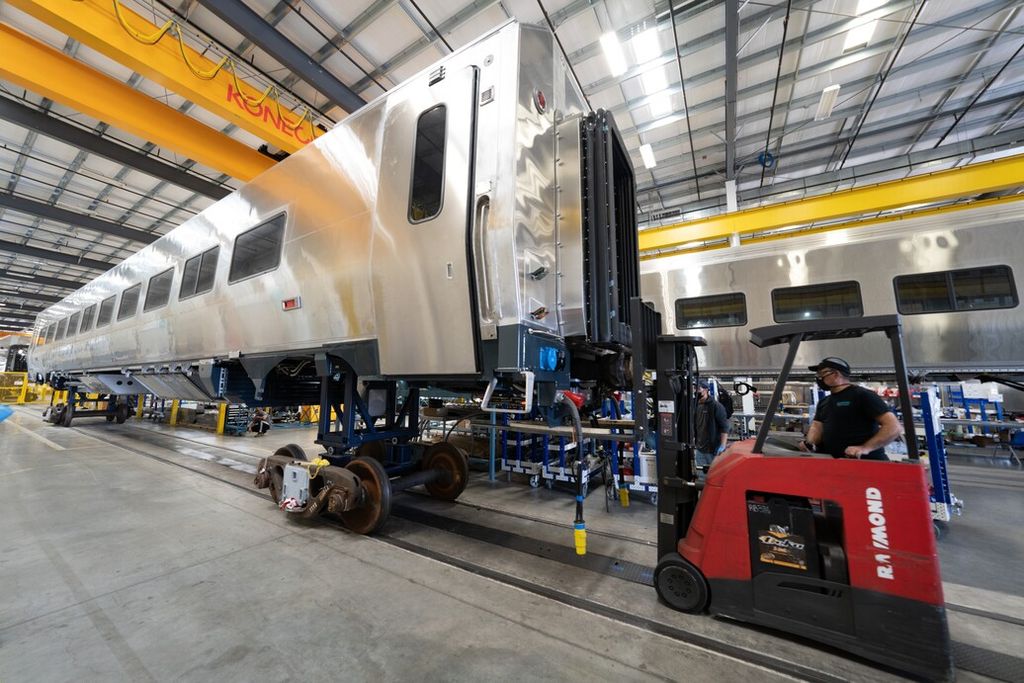 "President Biden
committed to investing in America and rebuilding our economy from the bottom up
and middle out – and it's working," said Senior Advisor to the President and
White House Infrastructure Implementation Coordinator Mitch Landrieu. "Today's
announcement from Siemens is further proof that when the public and private
sector work together, we can build a better America – powered by world-class,
sustainable transit and rail that makes it easier for families to see their
loved ones, domestic manufacturing that strengthens our global competitiveness,
and good-paying jobs for all."
"Siemens Mobility's
announcement catapults the growth Lexington and Davidson County have recently
been experiencing. The investment and jobs that this project brings to the area
will improve the quality of life for countless in our community. We are so
excited to see how this will transform the entire region over the next several
decade," said Jason Hayes, Mayor of City of Lexington.
Lexington
is in Davidson County and home to nearly 20,000. It is located in the Piedmont
Triad: a commerce hub with easy access to transportation and a strong workforce
in central North Carolina. Siemens Mobility will be receiving a Job Development
Investment Grant from the state of North Carolina. Over the course of the
12-year term of this grant, the facility is estimated to grow the state's economy
by $1.6 billion.
"Siemens' announcement to expand
their manufacturing to Lexington is a big win for the region and will create
more than 500 jobs," said U.S. Senator Thom Tillis. "I applaud Siemens for
their investment in our great state and the critical role they play in improving
our country's transportation and infrastructure. I'm proud that the Bipartisan
Infrastructure Law I helped write and pass into law provided the federal
funding for this important project." 
From
the first light rail vehicle to delivered to San Diego in 1984 to the 30,000
rail crossings across America, Siemens Mobility has contributed to the power of
connection, jobs and investment to our American cities with eight manufacturing
facilities, 4,000 employees and more than 2,000 suppliers across the United
States. Siemens Mobility has been manufacturing in America for more than 40
years and Lexington, NC will be its ninth manufacturing site, with other
facilities located in Alpharetta, Georgia, Louisville, Kentucky, Marion,
Kentucky, Pittsburgh, Pennsylvania, New Castle, Delaware, Tualatin, Oregon and
two facilities in Sacramento, California. 
Lexington's
sister site will be the 60-acre, solar-powered, rolling stock facility in
Sacramento, which has been manufacturing vehicles for more than 30 years and
has delivered more than 3,000 locomotives, passenger coaches and Light Rail
Vehicles. The Buy America compliant vehicles are built by the 2,500 employees
in Sacramento, with the support American suppliers across 40 states. More than
40 transit agencies across the U.S. and Canada benefit from Siemens Mobility's
portfolio of light rail vehicles, locomotives, passenger coaches, components
and automation systems, moving millions of passengers every year. 
Siemens
has been a national asset moving America forward for more than 160 years,
investing $40 billion in the United States over the past two decades while
serving the industries and infrastructure forming the backbone of the American
economy. The company's 45,000 employees across the U.S. and 21 manufacturing
sites are developing and deploying technologies for more than 100 cities and 90
percent of Fortune 500 industrial companies.