Ten Stock-Up Players in College Basketball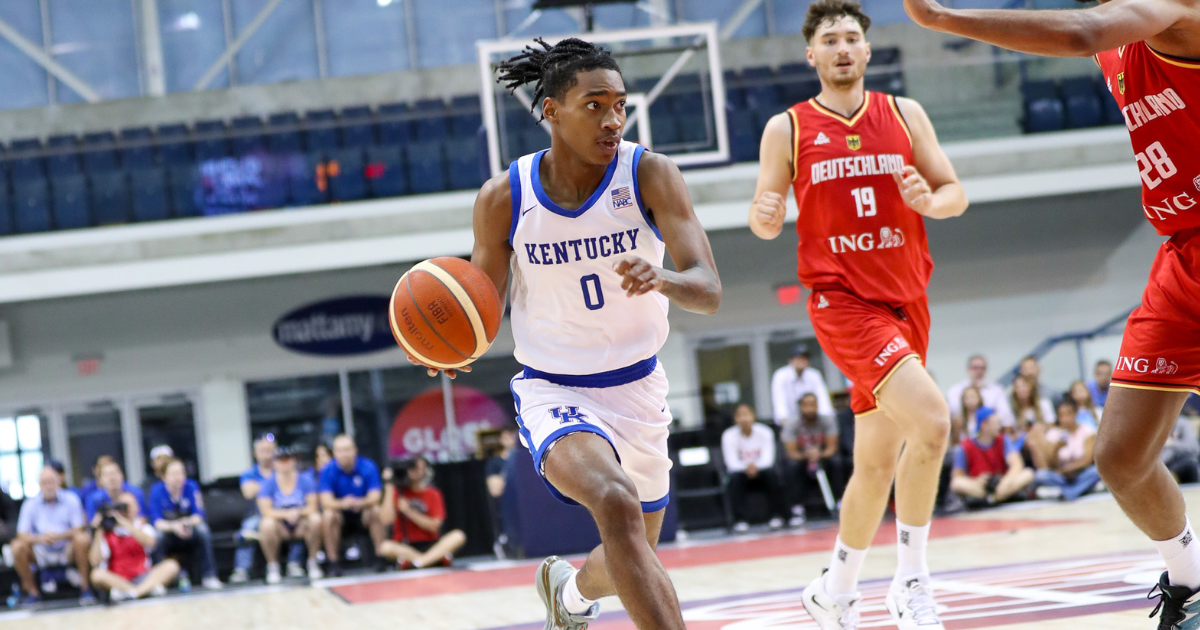 We are off and running in the 2023-24 college basketball season as we enter Feast Week. Already teams have played three, four, and five games and we are starting to get a feel for players and their roles within the team construct. Here are ten players across the college basketball landscape who have elevated their status to start the season.
Let's discuss these college basketball players listed in alphabetical order.
G Carlton Carrington, Pittsburgh
The Buzz: Carlton Carrington started the season with a triple-double, and has consistently performed since. Through the Panthers four games, he has finished in double figures each game, with at least four assists and three rebounds. The 6-foot-5 freshman point guard is also shooting 51.9 percent from three. Next up for Pittsburgh is Florida in the NIT Tip-Off. 
G Devin Carter, Providence
The Buzz: Devin Carter did have some expectations coming into the season, but he still flew under the radar that some of his teammates had. Through the first four games, Carter's production has been consistent, while teammates have been up and down. Carter has been a downhill guard, but he has shown some on-ball creation along with defensive instincts this season. Through the five, Carter is averaging 17.0 points, 7.6 rebounds, 3.4 assists, and 1.6 steals. Carter gets Lehigh, Wagner, and Rhode Island in his next three.
G Desmond Claude, Xavier
The Buzz: Desmond Claude is a bigger-bodied guard. He is comfortable with the ball in his hands and he can make a play for himself or his teammates. His counting stats have been impressive, but in watching him play, his poise is what the take home is. He is 6-foot-6 and 210 pounds. While Xavier has started the season 3-2, Claude is averaging 16.4 points and 3.8 assists per game. 
G Robert Dillingham, Kentucky
The Buzz: Robert Dillingham has always brought electricity to the game. His handle and ability to knock down shots went viral in high school. Dillingham has shown very well early in his college basketball career, coming off the bench in spurts. It has allowed him to play freely and really lean into his ability as a scorer while limiting his defensive shortcomings and tightening his decision-making. He is averaging 16.8 points in 22.3 minutes per game and shooting 43.5 percent from three. 
F Dalton Knecht, Tennessee
The Buzz: Dalton Knecht has given Tennessee exactly what they lacked last season with a shot in the arm in the scoring category. Through the first three games, Knecht is scoring 19.7 points per game. He is scoring at a 54.0 Percent clip and knocking down 83.3 percent of his free-throws. Tennessee's offense looked stagnant at times last season, they have gone for 80 or more points in each of their first three.
G Dug McDaniel, Michigan 
The Buzz: Michigan lost two players to the first round and their All-Big Ten center (Hunter Dickinson) to the transfer portal. Not only that, but their head coach has not been able to be on the sidelines yet due to his recovery from heart surgery. The Wolverines came out this season better than they were last year, and a big reason for that is the play of Dug McDaniel. He is a quick-on-quick point guard who has a crafty handle and – through four games – has shown complete control over his team and offense. McDaniel has averaged 21.0 points and 6.3 assists while getting 1.3 steals per game. Michigan, who was predicted to finish the Big Ten 10th or below by most, is now 3-1 on the season.
F Nate Santos, Dayton
The Buzz: What a week it was for Nate Santos down in Charleston, South Carolina. The 6-foot-8 forward averaged 17.0 and 6.3 per game while going 7-for-11 from three. The 6-foot-7 forward transferred to Dayton this season from Pittsburgh. Santos, a junior, has gotten off to a hot start leading his Flyers team to the Championship game of the Charleston Classic. He has Youngstown State and SMU in his next two games.
G KJ Simpson, Colorado
The Buzz: Colorado has started the season 3-0 and they are in the A.P. Top 25 in large part to the play of KJ Simpson. The 6-foot-2 guard earned second-team All-Pac 12 honors last season. He is averaging 19.0 points and 5.7 assists while shooting 50.0 percent from three. Richmond, Iona, and Colorado State are his next three matchups, and Simpson will continue having the opportunity to keep his status high.
G Cam Spencer, UConn
The Buzz: Cam Spencer provides floor spacing at a high level for the defending national champions. Spencer, who transferred to UConn from Rutgers in the off-season, shot 43.4 percent from three last year and is a career 40.9 percent three-point shooter. Through his first four games this season, the 6-foot-4 guard is knocking down 46.4 percent of his three-point shots on 7.0 attempts per contest. After an 18-point game against Indiana in the Saatva Empire Classic, Spencer is averaging 15.8 points through his first four.
C Kel'el Ware, Indiana
The Buzz: Kel'el Ware came to college as a top-ten prospect and a McDonald's All-American. The 7-foot-0 center had an up-and-down freshman year at Oregon. This season, at Indiana, Ware has been much more consistent. His defensive presence has never been in question, as he has always had timing, length, mobility, and athleticism. This season, through three games, it has been the consistency (his motor). Even with a down game against UConn this weekend at the Saatva Empire Classic, Ware is putting up 16.5 points, 9.5 rebounds, and 1.5 blocks per game. His status is up.