This Week In History: Seabiscuit's First Crop Readies For The Track – Horse Racing News | Paulick Report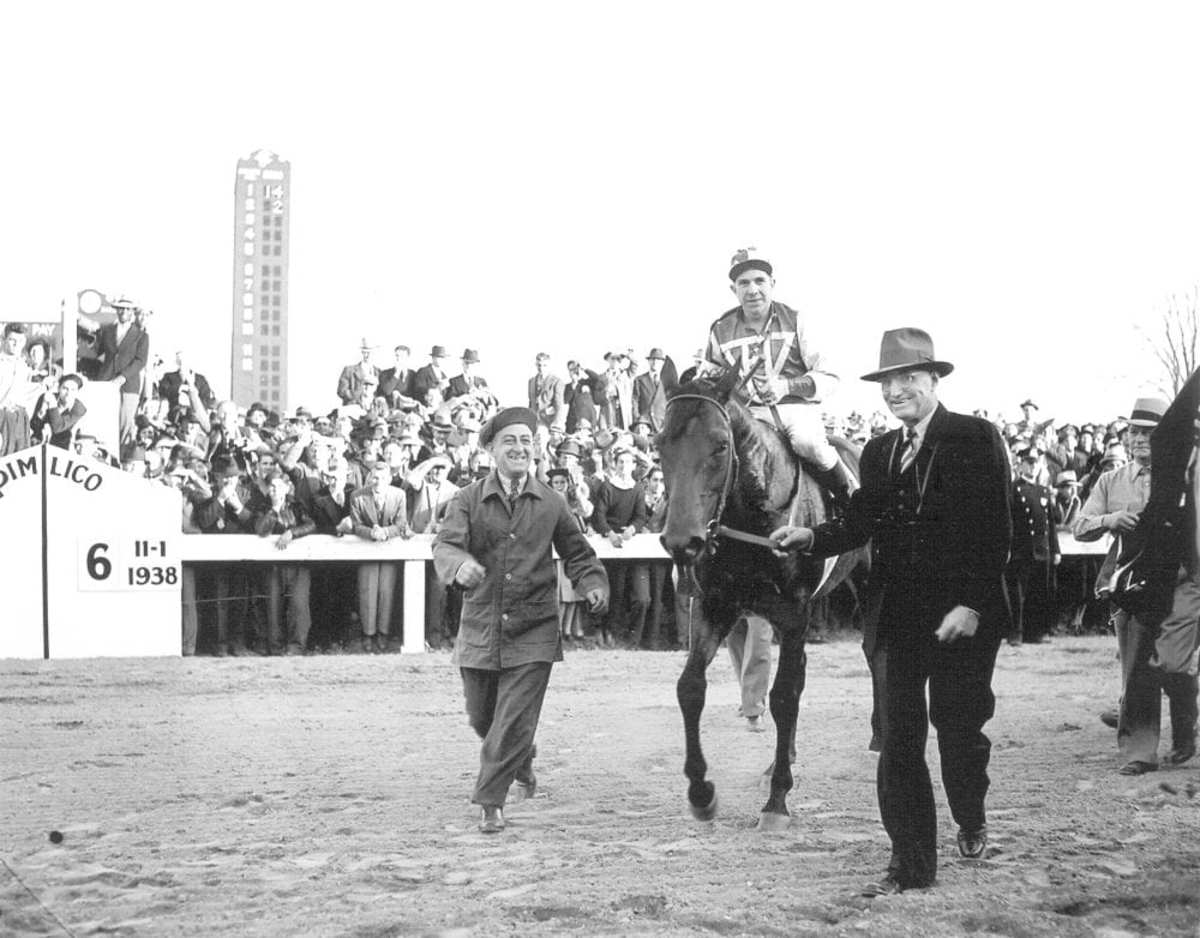 Seabiscuit and George Woolf
This is part of a new series we are piloting looking back at what was going on this week during a past year in horse racing history. Find our previous editions here and here.  
In mid-November 1941, the racing publications were, like the rest of the country, unaware of the turbulence that would start in only a few weeks with the bombing of Pearl Harbor and the entrance of the United States into World War II. No corner of American life would be left untouched by the war, and the Thoroughbred racing and breeding industry was no exception.
But before all that, The Blood-Horse had a short item in its Western Racing section for Seabiscuit fans. The very first "rising Biscuits" as writer David Alexander called them, were en route from the Ridgewood Ranch in Willits, Calif., north of San Francisco, to owner Charles Howard's farm in San Ysidro near the Mexican border. There were six yearlings – three colts and three fillies – headed to Tom Smith, who trained Seabiscuit for most of his career.
"They are reported to be a good-sized, round-barreled lot of youngsters, and high spirited," Alexander wrote.
Although Seabiscuit retired from racing officially in 1940, he had serviced mares the previous year while recovering from the suspensory ligament injury he would famously overcome to win the 1940 Santa Anita Handicap.
Alexander wrote that long-term plans for the group were undecided, but that Smith would be able to put them in more regular work after weather challenges sidelined them at their northern nursery.
"The debut of the get of no stallion was ever awaited here with more impatience, for Seabiscuit, world's greatest money-winner, Santa Anita Handicap winner, conqueror of War Admiral in the Pimlico match, was the all-time Thoroughbred hero of the state," he concluded.
As is so often true with racetrack heroes, however, Seabiscuit would not prove to be a wild success as a stallion, though some of that may have come down to unfortunate timing. He sired 108 foals, and died of a suspected heart attack in 1947 at the age of 14. That meant most of his stud career happened in the midst of a war that shut down racing at Santa Anita Park. The Jockey Club's foal crop reports show a small dip for the foals born after the start of the war – it dipped below 6,000 nationally in 1943 for the first time in four years – but increased after the end of the war, getting to 8,770 by the end of the decade.
It seems Howard mostly bred Seabiscuit to his own mares, which may have been due in some part to gas rationing that would have made it difficult for outside breeders to get to him.
Whatever the reason, Seabiscuit's most distinguished offspring would turn out not to come from that first crop, but later. Sea Sovereign, born in 1942, was victorious in the 1945 Santa Catalina Handicap, but would become more famous as an actor in a 1949 Shirley Temple film called "The Story of Seabiscuit" in which he played his sire, Hard Tack. Sea Swallow, from the same 1942 crop, won the Haggin Stakes, Yankee Handicap, Tijuana Derby, and Derby Trial. He finished seventh in the Kentucky Derby, sixth in the Preakness and fifth in the Belmont. Both went on to become sires, though of even less distinction than their father.
Seabiscuit is buried on the Ridgewood Ranch at a gravesite known only to the Howard family, marked by an oak tree.
The Paulick Report thanks the Keeneland Library staff for their assistance in the research process for this and many of our other features.