Tribal water infrastructure needs more than a one-time fix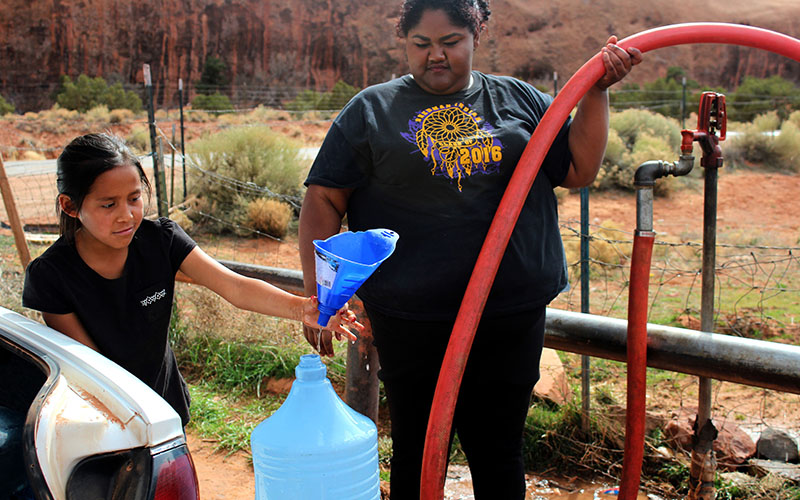 Lux Butler, Cronkite News
Originally Published: September 26, 2023 10:37 a.m.
WASHINGTON — The infusion of federal money for infrastructure projects is a welcome first step toward fixing deep problems with water systems on tribal lands, but it's only a first step, an Arizona official testified Sept. 20.
Brian Bennon, director of the tribal water department for the Inter Tribal Council of Arizona, said tribes need to make sure they have funding for operation and maintenance of the systems, comparing it to taking care of a car.
"There're many things. I call it preventative maintenance to try to get as much as much life out of the system as possible, and maybe even getting it beyond the original design life," Bennon said in testimony to the Senate Environment and Public Works Committee. "That takes money."
Bennon was joined by Ken Norton, director of the Hoopa Valley Tribal Environmental Protection Agency, and Jola WallowingBull, director of the Northern Arapaho Tribal Engineering Department, to testify on the problems that come with underfunding of Native water systems.
"This is an often overlooked and underfunded area, with serious impacts on the health and well-being of countless Native American communities," said Sen. Alex Padilla, D-Calif., in his opening statement to the hearing. Padilla is chairman of the committee's Fisheries, Water and Wildlife Subcommittee.
The hearing comes amid an influx of federal funding for infrastructure projects across the country, including billions directed to tribal projects.
The $1.2 trillion Bipartisan Infrastructure Law that was passed in 2021 included $13 billion for Indigenous communities, with $4.4 billion of that amount dedicated to construction of drinking water and sanitation facilities, according to the White House.
The American Rescue Plan of 2021 included $1.75 billion for tribes, according to the Bureau of Indian Affairs, which said $20 million was for "potable water delivery." And last year's Inflation Reduction Act included $720 million for tribal communities, according to the administration.
Witnesses at the Sept. 20 hearing said the funding is badly needed. According to the Indian Health Service, 22% of tribal homes lack adequate sanitation, facilities that Bennon said "are the cornerstone to modern public health in preventing disease and death caused by pathogenic organisms."
Compared to nontribal systems, tribal public water systems have twice as many violations and more than three times the number of priority violations of the Safe Drinking Water Act over the past 10 years, according to EPA data cited by Bennon.
But he and others said that building new facilities will only solve part of the problem: Many of the tribal system violations can be attributed to a lack of funding for maintenance, minimal professionally trained staffing and slow communications between tribes and the government.
"Infrastructure construction alone cannot solve this access crisis," Bennon testified. "Infrastructure construction must be balanced with the building of managerial financial and technical capacity of the utilities to properly operate and maintain the water infrastructure investments."
That was echoed by WallowingBull, who said the lack of communications with federal officials can make it difficult for face to maintain their water systems.
"Leaks and other issues continue while our requests slowly move through the approval process," she said. "We plug holes as best we can, but the review system ensures that we are always addressing emergencies rather than allocating our resources to planning future development."
Padilla said that fixing the problem will require broad support.
"There is a growing consensus here, which is encouraging news, ensuring tribal access to water and sanitation is a multijurisdictional, multicommittee, multitagency problem," he said.
But Padilla said he is optimistic, a sentiment seconded at the hearing by Sen. Dan Sullivan, R-Alaska.
"This is an issue that I think should unite both Democrats and Republicans," Sullivan said.