For those looking to see as much of the country as possible in a single trip, a road trip is the obvious answer. With just under four million square miles to explore, no single road can possibly take someone through every highlight the US has to offer. Thankfully, many of the most popular national parks are clustered together, giving travelers a chance to get a deep dive into a particular region through the fun of a road trip.
With desert loops, glacier roads, and historic highways, there is a road trip for every kind of adventure. Some of these routes are so off the beaten path they may take the actual map to find them.
10
Route 66 Road Trip
route 66 sign, Mojave desert, California
The United States is a crisscrossing maze of roads, but none is perhaps more historic or iconic than Route 66. The longest drive on this list, this 100-year-old, 2,448-mile road is nicknamed "The Mother Road" due to its historic nature. Historical landmarks pepper the eight states along the route, including ghost towns, roadside restaurants, and unique one-stop attractions. The Petrified Forest National Park and Meteor Crater along the Arizona stretch are often considered highlights of an already unique drive.
States Visited:
Illinois, Missouri, Kansas, Oklahoma, Texas, New Mexico, Arizona, California

Highlights:
Chicago, Ghost towns, Petrified Forest National Park, Santa Monica
Related: 20 Stops On Route 66 Worth Planning Your US Road Trip Around
9
California State Route 1 Road Trip
Scenic View of the California Coastline Pacific Highway 1
Those looking to get from one end of California to the other quickly generally follow the I-80 interstate, but those looking for unmatched views and access to unique landmarks know that no road beats California Highway 1. Snaking along the West Coast, drivers can follow the approximately 650 miles from Napa Valley to San Diego (or vice versa). Aside from the near constant presence of the Pacific Ocean, travelers can stop at any of the major coastal cities that intersect this route, including San Francisco, Monterey Bay, Los Angeles, and Santa Barbara. The redwood forests are just a short detour along the northern stretch of the highway, giving travelers a taste of every backdrop that California has to offer.
States Visited:
California

Highlights:
Napa Valley, San Francisco, Monterey Bay, Big Sur, Hearst Castle, Los Angeles
8
American Southwest Road Trip
Turret arch through the North Window at Arches National Park in Utah
The American Southwest is full of some of the most unique National Parks in the United States. Those looking to experience all of the desert landscapes should consider road-tripping from one to the other, considering that even the roads between the parks are full of wonder. The easiest jumping-off point of this trek is Las Vegas, which sends travelers on a direct path to southern Utah and the "Mighty 5". Visitors can spend time at Zion, Bryce Canyon, Goblin Valley, and Arches National Parks. From there, the Grand Canyon and Capitol Reef National Parks are just a state over. Having enjoyed the sites, red-dusted travelers can loop back to Las Vegas on their way home. This trip can easily be a 10-day to two-week outing, given the number of full-day highlights offered on this deceptively small route.
States Visited:
Utah, Arizona, Nevada

Highlights:
Grand Canyon, Arches National Park, Goblin Valley National Park, Capitol Reef National Park, Bryce Canyon National Park, Zion National Park, Las Vegas
Related: 10 Things To Enjoy During A Road Trip Through Utah
7
Yellowstone And Glacier National Park Road Trip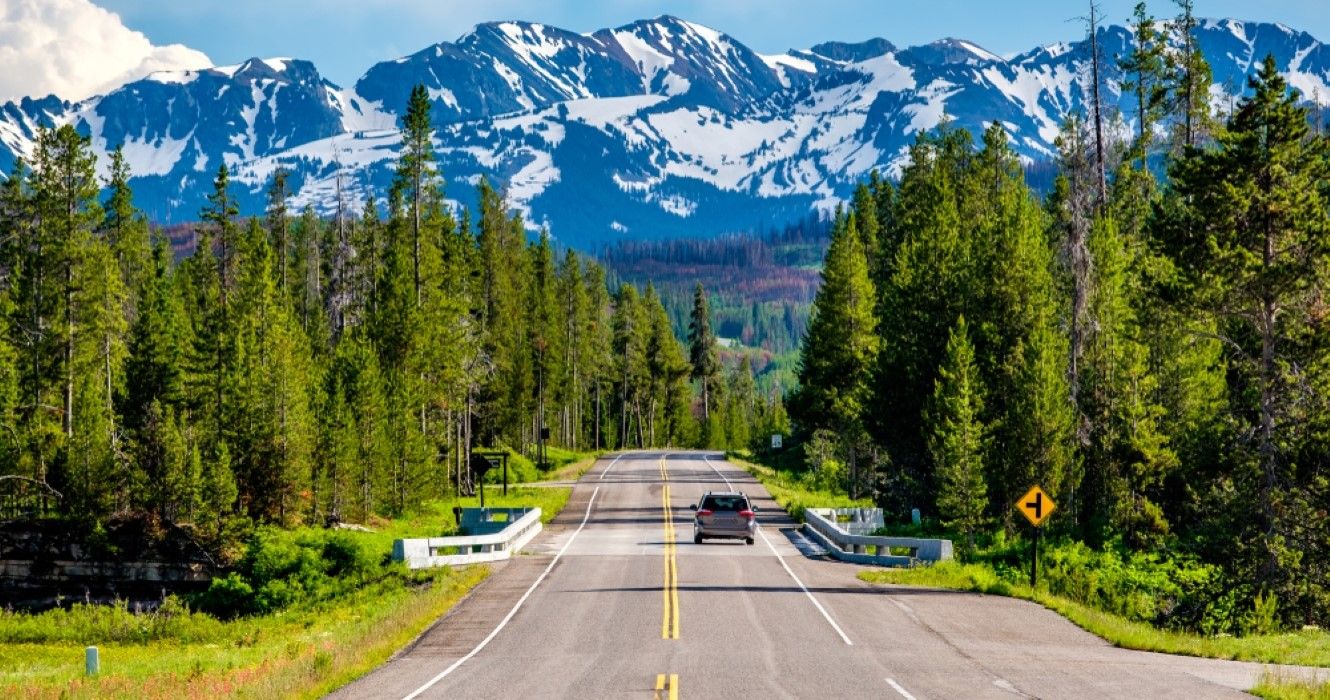 Scenic road from Yellowstone National Park to Grand Teton National Park, Wyoming
This point-to-point road trip is essential for anyone hoping to enjoy the large national parks tucked away in Montana and Wyoming. For those starting in Montana, the best landing point tends to be Whitefish, just outside Glacier National Park. Following the Going-to-the-Sun Scenic route, travelers can simultaneously take in the beauty of the glaciers and start their drive toward Yellowstone. At nearly 3,500 square miles, Yellowstone is a park worth taking time in, even on a road trip. After driving alongside bison and hiking to geysers and hot springs, some road trippers may be ready to call it a day. For those with one more push in them, Grand Teton National Park is just a little further south and promises to reward visitors with even more unique views.
States Visited:
Montana, Wyoming

Highlights:
Grand Teton National Park, Yellowstone National Park, and Glacier National Park
6
Olympic And Mount Rainer National Park Road Trip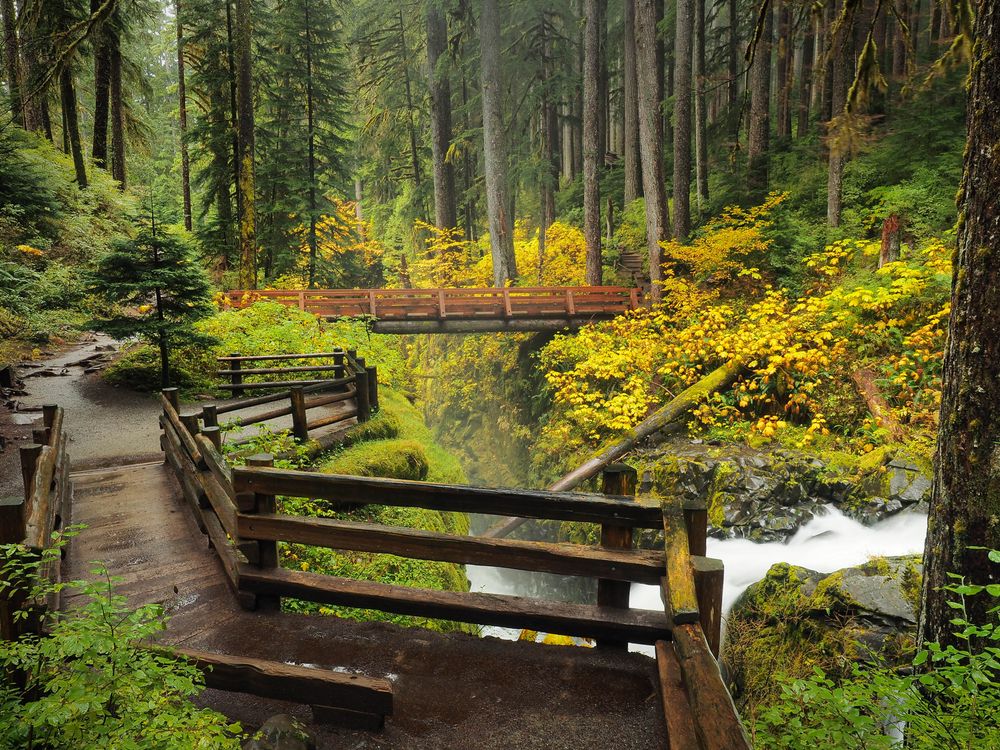 A trail in Hoh Rainforest, Olympic National Park, WA
The Pacific Northwest, home of the Sierra Nevadas, is rich in forests, granite structures, and scenic vistas. Washington state is home to several national parks that protect these lands, and there's no reason guests should have to choose between them. This road trip follows a unique loop, starting around Mount Rainer and following I-5 to North Cascades. Each of these parks offers numerous hikes and views, but making the most of them takes planning. The high elevation and consequent snowfall mean that roads are often closed. This road trip is ideal in the late summer or early fall. After the mountain views, travelers should drive down to Olympic National Park to finish out their trek, where they can take a break from the cold granite structures and enjoy a trip through the temperate rainforest. For a little bit of everything in one state, this Washington road trip is a must.
States Visited:
Washington

Highlights:
Olympic National Park, Mount Rainier, North Cascades
Related: Seattle To Olympic National Park: What To Do Along The Way
5
Joshua Tree And Death Valley Road Trip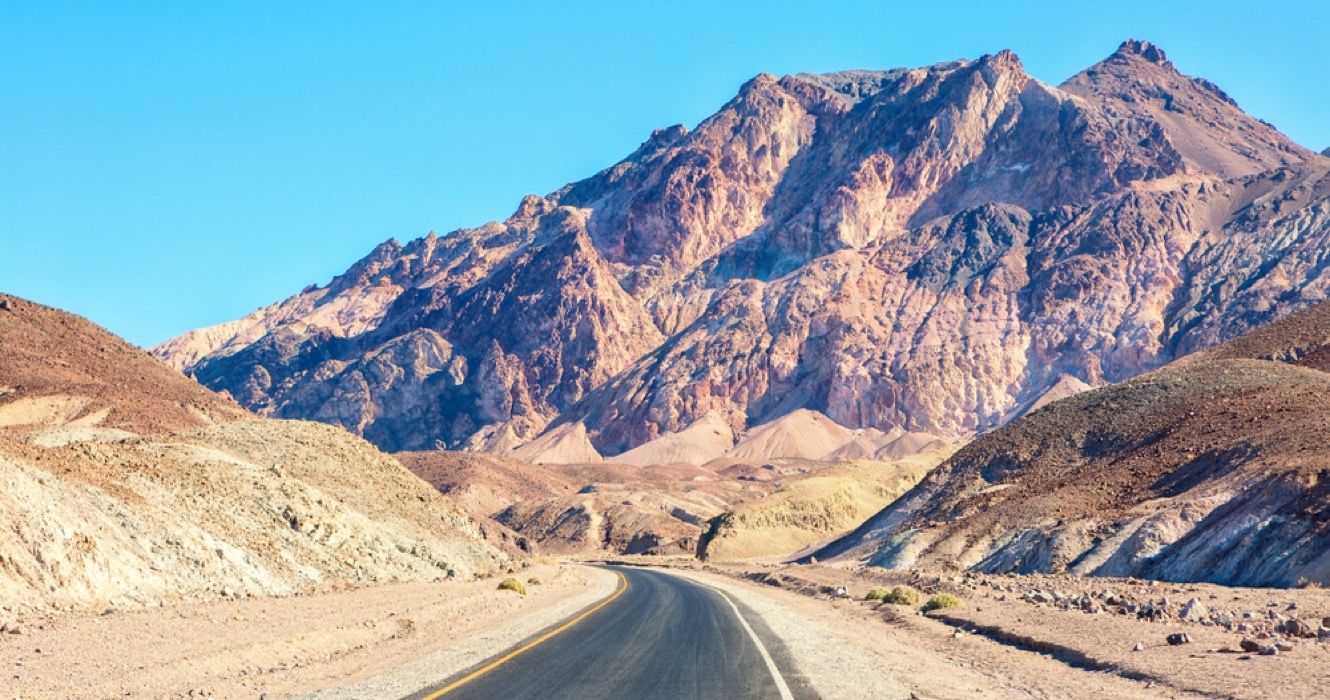 Driving in Death Valley National Park
Another road trip that is easily accessible from Las Vegas, the Joshua Tree and Death Valley road trip explores the other side of the American Southwest. Touching down in some of the hottest parts of the United States, both parks are so full of activities that it would be difficult to spend only one day in each place. The dry terrain makes it the perfect place to visit not only unique animal and plant life but Native American drawings and other historical markers as well. After spending time in both parks, there is the option to return to Las Vegas to head home or take the more scenic route towards Los Angeles.
States Visited:
California

Highlights:
San Diego, Anza-Borrego Desert State Park, Joshua Tree National Park, Death Valley National Park, Las Vegas
Cell service is spotty in both parks. Those hoping to drive independently should bring a traditional map with their path marked for security.
4
Florida Keys Road Trip
Panorama of Road US1 to Key West over Florida keys
Distance-wise, the Florida Keys may not seem like a traditional road trip. At less than 200 miles from point to point, it's hard to imagine how there could be more than a day's worth of activities hiding along the way. But with two national parks, the Keys themselves, and a potential side trip to Dry Tortugas National Park, there is easily a week's worth of adventure to be found. The easiest place to start is Miami, which is worth a day exploring in and of itself. Heading south, travelers can stop by the Everglades National Park and take an airboat to see the wildlife. The next day, guests can enjoy the Biscayne National Park, which sets them straight on the path of the Florida Keys. Driving over the ocean itself, jumping from island to island, there is no limit to what can be done. Detours can lead to scuba diving, fishing, and one-of-a-kind food experiences. If a week in the parks and along the beaches still isn't enough, travelers can take a ferry ride to get a grand finish at Dry Tortugas National Park off the tip of the Keys.
States Visited:
Florida

Highlights:
Miami, Key West, Florida Keys, Everglades National Park, Biscayne National Park
3
Denali Road Trip
the road to denali national park with autumn foliage
Alaska is a world away from the ordinary, even without stepping outside the major towns. Jumping off from Anchorage and Denali, it might be hard to convince oneself to venture outside such a unique landscape. Those willing to brave the wilderness can find both the Kenai Fjords and Wrangell – St. Elias National Parks, which offer glacier views, boat tours from Seward, and abandoned mines. Given the remote location of these parks, the crowds are often not as intense as in other locations in the lower 48. After exploring the secluded parks, tourists can jump back into the small coastal town of Valdez, where winter sports, glaciers, and Arctic Ocean views abound. Given the limited options, a trip back to Anchorage to get back home is a must, which gives one more opportunity to catch any missed attractions.
States Visited:
Alaska

Highlights:
Anchorage, Seward, Valdez, Kenai Fjords National Park, Wrangell – St. Elias National Park
Related: 10 Fun Things To Do In Denali National Park & Reserve
2
New England Road Trip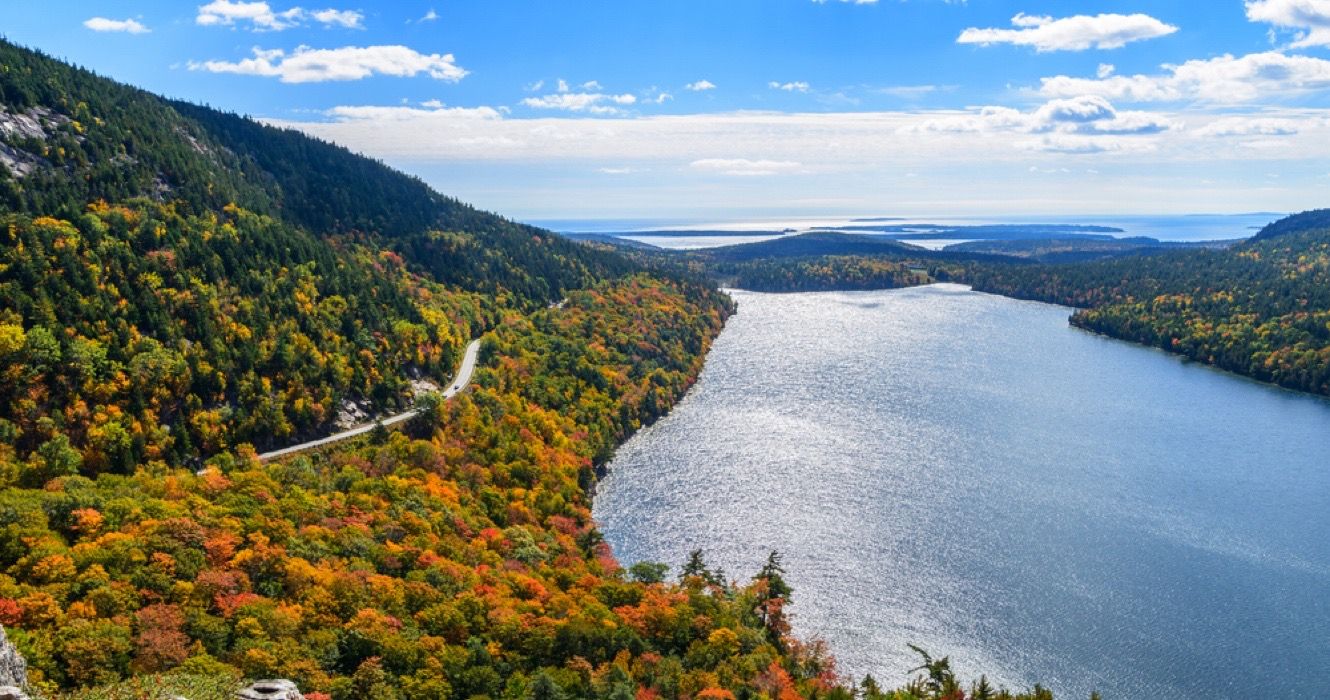 Acadia National Park, Maine
Why choose between a tour of America's history and its national parks when a New England Road Trip offers both? Starting in Boston, there is a full day of museums, historical landmarks, and guided tours readily available as soon as one lands. From there, the Maine coast offers a serene change of pace with Arcadia National Park, east coast views, and delightful Maine seafood. The National Park exploration continues through New Hampshire and Vermont, with highlights like Lake Champlain begging and travels to stay an extra day. In case there wasn't time to hit every historical landmark at the onset, the loop ends where it began in Massachusetts, giving every traveler a chance to really experience it all.
States Visited:
Maine, New Hampshire, Vermont, New York, Massachusetts

Highlights:
Acadia National Park, Franconia Notch State Park, Lake Champlain, Boston
1
Wyoming And North Dakota Road Trip
the stairs leading down to horseshoe canyon in the canadian badlands, alberta
Yellowstone is such an impressive National Park that to truly experience it all can easily take two (or more) road trip excursions. For this route, travelers start in Grand Teton before heading to Yellowstone. Then, instead of moving toward Montana, the path divergent towards North Dakota, The Badlands National Park, and Mount Rushmore. Another point-to-point road trip, the second half of this route incorporates the historical landmark Mount Rushmore with the surrounding natural beauty. Day trips to Devils Tower, The Bighorn Mountains, and Custer State Park. Expansive prairies, snow melt-fed lakes, and impressive wildlife variety mean each of these parks could warrant a day to themselves. The 600-mile path may look unassuming on a map, but with a new National Park every hundred miles, there is no way to miss out along this road.
States Visited:
Wyoming, South Dakota, North Dakota

Highlights:
Grand Teton, Yellowstone, Badlands and Wind Cave National Parks, Devils Tower, Mount Rushmore, Bighorn Mountains, Custer State Park