US businesses welcome, Chinese Vice-President Han Zheng tells Paulson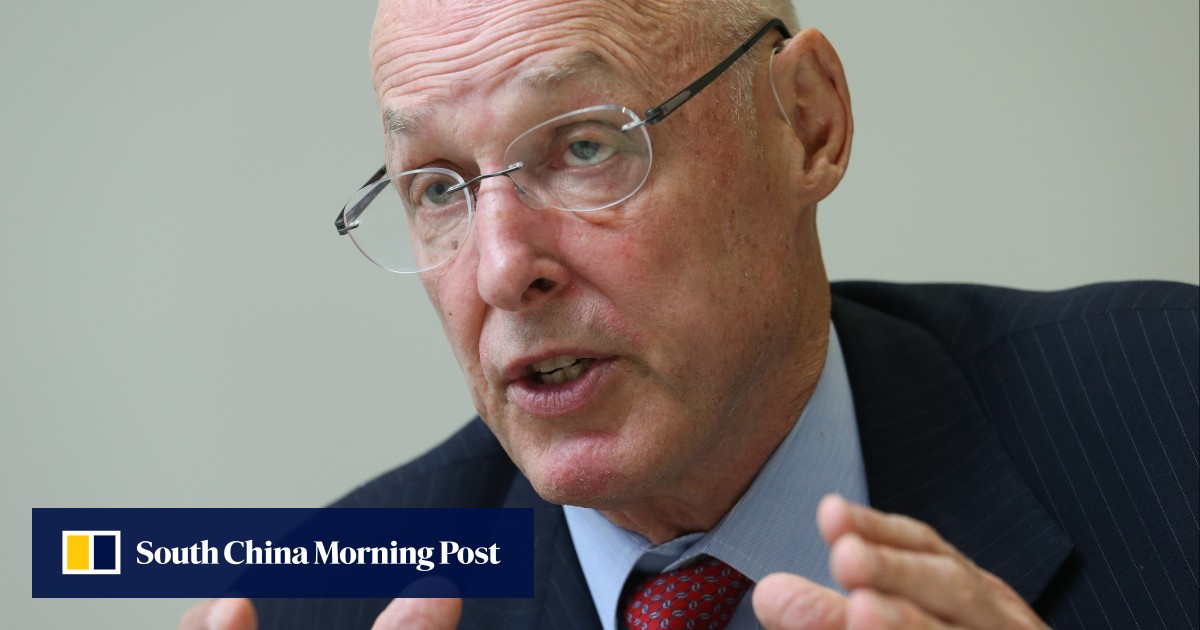 Beijing has sent a welcoming message to US companies during a visit by American banker and former treasury secretary
Henry Paulson
, while urging Washington to expand "positive" policies and cut "negative" ones.
Paulson, founder of the US-China policy think tank the Paulson Institute, was received on Tuesday by China's Vice-President
Han Zheng
and top diplomat
Wang Yi
, with the Chinese side expressing hopes to "bring bilateral ties back on the track of sound and steady growth" with Washington.
"We welcome more US companies to invest and do business in China [and] to share development opportunities together," Han said, according to state media Xinhua.
He said Beijing's approach to the United States was guided by "mutual respect, peaceful coexistence and win-win cooperation".
Han noted that the two countries were in charge of the most important
bilateral relations
in the world and should "enhance mutually beneficial cooperation in all areas, push forward the world's economic recovery together and address global challenges".
Paulson said the two countries should maintain communication and dialogue, strengthen people-to-people exchanges as well as economic and trade cooperation, and jointly cope with global challenges such as climate change, according to Xinhua.
He echoed Han in saying that China-US relations had an important impact on the world, adding that the two sides should find the right way to get along and build trust.
Paulson championed US engagement with China during its rapid economic rise, has made more than 100 visits to China and worked with three generations of Chinese leaders, including President Xi Jinping whom he first met while serving in the second George W. Bush administration between 2006 and 2009.
He is also a member and founding chairman of the advisory board in Tsinghua University's school of economics and management. Paulson runs his non-profit think tank with the aim of fostering closer China-US ties. Its operation stretches from Beijing to Washington and Chicago.
Chinese Foreign Minister Wang Yi, who last week wrapped up a four-day visit to Russia for security talks, met Paulson's delegation on the same day.
"The nosedive of China-US relations does not meet the interests of the two peoples, the expectations of the international community and the trend of the times," said Wang, according to a statement from his ministry.
"It is hoped that the United States will return to the rational and pragmatic track in its China policy, take concrete actions to lengthen the positive list and shorten the negative list, and work with China to explore ways of peaceful coexistence as two major countries," said Wang, who also heads the ruling Communist Party's foreign affairs office.
Wang expressed appreciation for Paulson's "long-term commitment" to promoting the development of China-US relations with an "objective and rational attitude", and hoped that he and his foundation would continue to play a constructive role.
A
line-up
of current US officials have visited Beijing to pave the way for a potential Xi-Biden summit in November, including US Secretary of State Antony Blinken, treasury secretary Janet Yellen, climate envoy John Kerry and, most recently, commerce secretary Gina Raimondo.
Paulson said he welcomed the resumption and maintenance of dialogue between the two sides, and reaffirmed his willingness to promote the steady development of bilateral relations.
Paulson also met Pan Gongsheng, governor of the People's Bank of China, the country's central bank, on Monday. They exchanged views on the global economy, China and the US' economic and trade relations and green finance, among other topics.