What a Federal Government Shutdown Means for National Parks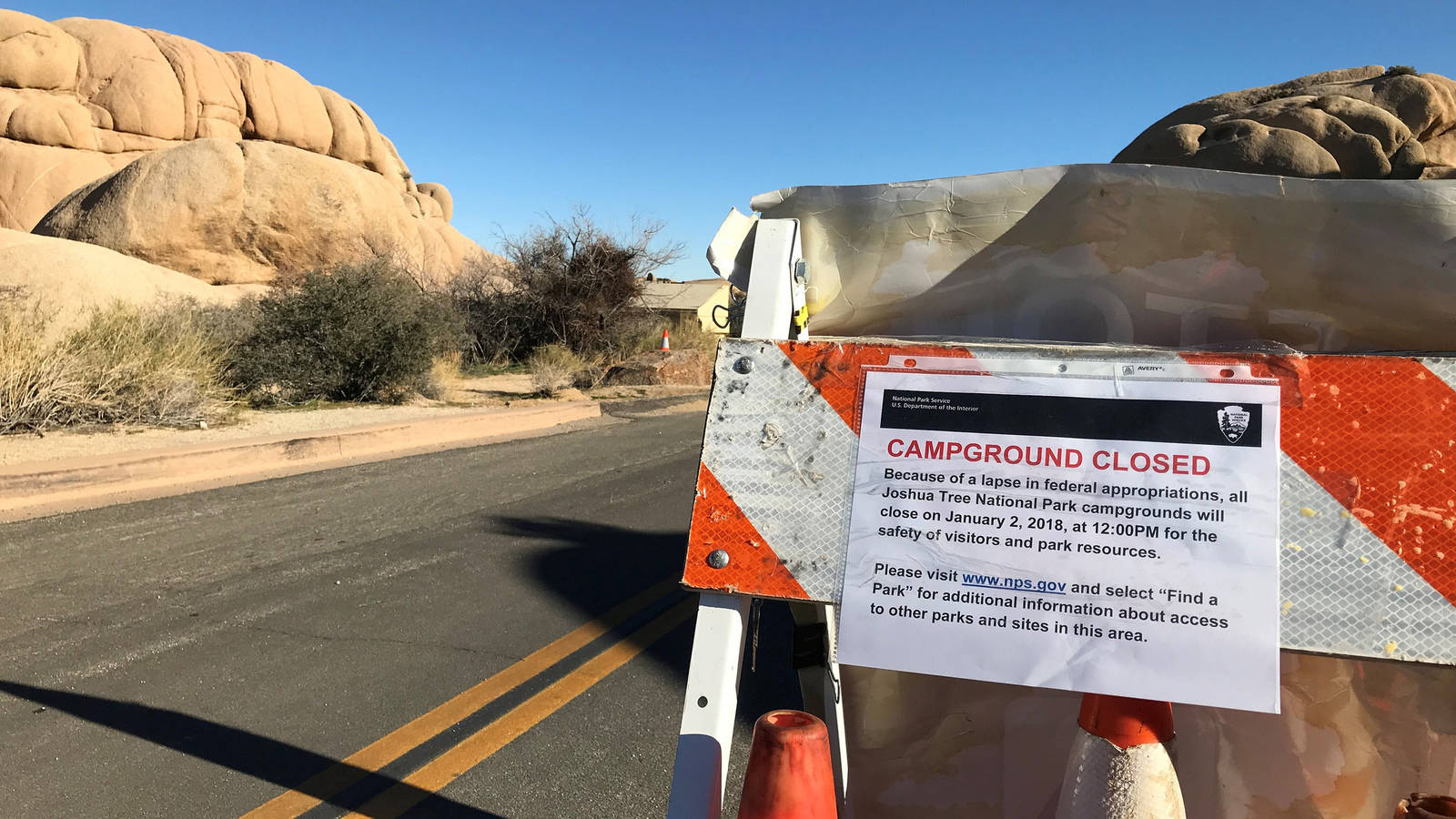 If Congress fails to pass an appropriations bill by Oct. 1, the federal government will shut down. This could close national parks — putting family vacations, school trips, park protection and local economies in jeopardy.
Here are 10 frequently asked questions.
What does a government shutdown over federal spending have to do with national parks?
All 425 national park sites are federally managed, and every year, the U.S. Congress must develop and approve a federal budget for all government agencies and programs, including the National Park Service. That is their responsibility to the American people.
If Congress fails in its duty to pass a new funding bill before the government's fiscal year ends Sept. 30, all monuments, historic houses, battlefields and other units of the park system are at risk of closing Oct. 1. That's because these spaces aren't permitted to operate on funds not yet approved by Congress. A shutdown could affect sites in all 50 states, the District of Columbia, and U.S. territories such as Puerto Rico, Guam and American Samoa.
Based on Park Service data, national parks could see a loss of nearly 1 million visitors and an economic loss to gateway communities of as much as $70 million every day parks are closed in October. Thousands of park staff could soon be put in the scary position of not knowing when their next paycheck will arrive, while park concessioners and partners would face the prospect of lost revenue and further economic hardship.
How will this affect my visit to a national park?
If a shutdown occurs, national park amenities including visitor centers, campgrounds, research facilities, museums and other facilities would be forced to close as well. Educational programs, ranger hikes and service events would be canceled. Everything from family vacations to school field trips to weddings would be affected.
People across the country and from around the world have been making travel plans for months expecting our parks to be open. Instead, they face the possibility of disruption and disappointment when they arrive at parks only to find gates locked and facilities shuttered.
How long does a government shutdown last?
It is the job of Congress to fund the federal government, so the length of a shutdown depends on legislators' ability to come to a budget agreement to fund federal agencies including the Park Service so that parks can be adequately staffed to keep visitors safe and irreplaceable resources protected.
The most recent government shutdown was also the longest: 35 days from December 2018 to January 2019. This followed a three-day shutdown in January 2018. An October 2013 shutdown lasted 16 days. A shutdown in November 1995 lasted five days, with another shutdown a month later lasting 21 days.
Can I go into a park even if it's closed because of a government shutdown?
NPCA strongly supports closure of all parks in the event of a shutdown until an agreement can be reached to fund the government, including the National Park Service. As unfortunate as that would be, it is the only way to protect the health and safety of park visitors and wildlife and the integrity of our most precious natural and cultural resources.
As much as the Park Service wants to welcome visitors, parks will only have a few, if any, staff on hand to protect visitors and park resources. If a shutdown occurs, we need park lovers everywhere to help protect our parks by rescheduling their trips and not putting any extra pressure on our most treasured places during this time.
During the 2018-19 government shutdown, the previous administration made the reckless and legally questionable decision to keep some parks open without adequate staff. As a result, we witnessed unnecessary and avoidable damage, including overflowing trash and human waste, vandalism, looting and illegal use of off-road vehicles.
Despite the chaos and damage that ensued, the Department of the Interior pressured superintendents to keep areas of parks open. At that time, NPCA demanded an investigation by the Department of the Interior's Inspector General into whether these irresponsible actions violated the Park Service's legal mandates to protect park's irreplaceable cultural and natural resources, in addition to laws governing the use of fees and government shutdowns. After a months-long investigation, the Government Accountability Office determined that these actions were illegal based on the Antideficiency Act and Appropriations Law.
If parks close, what happens to park rangers and other employees?
During the 2013 shutdown, more than 21,300 Park Service staff were furloughed (86%). Only a skeleton crew of the most essential staff remained to protect life and property, including law enforcement, disaster assistance and some emergency medical care.
Similarly in 2018-19, the majority of Park Service employees were furloughed. Only "essential staff" continued reporting to work for those 35 days — just 3,298 employees tasked with managing 80 million acres of national park lands.
How much revenue could the Park Service lose?
In the 2013 shutdown, all national park sites were closed, education programs and special events canceled, permits issued for special events repealed, park hotels, visitor centers and campgrounds vacated, and entrances locked. The 16-day shutdown resulted in more than 12 million lost recreation visits and $568 million in lost visitor spending.
In 2018-19, NPCA estimated the Park Service lost $400,000 per day from missed entrance fee revenue. On an average day in January 2019, about 425,000 park visitors would typically spend $20 million a day in nearby communities. We estimate that for every day of a shutdown this October, the Park Service would lose as much as $1 million per day in lost fee revenue. Additional costs to the Park Service could include the opportunity of lost labor, maintenance challenges and cleanup after the shutdown.
A government shutdown would make a bad situation even worse because national parks have been chronically underfunded and understaffed. They are more popular than ever before, but many lawmakers continue to starve the parks' already strained budgets and resources.
How badly are parks already underfunded and understaffed?
This budget impasse is part of a broader funding crisis facing parks. Between 2012 and 2022, national parks staffing eroded by 13% while visitation grew by 10%. Through a much-needed budget increase last year, parks and supporting offices were able to hire 500 staff, but they still employ 2,600 fewer staff than they did in 2011.
The shutdown threat is caused in part by the U.S. House's latest funding bills, which do not honor the bipartisan budget agreement passed earlier this year. This includes an unrealistic and damaging proposed cut of $433 million to the Park Service's budget in its most recent funding bill. This drastic proposed reduction could mean more than 1,000 fewer staff to ensure visitor experience and safety and fewer resources to protect these beloved sites.
Our parks also suffer from more than $22 billion in repair needs due to lack of funding. A shutdown would worsen this situation as limited park staff are unable to perform the daily maintenance that can prevent the backlog of maintenance needs from growing.
Would a shutdown affect local businesses?
Yes. Local businesses and park concessioners serve thousands of park visitors every day and face the prospect of lost revenue and further economic hardship when a shutdown occurs. If there is a shutdown on Oct. 1, NPCA estimates that nearly 1 million park visitors a day could be turned away, resulting in the loss of as much as $70 million in visitor spending in surrounding communities each day parks are closed because Congress failed to pass a spending bill.
National parks are economic engines, generating more than $50.3 billion and supporting more than 378,400 jobs annually, according to the Park Service. America's outdoor recreation economy supports 4.5 million American jobs and contributes over $862 billion in annual economic output, which constitutes 1.9% of the gross domestic product.
Local governments would feel an impact, too, because of the lost tax revenue associated with this economic activity. Additionally, many parks' bookstores and visitor centers are run by nonprofits, which use those revenues to support the parks. Without visitors making purchases, hundreds of nonprofit employees could be laid off, furloughed or forced to accept leave without pay.
With park visitation up in recent years, wouldn't it be helpful for natural spaces to have a break from people?
No. Staff biologists, ecologists and other resource professionals work to rid our parks of invasive species and to protect the threatened and endangered species that call our national parks home. Other staff members monitor grounds to prevent vandalism, illegal dumping and other detrimental activities.
While a shutdown might allow some staff to remain, much of the daily work to keep a park protected would be severely hampered. As mentioned already, many parks suffer from deferred maintenance issues, and any reduced staffing and postponed work would exacerbate these problems.
What can national park supporters do to help?
Congress must pass a funding bill that values our national parks and surrounding communities for their economic and intrinsic values, not the damaging cuts proposed in the U.S. House of Representatives. American families, the economy and millions of people who love and cherish our national parks and public lands are counting on it.
We understand the frustration that visitors feel when they lose access to their national parks. We urge park supporters to direct any frustration over the shutdown toward those who caused this untenable situation in the first place — the decision-makers who have been unable to agree on a budget that keeps parks open.