Winning a medal and getting a slot for Paris 2024, a good combination for many sports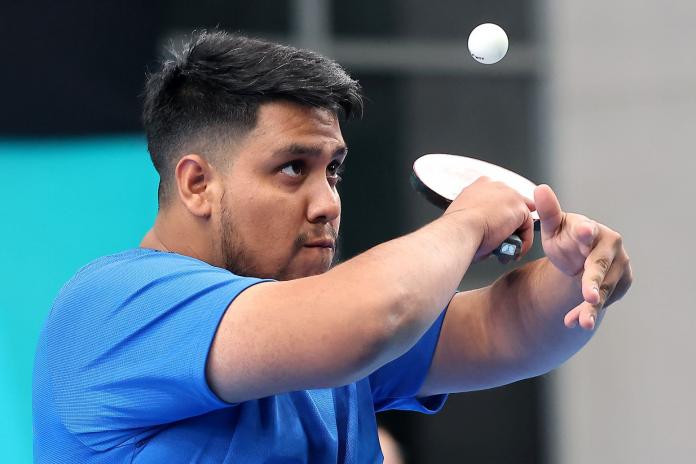 27 slots to Paris 2024 have already been shared through the results of the Santiago 2023 Parapan American Games, giving benefitted athletes and National Paralympic Committees (NPCs) even more happiness and satisfaction for their accomplishments in the playing field.
16 Para table tennis gold medal winners from Santiago secured their place in the 'City of Lights' next year.
One of those excited athletes to book a ticket was Argentinian Elías Romero, who won the single class 5 event in Santiago and will experience his first Paralympic Games.
The 24-year-old said: "I am very happy of having qualified to Paris. Participating in the Paralympics has been my dream since I play this sport. It has been my dream since I can remember. Now, my focus will go into a strong preparation so I can give my best there".
The other male names that will be read in Paris 2024 are Yunier Fernández (Cuba, class 1), Luis Flores (Chile, class 2), Jenson Van Emburg (USA, class 3), Maximiliano Rodríguez (Chile, class 4), Ian Seidenfeld (USA, class 6 and current Paralympic champion), Paulo Salmin (Brazil, class 7), Luiz Guarnieri (Brazil, class 8), Tahl Leibovits (USA, class 9), Claudio Massad (Brazil, class 10) and Thiago Simões (Brazil, class 11).
On the women's field, the qualified athletes are: Marliane Amaral (Brazil, class 3), Tamara Leonelli (Chile, class 5), Claudia Pérez (Mexico, class 7), Florencia Pérez (Chile, class 8) and Danielle Rauen (Brazil, class 9).
After her win, Leonelli, overwhelmed by the support of the Chilean supporters, said: "I feel a lot of happiness. This has been a really long process. I am very proud of this accomplishment. It has been wonderful, the support of the fans encouraged to achieve the objectives". 
Ready, aim, fire
Meanwhile, three Para shooters already won slots, not for themselves per se, but for their countries. It will be up to their respective NPCs to decide the athlete that will be competing in Paris in 2024.  
"This is something I never thought possible. I obviously planned to give the best of me so I could fight for a medal, but I never thought of winning the event and getting that slot for the Paralympics for Colombia", said María Restrepo, who won the gold medal in the R3 – Mixed 10m Air Rifle Prone event. She had a 252.3 score that broke the Parapan American finals record.  
The other two NPCs that won spots were USA, after Marco de la Rosa triumphed in P1 (10m Air Pistol men), and Costa Rica, after Paola Arana got the silver medal in P2 (10m Air Pistol women). The Central American nation was favoured because the winner of the event, Yenisgladys Suárez from Cuba, already secured a spot for her country via the World Championships.
One last opening for shooting will be decided on 21 November, with the R4 – Mixed 10m Air Rifle Standing event.
Bullseye
In Para archery, the scenario is similar as the latter described. Eight Para archers won slots for their NPCs and two more will be decided on 22 November.
"I still don't believe it. I am still processing what happened. Since yesterday (19 November) I thought I had already achieved my objective, which was improving my personal best. But what happened today, I mean getting to the final (on the Women's Individual Compound Open event) and getting a slot for my country for Paris, are big things. I am extremely happy", said Costa Rican Pilar Riveros.
She will battle for the gold medal against the Paralympic silver medallist from Tokyo 2020 and local hero, Mariana Zúñiga, who also got a ticket for Chile for the Paralympics due to her qualification to the final match in Santiago 2023.
As finalists in the Individual Compound Open Men event in Santiago 2023, Kevin Polish and Diego Quesada reserved slots for the USA and Costa Rica. Same happened in Individual Recurve Open Women for Daniel Campos of Peru and Monica Daza of Colombia and in Individual Recurve Open Men for Samuel Molina of Mexico and Eric Bennet of the USA.
Tracy Otto from USA and Mariela López from Chile will battle for just one slot for their NPCs as finalists of Individual W1 Women, as Jason Tabansky (USA) and Eugenio Franco (Brazil) will do in Individual W1 Men.
More tickets on the table
Other sports that offer direct qualification to Paris for the gold medal teams are blind football, wheelchair basketball, goalball and wheelchair rugby.
Boccia will have slots for NPCs in Teams (BC1 and BC2) and Pairs (BC3 and BC4) as well.
In addition, the players that become champions of the wheelchair tennis singles tournament, both in male and female, will book a ticket too.
Finally, sports like Para athletics, Para badminton, Para judo, Para powerlifting, Para swimming and Para taekwondo offer indirect qualification opportunities, which means that athletes and NPCs can sum up points or performances that could contribute on their final qualifications.  
At the end of the fourth day of the Parapan American Games, Brazil is still on top of the medals table with 55 gold, 38 silver and 34 bronze, for a total of 127. The USA is next (14, 12, 20, for a total of 46), followed by Chile (12, 16, 16, for 44).
Santiago 2023 brought together almost 2,000 athletes from 31 different nations to battle from 18 to 26 November. This is the seventh edition of the Games, which is the biggest competition for Para sport in the Americas.
On the other hand, the Paris 2024 Paralympic Games will be held from 28 August to 8 September 2024. Tickets can be purchased here: Paris 2024 Official Ticketing – Olympic and Paralympic Games